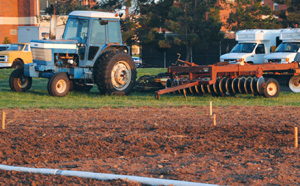 by Rashmi Thapaliya
Collegian Staff
The Community Garden project started at Cameron last year is continuing to grow this year.
Dr. Leon Fischer, chair of the Agricultural Department, said that last year a group of Lawton businessmen, teachers, physicians and community members gathered to address childhood obesity, which is common in Southwest Oklahoma. The university is a part of a committee that promotes home gardening and locally grown vegetables and is doing its part by hosting the community garden. The garden is located near the tennis court, south of Ole-Kim Lane.
"Last year we had 60 individual plots, where 40 people signed-up to work in the gardens," Dr. Fischer said. "This year, we have doubled the area of the garden, and more than 60 people have signed up already."
Last year the main crops and vegetables grown in the garden were tomatoes, okra, squash, black-eyed peas, beans, corn, sweet corn, pumpkins, herbs, egg plant and others. Dr. Fischer said that the gardeners are responsible for seeds, fertilizers and maintenance of the garden. However, Cameron will provide the irrigation facility to the gardeners. Ed Burris, Engineer of the Physical Facilities Department is in charge of the facility. Bob Hanefield, interim director of Physical Facilities, is helping to manage the garden.
Only the individuals and groups who are connected to Cameron in some way are allowed to use the land for agriculture. Students, alumni, faculty members, staff, professors and donors can receive permission from the Agriculture Department on campus to use the plots.
Dr. Fischer said that the garden is not supposed to be used for commercial purposes.
The gardeners can consume or donate the crops but cannot sell them because the land is the property of the state. The university donated some food from the garden to the food bank last year, he said.
"As we will get more and more people involved, they will start knowing the difference between the consumption of fresh food and the canned or fast food," Dr. Fischer said. "This is going to require a continual education process by the community."
According to Dr. Fischer, the Agriculture Department has already plotted the land and assigned the numbers for the plots. Interested gardeners may go to the office of the department and register for the plots. Those who used the garden last year have the option of reusing their old plot or being assigned a new one.
The community garden is an organic practice of production. The university even provided some poultry litter last year to be used as fertilizer. Dr. Fischer said that no illegal crops are allowed in the garden like marijuana or weeds.
For those who do not know much about gardening, the Agriculture Department is planning to conduct a seminar in the near future where for interested parties. There they can participate and get educated about various aspects of the production and consumption of locally produced food.
"We are excited that the community garden was successful last year, which has encouraged us to double the land area for the agriculture," Dr. Fischer said. "I hope more students will be interested in participating this year."