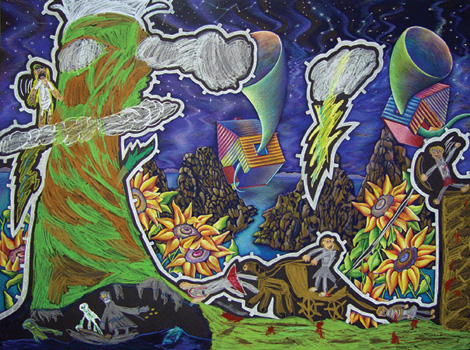 by Rachel Engel
Collegian Staff
In 2002, Professor of Art Dr. Katherine Liontas-Warren was engaged in a collaborative effort with her twin sons, Austin and Colton, in creating original artwork that reflected their heritage.
Fast forward to the present and "A Greek Story", one of seven in a series the trio created over the years, has been added to the Wichita Falls Museum of Art's permanent collection.
Dr. Liontas-Warren provided most of the background for the work and let her sons create the foreground images.
"The two houses you see with tornadoes coming out of them are my sons because they're twins," Dr. Liontas-Warren said. "They were really young, and I called them little tornadoes because they were always running in and out of the house."
The drawing reflects the family's Greek heritage and their fanciful journey abroad.
"It is supposed to be about this travel we're taking, except we haven't been to these places," Dr. Liontas-Warren said. "They always talked about taking trips, and I told them we could take a trip with our drawings. I have a drawing where we visited Egypt and one where we went underwater in the ocean."
The concept for a collaborative work of art grew out of the quality time spent together  between Dr. Liontas-Warren and her sons in her art studio.
"They would always come down and watch me draw at a very young age, and they always wanted to draw with me," she said. "I had this crazy idea when they were five, thinking it would be kind of nice to do a drawing based upon their method of drawing and also the way they think and see."
The first drawing of the series is reflective of their life in Oklahoma and is more indicative of her style, Dr. Liontas-Warren said.
"The first one looks more like my work; it has that kind of American-regional look to it," she said. "It wasn't until after we finished that one that I said, 'Okay, let's try to get these drawings to look more like you and less like me, so that it reflects your personalities and your vision.'"
From that point on, she gave her sons the creative license to conjure up the story behind their design and to see it through.
"I thought that was the best thing for them because they were at a time in their life when they really wanted to be creative," she said. "I didn't want to put stipulations on them."
After a few years, her sons wanted to discontinue their collaborative artwork, and, while she wishes they had continued, she feels the experience was a positive one for her and her sons.
"We stopped for a while, and now I feel like we should have continued it, because everyone who looks at these drawings loves them," Dr. Liontas-Warren said. "It's a great concept and really unique. It's something you did together as a family, and that's really nice to have."
Even though her children, now teenagers, have come to view art as a hobby, the lessons that come from their exposure to art have made them well-rounded individuals, she said.
"If kids are not around art, they're not really sure what it is," Dr. Liontas-Warren said. "It's not just black and white; there's conceptual thinking involved, not just making pretty pictures."
"There's a lot of research involved with creating a work of art, so they see that. They see how I make decisions, how things don't go right or when I'm struggling with a particular piece. It's good for them to see that."