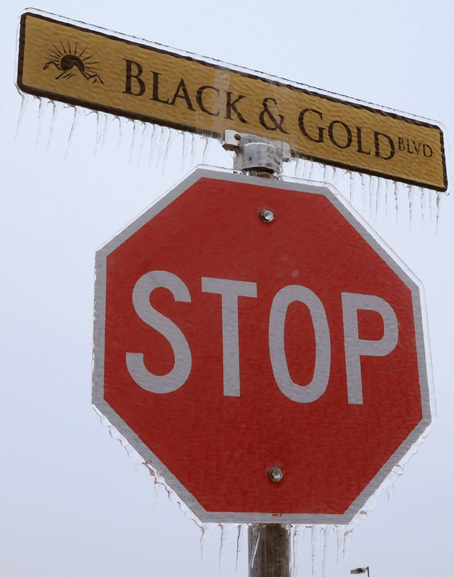 by Michael Faggett
Collegian Staff
Cameron's spring sports teams have faced tough conference rivals, regional opponents and nationally ranked teams.
This semester, they added Mother Nature to the list. The ice storm, snow and other inclement weather have taken its toll on the teams and their schedules.
"It's Mother Nature," tennis coach James Helvey said. "Either we have to fight it or hold out until better weather comes."
Most of the spring sports teams experienced both cancellations and changes in their playing schedules this semester.
Softball cancelled three series and re-scheduled tournaments because of inclement weather.
Women's tennis saw its four-match trip to Colorado cut to two matches because Denver received 10 inches of snow during the trip.
Men's golf dealt with rain delays at the Red River Intercollegiate Tournament earlier this semester.
Baseball has had its share of schedule shuffling as well.
According to baseball coach Todd Holland, the team has frequented the use of its tarp this season because of the mixed weather.
"We laid the tarp down once last year," Holland said. "This year we tarped the field nine times already, and we are only halfway through the season."
Most of the teams are at the midway point of their schedules, which makes the cancellations and changes somewhat disappointing.
"We were pretty disappointed," Helvey said in reference to the snow in Denver. "It was a let-down for us because we swept our first two opponents but then had to sit and watch the snow fall."
Holland shared in Helvey's disappointment.
"It is hard getting into a consistent playing schedule because we might be playing for three days then be off for seven days," Holland said. "In a nutshell, it sucks."
The inconsistent playing schedule, Holland said, makes each game the team can play more vital.
"Every game becomes more valuable now," Holland said. "A loss can really hurt you this time of the year."
Understanding the importance of the games, Aggie sports have responded with some positive results.
Helvey said both of the tennis teams benefit from the mixed weather since they play in various regions and climates across the country. Men's tennis holds a 12-4 record on the season while the women stand at 7-2.
"It gives us an advantage," Helvey said. "Because we are in this region, we learn to play in different types of weather."
For Holland and the baseball squad, the weather provided some advantages as well.
"We didn't get a spring break," Holland said. "Our break was playing ball."
The team used that break to play some of its best ball of the season. The team has won 12 of its last 15 games, a hot streak that helped them move to first place in the Lone Star Conference.
During that 15 game stretch, the baseball squad played 10 games in six days.
Holland said the weather gave his team some rest and relaxation.
"We played 10 games in six days," Holland said. "Now, it gives us a little break to rest and relax."