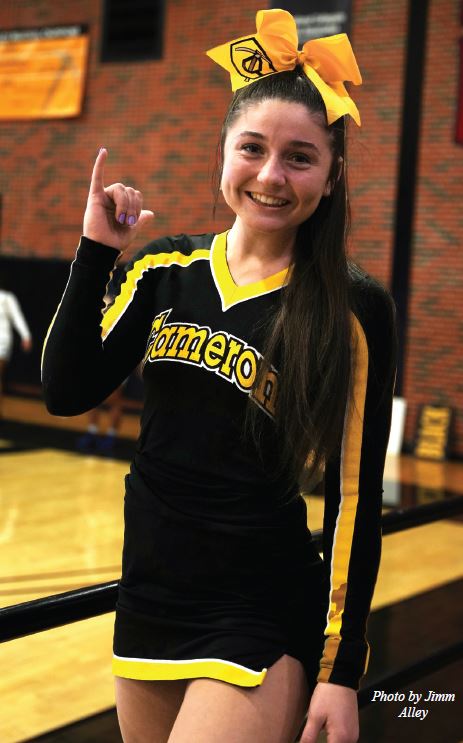 Kristin Murcer is a senior on the Cameron Cheer Squad, from Moore, Oklahoma. Murcer transferred to Cameron from SWOSU and majors in Sports and Exercise Science. She hopes to become a Dietitian after she completes her degree.
What made you want to become a dietician?
I went through a pretty tough patch in my life, and I kinda decided that I wanted to help other people not go through the same problems.
How did you first get into cheer?
It was kind of an accident really, I went to some tumbling classes cause I wanted to learn how to do flips, and then on I learned all the basic stuff, a coach just asked me if I wanted to do cheer, so I tried it out.
What would you say to someone thinking of joining the spirit team?
I would tell them that of course you're a student athlete, and cheering here is super fun. While it does take up your time, we have a really good school to practice ratio, so you can get all your schooling done and still go to practice to get a little relief from school life.
Abby Morris is a junior on the Aggie Spirit Team from Lawton, Oklahoma. Morris is majoring in psychology with a minor in communication. She transferred to Cameron after attending SWOSU for her freshman year. After college, Morris would like to become a marriage counselor.
How did you first get into cheer?
I actually didn't start cheering until I came to Cameron. One of my friends was on the spirit team at the time and she told me about fall tryouts, and that I should come because they needed more people. So I tried out, I ended up making it, and I just fell in love with it.
What has made you want to keep going with the cheer team?
Honestly, the people that you meet. I feel like our team, especially this year, is really close. We do a lot of stuff together and get a long really well, so that helps make it fun.
What are your favorite things about being on the cheer team?
Definitely getting to meet new people, and getting to be able to go to all the games. I think my favorite thing, though, would be the stunting and tumbling, and getting to work with the people around you.