Volleyball in the era of COVID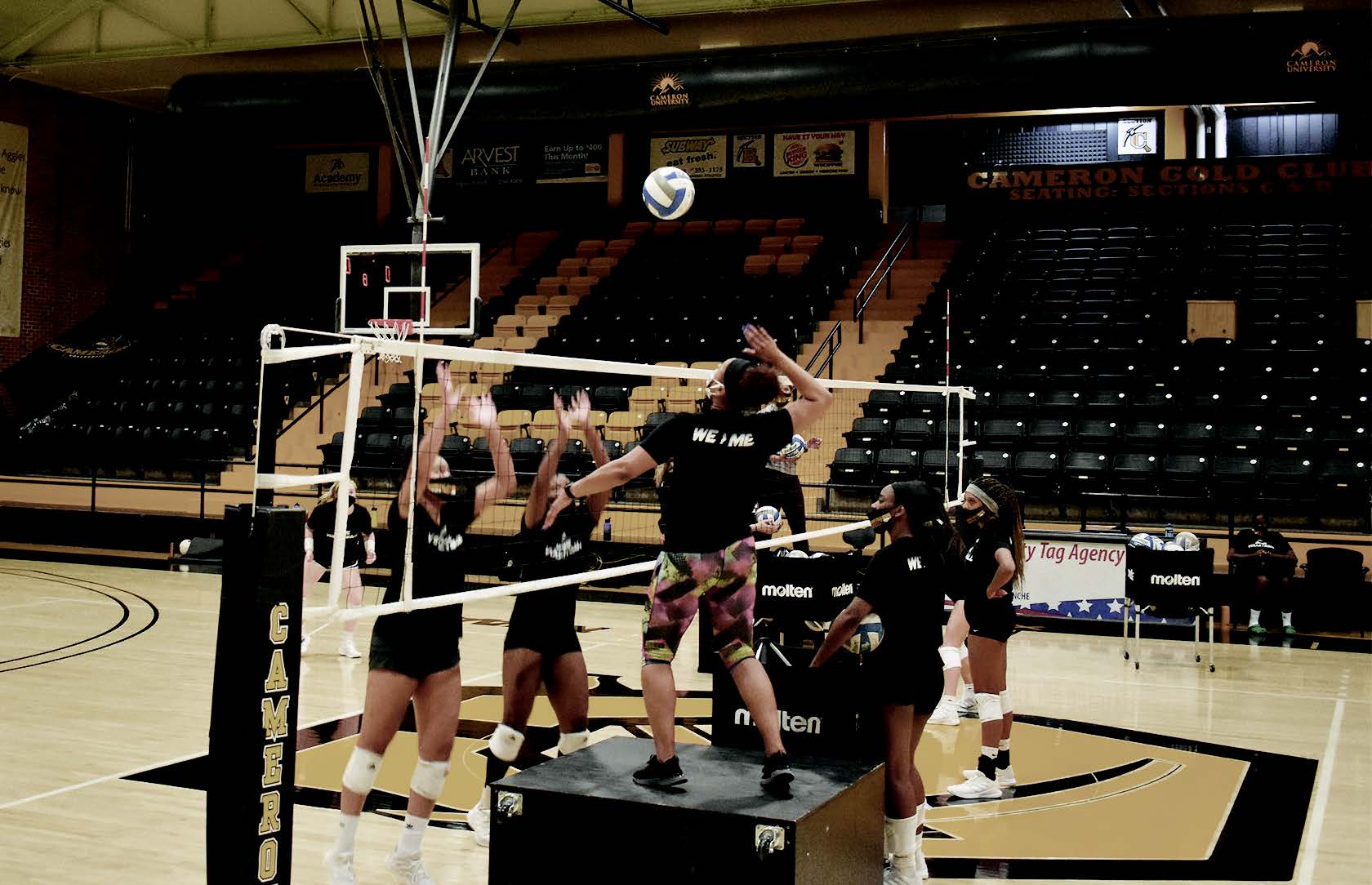 By David Perkins
Guest Editor
The Cameron women's volleyball team is serving as a prime example of how COVID-19 is affecting college sports across the country.
Under normal circumstances, the team would now be wrapping up their season, but amid the pandemic, all competition has been postponed.
Changes came abruptly in March when the NCAA cancelled fall and spring championships stating they have one commitment: "To protect the health and safety of college athletes."
In early August, the Lone Star Conference (LSC) cancelled all competition
in the sports of basketball, football, soccer and volleyball. These sports are considered high-contact risk sports in the age of COVID.
In lieu of a fall season of competition, the volleyball team's fall season has consisted only of daily practices and workouts.
Head coach Brandon Stephenson said, without a fall season, the priorities
of the team have shifted to keeping his players conditioned, safe and healthy. "That's been kind of the biggest focus and biggest issue for us," Stephenson said. "Just making sure that we get their health maintained so that we can continue to practice every day."
With COVID-19 and the safety restrictions that are now necessary comes a new approach to the team's daily practice.
Practice during the era of COVID consists of running the usual drills and workouts but with more attention to the well-being and comfort of the players.
New safety protocols are in place for players and personnel who enter the building, which includes submitting a COVID symptom check questionnaire as well as having athletes check their temperature before entering the
building.
Players and personnel are also required to wear a mask throughout practice, which provides its own challenges during practice and workouts.
Stephenson said the restrictive nature of the mask has changed the way the team practices and is something to be mindful of throughout practice.
"Just having that time where we do shorter increments of workouts with longer breaks in between," Stephenson said. "Then making sure the girls understand the safety issues because I know they want to get that mask off as soon as possible. But they understand it's a bigger picture that we have to look at."
There are hopes of a return to competition in the spring, albeit on what will likely be a condensed schedule. The NCAA has also offered up another season of eligibility for seniors since they will be missing out on a championship season.
Cameron senior and setter for the team Desiree Marmolejon, feels that, if nothing else, the team plans on taking advantage of this extra time they have in the fall to work together and grow as a team before the spring season.
"I believe this is going to get us very prepared for this upcoming spring because all of us just connecting, being sisters and being a unit," Marmolejon said. "Just coming in and working hard every day is definitely going to get us prepared for the spring so I'm very excited to see what the spring w ll be offering us this year."
You may also like...