Faculty in residence events: Christopher Sauer & Paula Merrifield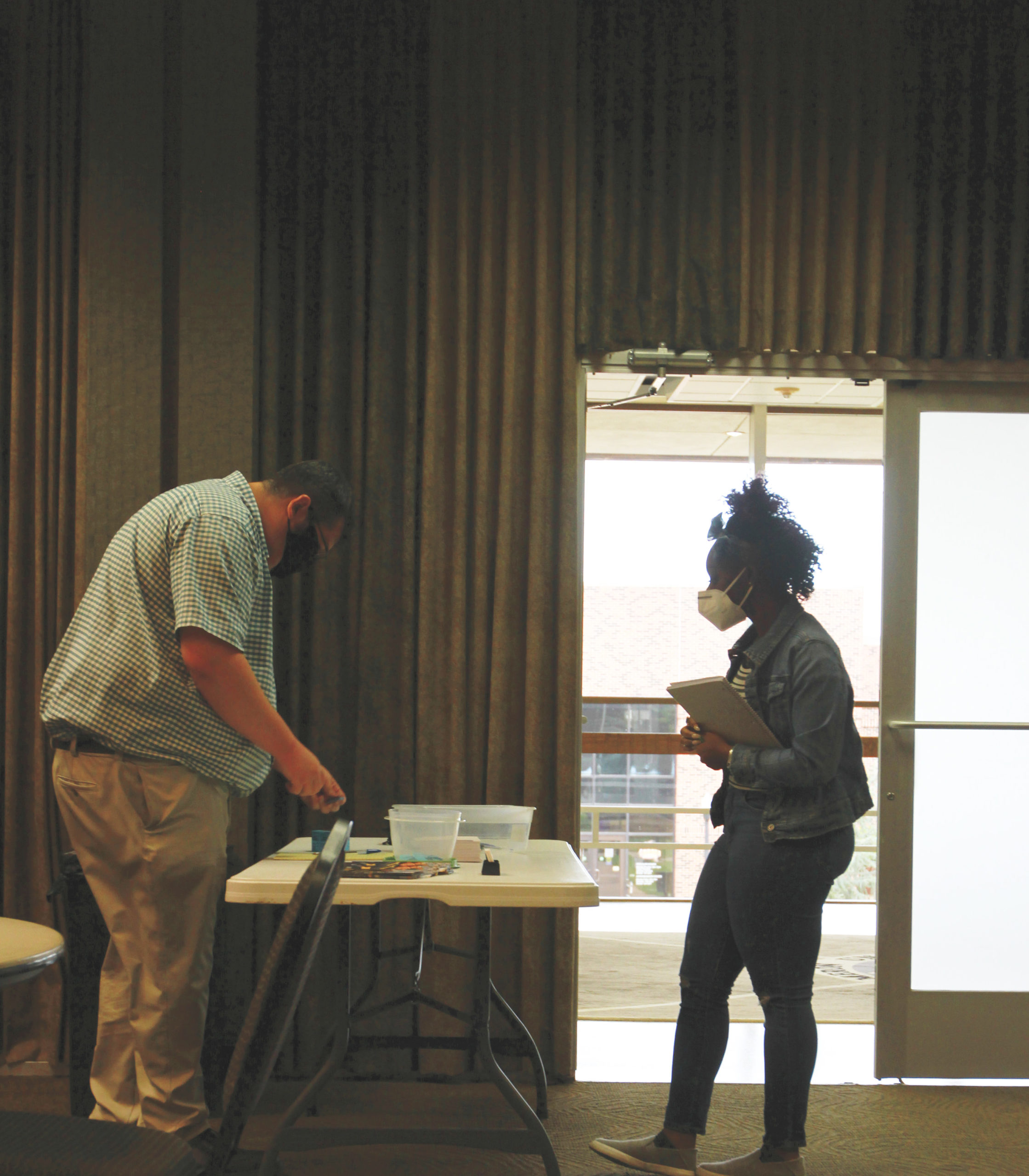 By Brittney Payette
Copy Editor
At 5 p.m. on Aug. 31 and Sept. 21, Cameron University hosted two Faculty in Residence events featuring guest speakers Christopher Sauer and
Paula Merrifield.
During the event, Sauer discussed important parts of college life, such as sleep, exercise and studying. Sauer said, in college, oftentimes people are experiencing more independence, which makes it even more important to have healthy habits.
He explained that sleep deprivation is of particular significance because a lack of sleep can cause someone to have impaired reaction time,
problems with information processing and increased moodiness.
It is also a good idea to maintain a regular bedtime routine. Next, Sauer recommended that people exercise for 20-60 minutes a day, 3-5 days a week.
On campus, one way to get exercise is to walk the Aggie Mile.
Then, Sauer reviewed studying tips. He recommended students remove distractions, such as cell phones, in order to help them stay focused.
He also encouraged students to have necessary supplies ready.
"Find a good place to study," Sauer said. "Do not study on your bed."
Once the event was over, students participated in a raffle drawing for three twenty-five-dollar gift cards to the Cameron Bookstore.
Students were then able to pick up their Chick-Fil-A box meals.
Cameron University Career Services Coordinator Paula Merrifield spoke at the second Faculty in Residence event, titled "Finding Your Career and Market." "I help students with all areas of career development," Merrifield said. "We want to help you gain confidence in your decision-making processes."
Merrifield said it is important for students to explore their options. She also explained that there are many resources, both on campus and off, that can help someone choose their major and their career.
Next, Merrifield gave examples of common mistakes that students make choosing a major. For example, some students feel pressured by their parents to go into a specific major, regardless of what the students want. This is often "caused by a lack of communication," Merrifield said.
Other mistakes occur when students have unrealistic expectations, or when students have not done enough research into their chosen fields of study.
Sometimes, students chose a major without researching how much time, education, money and work go into a specific career.
The Cameron University website has resources to help students choose majors and careers, such as Focus2, ontoline. org, and Career One Stop.
Cameron student Joshua Savoie attended the event after hearing that it was about choosing a career, which was a topic that piqued his interest.
"Specifically, I learned that there are many tools to help us find our careers," Savoie said. "We have to have more insight into what we want to do." Both of the Faculty in Residence events aimed to help college students face specific issues, such as surviving college, choosing a major and finding a career.
At these events, students were able to learn more about what resources are available to help students succeed in college and in life.
For more information about other Faculty in Residence events this semester, check the university calendar or your Cameron e-mail for upcoming announcements.
You may also like...