NO MORE WASTED KISSES: Dr. Matt Jenkins premieres new thriller starring CU students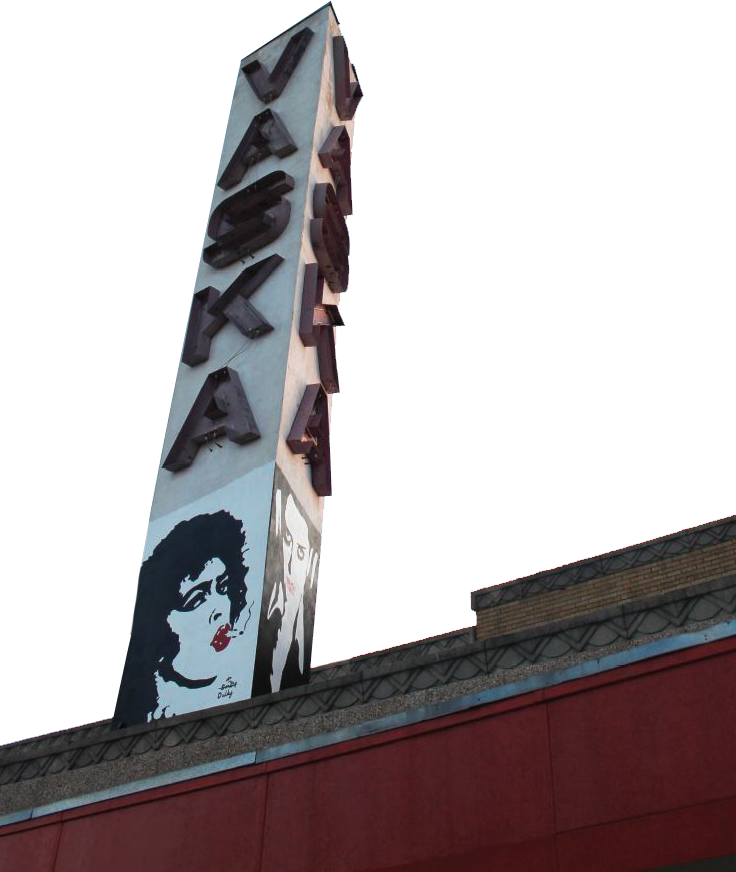 By Lea Killian
Managing Editor
At 8:30 p.m. on Sept. 15, the Vaska movie theater hosted a drive-in movie night to show Professor of Journalism and Media Production Dr. Matt
Jenkins' newest film, "No More Wasted Kisses."
With the implications of COVID-19 still bearing down on the Lawton-Fort Sill community, Jenkins met with the Dr. Christopher Keller, the Chair for the Department of Communication, English and Foreign Languages, and Justin Hackney, the owner of the Vaska, to ensure attendees' comfort and safety remained a top priority.
To Jenkins, continuing to have movie nights during these difficult times is more important than some may realize.
"People need diversions from the pandemic," Jenkins said. "If it's safe, it provides a much- needed relief from the new normal everyone now faces.
"Also, it is extremely important to provide the people who worked on and invested their time and effort into this movie to see it and to celebrate their efforts," Jenkins said.
"A screening at the Vaska is a terrific way to do this." Displayed on a movie screen draped over a newly painted mural by Hackney, the film drew in a parking lot full of people well before the sun went down.
"No More Wasted Kisses" stars Senior Journalism and Media Production Major Luis Ramirez de Arellano as the main character, Thomas, a young man in a toxic relationship, struggling to afford his college tuition.
His girlfriend, Sarah (Ashley Buhl), dictates Thomas' every move.
She doesn't want him to go to college or work long hours.
She even refuses to let him choose what they do during date nights.
Thomas' sister, Rose (Kasey Phillips), doesn't shy away from letting him know how she feels about Sarah's controlling demeanor, and the siblings often clash throughout the film as she attempts to convince Thomas to focus more on school instead of his unhealthy relationship.
When Sarah believes Thomas has been flirting with a girl from the club, Constance, (Heather Gilbert) she loses her temper and accuses him of cheating.
The film changes pace when Thomas learns that Constance has been murdered, triggering a cascade of unusual events to take place in their small town.
Ramirez has worked on many productions including Jenkins' last film, "Skinny Atlas," and has even produced his own work with the help of other Journalism and Media Production students.
Jenkins describes his films as "thousand-dollar movies shot in four days," and for the filming of "No More Wasted Kisses," Ramirez came to understand Jenkins' creative process and the reasoning behind such a tight film schedule.
Ramirez said that he learned more about how to utilize time during a production and how to adapt to filming complications, noting that there were situations in which Jenkins had to conduct rewrites of the script on the spot.
Overall, Ramirez valued his time on set. "It was exciting and exhausting," Ramirez said.
"We were working with the same group of people in these tight spaces for 10 to 12 hours, and you really build bonds."
As for his favorite scene to film, Ramirez said that the ending of the movie presented interesting challenges.
"Shooting that scene was dope," Ramirez said. "I was on the ground for an hour without getting up in order to get the shots we needed.
"It started to rain, so when we did the shots of me being thrown into the mud, it was a lot of fun.
"There was a real energy on set when we were shooting those scenes."
In order to make these films and bring the production together, Jenkins relies on his experience in the industry and the group of people he has surrounded himself with in the community and at CU, noting the joy it brings him to have current and former students assist in his productions.
"The best part is getting to work with a great group of people," Jenkins said, "including Charles Stanley who served as the director, Dan Perrin who produced and starred in the film, Tiffany Burns who did a phenomenal job with continuity, and even my own daughter, Tori Jenkins, who served as
location photographer.
"It's so gratifying to see the students who come to work with us and former students who will return to participate in the production.
"We are together for 24 hours a day for four days in a high pressure situation. It's a fantastic time, and the end result is a feature-length movie."
"No More Wasted Kisses" keeps viewers in anticipation throughout the film, wondering how the story will unfold with some scenes even containing "gasp-worthy" moments.
The constraints that low-budget films have to operate within can involve scheduling conflicts, travel expenses and a myriad of other challenges, but those things didn't stop the cast and crew from pulling together to make a truly memorable film.
You may also like...