Writing Club Fundraising: Turning the page to success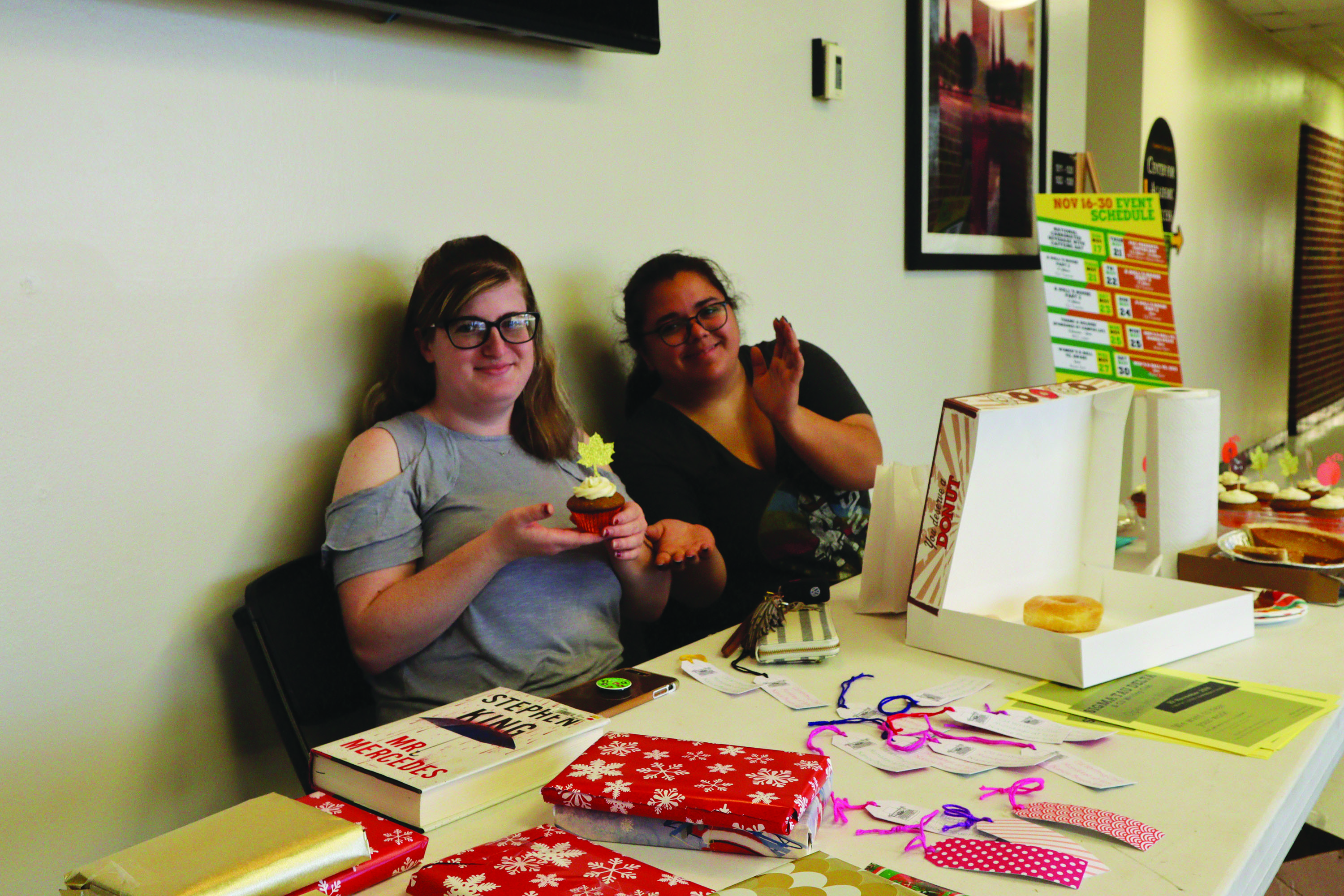 By Cam Alsbrook
Assistant Editor
From 11 – 2 p.m., on Nov. 19, the Cameron University Writing Club hosted a bake sale inside the Nance Boyer building.
Officers of the club provided students and faculty slices of pumpkin pie, donuts, pumpkin cupcakes and a book — for the price of a donation determined by the donator.
Alongside the desserts were wrapped books for students to enjoy as surprise books that they may not have chosen on their own, a concept conceived by both the Writing Club and Sigma Tau Delta.
People were able to donate their own books to either club by talking to officers in either organization for more information.
The club's goal is to listen and read the writing of Cameron students according to Junior Creative Writing major Michael Inman.
"We are a club open to all students of Cameron and also try to attend as many literary events as possible as a club," Inman said. "It started because we feel students should have a place to have a creative outlook and a voice."
Students read their work out loud at club meetings, said Senior English Education major Jerrica Baker, a member of the club.
"I wasn't a part of the club when it first started, but I joined because I have a passion for writing," Baker said. "The more I read my work in front of the Writing Club, the more I notice that I become more confident in what I am reading, which I think is beneficial for me as future educator."
SGA representative and Senior Creative Writing major Ashley Arredondo said speaking helps writers in the club with confidence.
"Writing club is the perfect opportunity for students to share their work with others to receive feedback," Arredondo said. "Confidence in not only their work, but also their ability to speak in front of others."
The club focuses on offering a writing community on campus for writers, according to senior creative writing major and club president Katherine Book.
"I relate to the Writing Club's focus because I believe very strongly that as writers we need to be a supportive and safe community, as opposed to seeing each other as competition," Book said. "Fellow writers need helpful critiques in order to produce a masterpiece."
Members of the club all have differing relationships and goals to their writing, and for Book, writing provides a method of understanding the world around her.
"My relationship with writing is that it is my core," Book said. "Writing helps me process the world around me, writing also helps me through whatever hardships life throws in my way. My main goal is to write until not writing makes me anxious, and if all goes according to plan, that will pay off."
The club started as an idea of Creative Writing Professor Leah Chaffins and her class as a way to help creative writing majors on their path toward submitting work to contests such as the Chikaskia Literary Festival.
As a result of the club, Book was able to accomplish some literary goals — being published is one of them.
"My writing wouldn't be on the level it is now if not for the beta readers, fellow writers and critiques I have received over the years," Book said.
"After going through three beta readers, my piece 'Whatever It Takes' made finalist in the 13th annual Scissor Tail Creative Writing Festival. My poems would not have been published in the Woody Guthrie Anthology without the help of Cameron professors like Dr. [John] Morris and Dr. [Sue] Tyrell."
Book said the Writing Club helps members develop practical writing skills.
"The Writing Club not only allows me and anyone else to read their work out loud to listen for mistakes, but each member is a beta reader with suggestions and ideas to help the piece succeed."
The Writing Club's bake sale sold out before 2 p.m., at which point the officers sold remaining books to the passing students before splitting ways to get to class.
The CU Writing Club meets at 3:30 p.m., on Mondays, in Nance Boyer, room 3010, to offer critique and inspiration to creative writers.
For more information about the CU Writing Club and events, contact Chaffins at 581-2545.
You may also like...