James Majenge: Pacesetter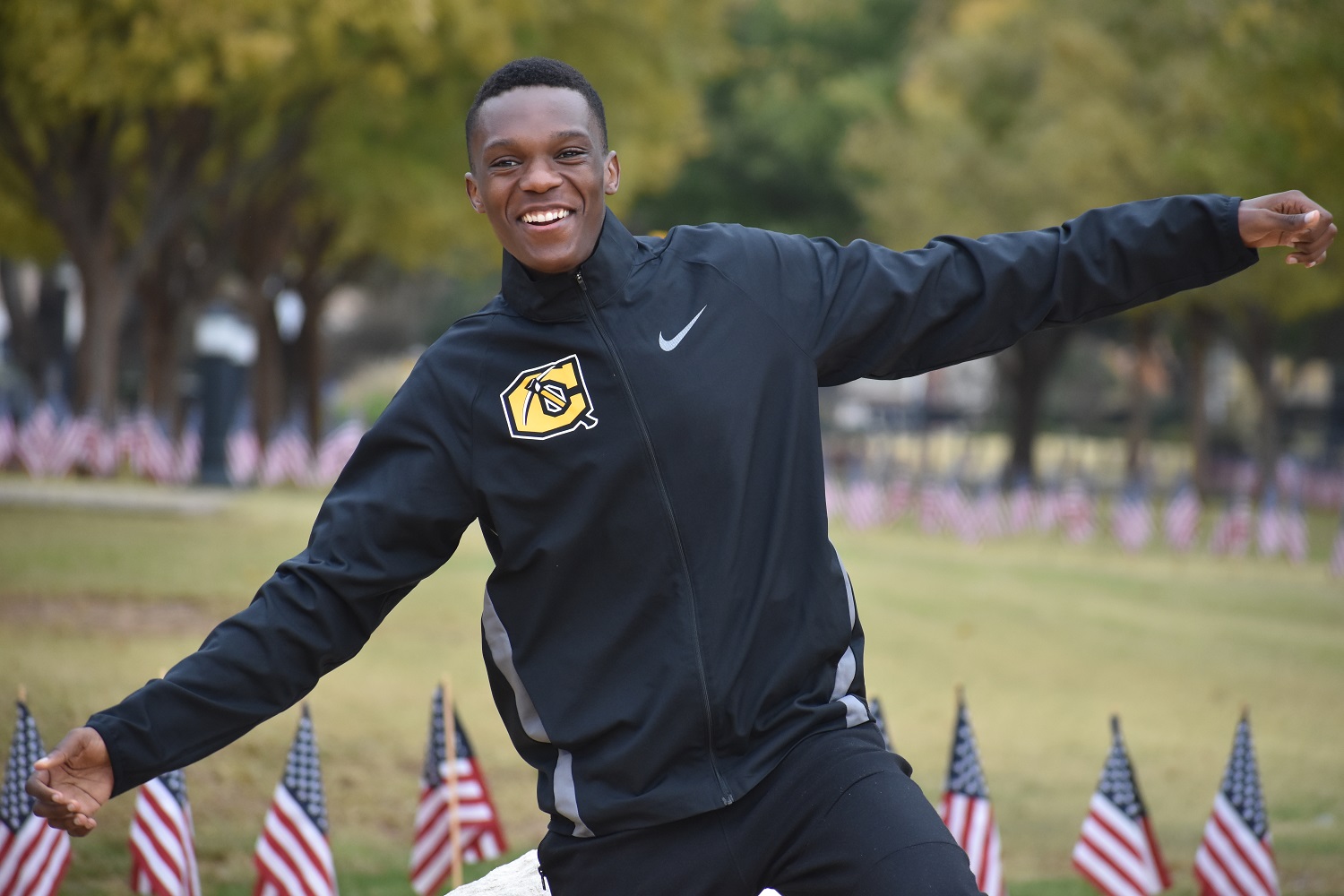 By David Perkins
Sports Editor
James Majenge: Cameron Pacesetter
In his time at Cameron, James Majenge has been a leader for the cross country team.
Majenge is a pacesetter and a record-breaker; head cross-country coach Zach Johnson said Majenge has an economical running style.
"He's smooth and doesn't waste any energy, doesn't bounce. He's efficient," Johnson said.
Johnson also said Majenge is also very competitive and durable; he works hard and he doesn't get injured too easily — all of which are attributing factors that constitute a successful cross country runner.
During his time at Cameron Majenge has racked up eight first place finishes.
Just over the course of cross country's busy October, Majenge placed first in the OBU Invitational, the Lone Star Conference (LSC) tabbed Majenge as runner of the week, he placed 2nd at the LSC championship, and was recognized as one of LSC's all-conference team.
Last year, he helped make history for Cameron by placing first in the LSC championship for the first time in the program's history.
Things didn't always look so good for Majenge.
When Majenge came to Cameron, he was at what seemed like a turning point in his life. He arrived after two less-than great years running at New York's Monroe College.
These years did not measure up to the success he experienced back home at Hoerskool Marais Vijoen High School in Alberton, South Africa, and he knew they did not measure up to his own potential.
He felt his first two years of competing at the collegiate level saw some success, but he knew he could do better.
"My mentality was already off," Majenge said. "I felt almost like I was on a downhill slope."
When he finished his two years at Monroe, he was left to mull over his options.
Majenge was a little homesick, a little disillusioned and looking for something that would tip his options.
This is when he received a Facebook message from Cameron head coach Zach Johnson.
"He was asking me if I want to come run for them, and I just said yeah sure why not?" Majenge said. "At this point I had already gave up on running. My first two years were not as good as I wanted them to be.
"Part of me wanted to go home, but my family was telling me 'just stay and finish your schooling,' so I was thinking 'let me just sign the deal and get finished with school and go back home.'"
Majenge took the deal offered by Cameron not knowing what to expect.
"I thought, here is some division two school, and maybe they're not really doing too well. I can just go here and fool around a bit, finish up school, and I'll be done," Majenge said. "I didn't really think very much of it."
The summer before Majenge arrived at Cameron, he was met with a rigorous training schedule sent to him by Johnson. It was a change of pace that helped him improve.
"Before I got here, over the summer, the coach gave me a program, a training plan and I started doing that before I got here," Majenge said.
"I felt like I had got back to the same old me, and I was like 'oh ok this is actually working.' Then I came here and I started practicing six days out of the week instead of the three days out of the week I was practicing before."
"When I started, I was running twelve to fifteen miles a day."
Majenge could feel the difference in the training alone. His body felt better. He felt more equipped for distance running under Johnson's leadership.
It was like a switch," Majenge said. "I started seeing that 'ok this is working out.' When I started winning I was decided that everything was fine. I was going to stay, I was going to see this through."
Majenge has performed at a level that few track and cross country athletes have at Cameron.
Johnson has been very pleased with Majenge over his two years at Cameron.
"It's definitely not every year that you see somebody like James," Johnson said.
"I mean, since I've been here we've only had one like him that I can think of. So far, I guess every five or six years we'll have somebody good enough to compete for the conference title."
Majenge will be hard to replace this next year when he leaves and Johnson knows that.
"We're definitely going to miss him next year. It's going to be tough to replace him."
You may also like...