CU E-Sports Roster Complete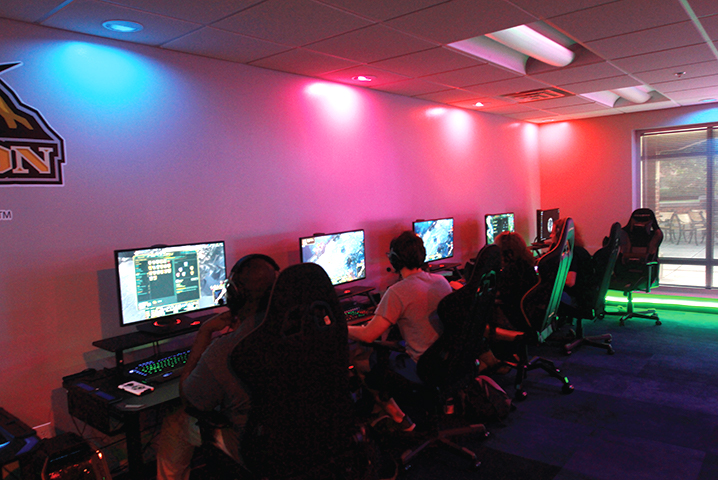 By David Perkins
Sports Editor
As the fall semester comes to a close, so does the process of completing the roster for Cameron's new E-Sports program.
This fall marks the first semester for Cameron's foray in the now-booming world of collegiate E-Sports competition.
Team members have been selected and jerseys have now been ordered.
Cameron used various outlets to get the word out for the program on short notice, which included small flyers, large posters, as well as stories in newspapers and television news.
Cameron's digital media manager and E-Sports coach John Cunningham said he feels fortunate to have got in on the ground floor of the program.
"I've been a gamer most of my life. Been a web developer," Cunningham said. "This job is the right fit for me. I'm super happy and super stoked to be doing this."
However, the process took a little longer than he expected simply because it was initiated at the very beginning of the semester.
"I thought it'd take about a month to select our roster, but it took about two months because of the scheduling," Cunningham said.
The process of selecting the roster has been hindered by the schedules of the student players because, by the time of tryouts, their semester was already well underway.
"Everybody's schedules are everywhere right now," Cunningham said. "When this whole thing started up, everybody was already enrolled in their classes … So for me as a coach trying to get them all in here on the same day has been the biggest struggle."
With the beginning of a new E-Sports program, comes a fresh process of hard work developing the players as members of a team.
"I haven't been able to get the team together the way I wanted to and needed to," Cunningham said. "I still have players that I'd still like to see how well they can play together, which is very important in playing in a league."
Tryouts for the teams began near the beginning of the semester with ninety potential players. After two months, that number had been cut in half.
Recently there was one student who had to leave the team.
"They had some things come up," Cunningham said. "Life happens. They had to drop some classes, so they're going to have to take a break from the team. So we're going to lose one."
The roster will be competing in four different games: League of Legends, Overwatch, Rocket League and Super Smash Bros.
Now at the end of the selection process, Cunningham has fifteen players competing in League of Legends, twelve players competing in Overwatch, eight players competing in Rocket League and nine players competing in Super Smash Bros.
With the selection of the roster comes a new direction and focus for the coach and for the team.
As the semester comes to a close and a new one approaches, everybody is in the process of developing from individual students on a roster to working together as a team.
"Right now, I just got my guys and girls practicing together, so they can get used to each other's game play," Cunningham said, "so they can learn each other's strengths and weaknesses and build off of that."
Cunningham believes that will be the key to competing well.
"I want to build a family. When you play with your friends, you play better. It'll just take a little time.
"It is just like any other sport that relies on teamwork."
As the new season begins, people will be able to spectate Cameron E-Sports events on the team's Twitch channel, which will be linked to AggieCentral.com
You may also like...