Matthew Shepard / Coming-Out Day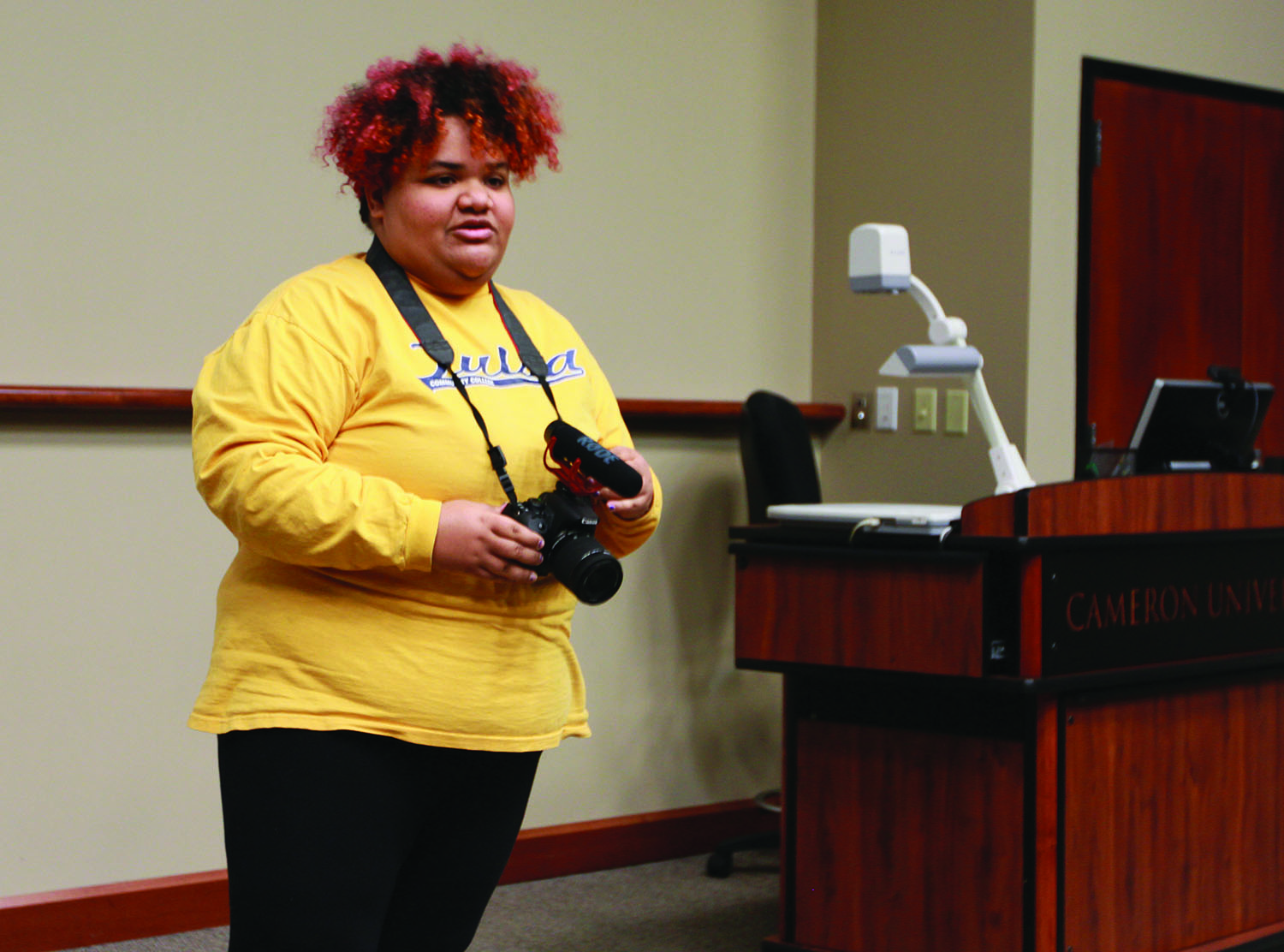 The Cameron University PRIDE student organization hosted the Matthew Shepard / Coming-Out Day event at 6 p.m., Oct. 11, in the Cynthia S. Ross Hall building auditorium.
The event started with the story of Matthew Shepard, whose life was cut short due to a hate crime.
His attackers physically assaulted him with the butt of a pistol and left him to die while tied to a fence outside of Laramie Wyoming on Oct. 7, 1998.
Due to the injuries, on Oct. 12, Shepard died while hospitalized in Fort Collins, Colorado.
Cameron senior Stephanie Roberts said the LGBTQIA+ community is glad to honor Shepard.
"I'm sad that it's under the circumstances that it is," Roberts said, "but it does show how far we have come. It really gives me hope for the future, and I hope he would be proud of where we are and how we honor him."
The Matthew Shepard Foundation is an organization started by Judy and Dennis Shepard to aid the LGBTQIA+ community and to give community members access to resources to feel empowered in their identities.
The foundation is known for its vocalization of Shepard's story across the nation, urging parents to embrace their children's sexuality, identity or both.
The story of Shepard is known within the LGBTQIA+ community among the life stories of historical figures such as Marsha P. Johnson or Christine Jorgensen.
After the introduction of Shepard's life, attendees took turns sharing stories that ranged from tragic to humorous.
The common ties between all of the stories was a worry that gripped each storyteller as they traversed through self-discovery, until it was time to come out to friends, family and loved ones.
One of the correlations made at the event was the timing of Shepard's death with past physical trauma — he was only 21 years old when he died and had already suffered being raped before the incident, in 1995.
Since his death, the amount of effort in LGBTQIA+ related activism has spiked ever higher, and more people are taking action to pursue comfort and security in their identities.
Instructor for the Office of Teaching and Learning and PRIDE advisor Corey Sanders said things are looking up as a nation.
"Identities are respected more than ever," Sanders said, "and it is getting safer for people to be who they are. This doesn't mean that equality has been achieved, but we are getting closer every day."
Shepard's death brought about the passing of the Matthew Shepard and James Byrd Jr. Hate Crimes Prevention Act of 2009, which criminalizes violent acts resulting in bodily harm and attempts to inflict injury through the usage of weapons against people on the basis of sexual and gender identity.
The act does not extend to vocal threats of violence and did not mark the end of LGBTQIA+-phobia or hate crimes on the basis of gender/sexual identity.
According to the Trevor Project — another LGBTQIA+ support foundation — suicide is the second leading cause of death for people within the ages of 10 to 24 in 2018.
Statistics from the study showed that LGB students were five times as likely to attempt suicide compared to heterosexual peers, with the cause being related to bullying and hate speech.
According to the Pew Research Center in 2018, thirty nine percent of LGBTQIA+ adult participants said they were disowned by a family member or friend on the basis of their identity or sexual orientation. For more information about Cameron PRIDE, contact Sanders at 581-5901.
You may also like...