Indigenous People's Day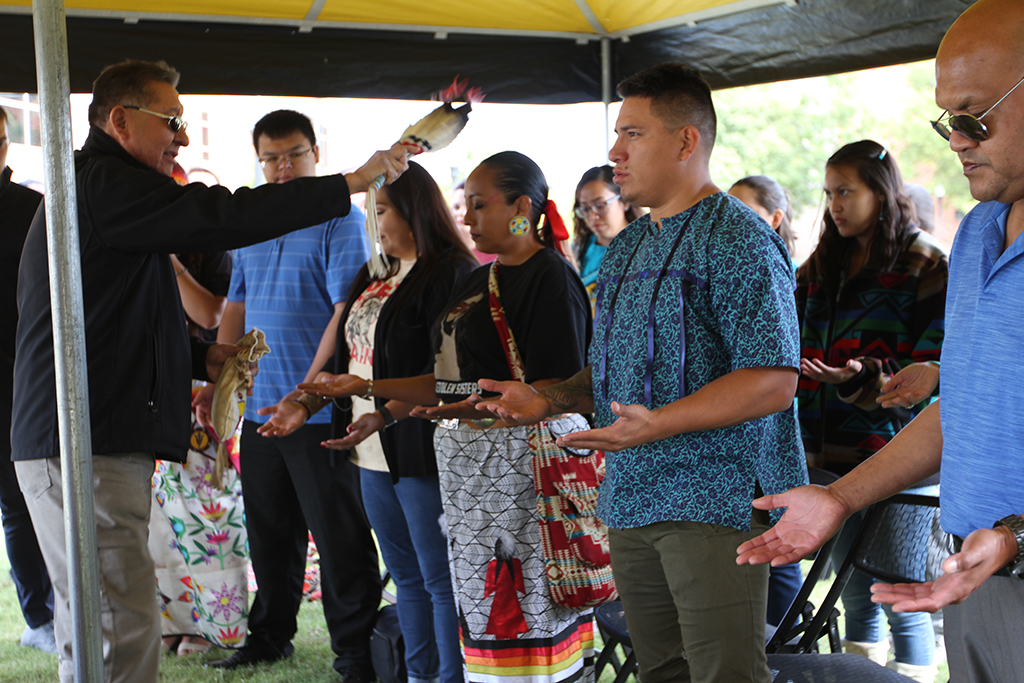 By Payton Williams
Managing Editor
@YoureSoVanya
On Monday, Oct. 14,Cameron University invited students and members of the surrounding community to celebrate Indigenous People's Day.
This was the second annual Cameron University Indigenous People's day celebration, and the Cameron University Native American Students Association largely organized the event.
The celebration began on the western end of the Bentley Gardens with a series of speeches from university representatives, as well as Native American guests from around the country.
Cameron President John McArthur was the first person to speak, and briefly remarked on the importance of the event to the University.
"Indigenous People's Day is yet another reminder to us that 'if we don't know where we've been, it's hard to know where we're going,'" McArthur said, "and we appreciate this opportunity to learn from you, to watch you, to follow you as you continue to support students."
Cameron University Vice President Jerrett Phillips was the second speaker of the morning. His remarks focused on the importance of boosting Native American student enrollment for the University.
"We want to make sure the students have a place to be at home," Phillips said. "We want to make sure it's a place where students feel comfortable learning and sharing their success."
After Phillips, CU-NASA Vice President Erin Singleton stepped to the podium to read a resolution passed by Lawton Public Schools recognizing the observance of Indigenous People's Day.
CU-NASA's President, Fawn Tsatoke, later spoke about how much the statement affected her.
"When I first read [the resolution], I cried," Tsatoke said. "I couldn't believe that someone would even put that down on ink, on a piece of paper, from Lawton, those words. It means a lot to me."
After Tsatoke took a moment between speeches to recognize Mrs. Indian ASU Tashoni Morales, an honored guest at Cameron Indigenous People's day, the floor opened to Dyami Thomas.
Thomas, an actor, model, motivational speaker and certified suicide prevention counselor, gave a speech that focused on the struggles Native Americans have faced since European Colonization, and his hopes for a bright future for Native Americans.
"How you think about the next seven generations, "Thomas said. "and how you make sure we are here, and that we rise above 1%, because that is what we make up of the population of this country, that starts with you, with us, meeting here today."
Thomas' message was also one of thanks for the things given to him, and to all the Native American community members present, by their ancestors. It was a message of remembrance.
"I wouldn't be here without my ancestors' sacrifices," Thomas said. "None of us would. Every step you take, every breath you take. Every morning you open your eyes, that's your ancestors' sacrifice. That's your ancestors' prayers."
Tsatoke returned to the podium after Thomas spoke, to mention the importance of his words to herself and to the community.
"It's so hard for some of us to see ourselves like that," Tsatoke said. "And part of that, like he said, is that what happened before still lingers within us. We can't help it, but we can fight it."
Durell Cooper was the speaker following Thomas.
Cooper is the vice chair for the Apache tribe of Oklahoma, and is currently finishing a Master's degree in Indigenous Peoples' Law at the University of Oklahoma, and plans to pursue a Juris Doctoral degree to become a lawyer. His speech focused on the importance of higher education for Native Americans.
"Getting my Bachelor's degree really woke me up to the adversity we face," Cooper said. "And all the statistics that are against us. Being a first generation scholar, I know that's huge."
After the speakers were finished, Tsatoke took to the podium for a final time to talk about the importance of CU-NASA to herself and to the university. She discussed how close-knit and familial the organization feels to her.
"We like to laugh, we like to eat," Tsatoke said. "I think there's been maybe one or two meetings we've ever had where either Sissy [Erin] or I didn't cook for it."
The speaking portion of the event ended with a brief speech and a prayer and cedaring ceremony led by retired professor Lonnie Emhoolah. The event closed with a meal hosted in the McMahon Centennial Complex's Buddy Green room, consisting of Posole, indian corn and frybread.
You may also like...