Cameron's Digital Media Lab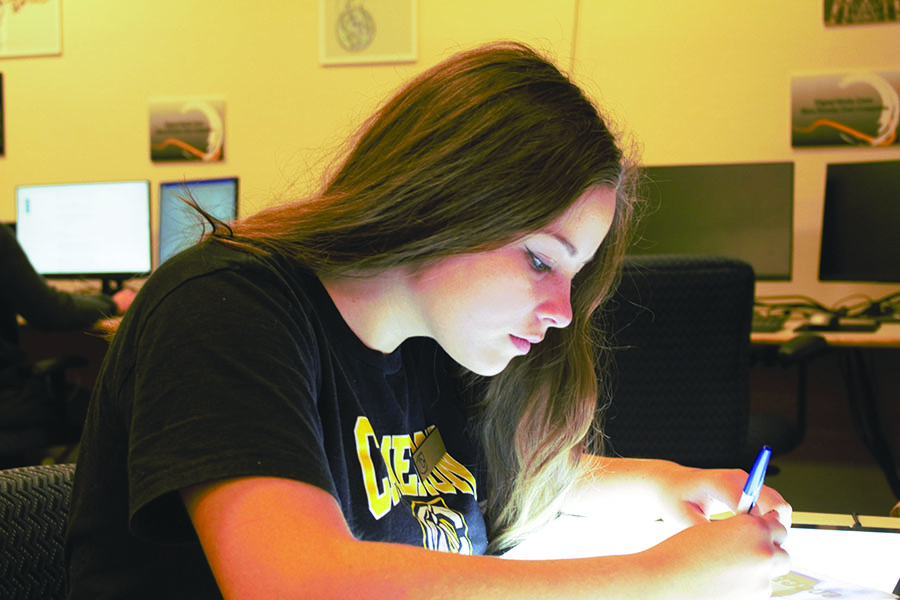 By Adrianna Finch
In Spring 2017, Cameron University's Library began the process of creating the Digital Media Lab (DML)in the Library.
The process took roughly six months to complete, which gave the DML staff time to order supplies, set up the room and hire student workers.
The DML officially opened the doors in Fall 2017.
Since then, the DML has moved from the room behind the Student Help Desk to Room 102 in the Library across from the Study Area and Reference Desk.
Instructor and Assessment Librarian James Scholz said the DML's most popular item by far is the Canon EOS T5i camera.
"It is something that almost every student has a use for," Scholz said.
Other than the Canon cameras, the DML has Panasonic HC-V Camcorders, GoPro Kits and Blackmagic Pocket Cinema cameras for visual projects.
As for audio equipment, the DML has Zoom H1 Ultra-Portable Digital Audio Recorders, Rode Microphones with wind covers and Azden plug-in microphones.
The DML carries four different tripods available for check out, depending on students needs, as well as impact reflector disks, selfie sticks and Debo Stabilizers.
For students to checkout any of the equipment, they will need to come into the DML, fill out an agreement paper and have their student ID with them.
Equipment is checked out on a first-come-first-serve basis.
Equipment loans are for a 72 hour period. There are no renewals allowed, and the same person may not check out equipment again for 24 hours after return to ensure all Students get a chance to use the equipment.
The DML allows students to check out one camera, one audio recorder and one tripod at a time.
Students must return items directly to a student worker or a staff member in the DML.
If a DML employee is not available, students can go to the Circulation Desk to check in items.
The DML also has in-house lab equipment for students to use.
The DML has computer stations with two monitors for easier group work and editing. Computers in the DML are equipped with Adobe Suite and Microsoft suite for students to use.
The DML also has a Newline TruTouch LED Multi-touch Smartboard that students are able to use.
Huion Ultra-thin light boxes and two Huion v2 Pen Monitors are available for Students to draw and design on for any type of project.
A green screen room is also available for students to use during normal operating hours and by request.
The DML is equipped with three different whiteboards and markers for students to use, as well as a sitting area for studying and group work.
To use any of the in-house equipment, students can come into the DML and use them as long as they are available.
If students are in need of assistance, DML staff is there to help with any questions students may have.
The DML also has two 3D printers that students and employees are encouraged to use.
To use a 3D printer, Students will need to send their request to 3dprinting@cameron.edu with their attached design concept, and staff members will make the requested item and notify the patron that their print is done through email.
Students then can pick up their print during normal DML business hours.
The price of the 3D prints varies depending on the size of the print and will only be printed if it is for coursework. No personal use projects will be printed in the DML.
Students are not allowed to create materials that are prohibited by local and state or federal law, unsafe harmful, dangerous, or poses a threat to anyone, has obscene or inappropriate for a library environment or in violation of any copyright laws, patents or trademark protection.
For more information students are encouraged to email James Schulz at jscholz@cameron.edu or stop by the DML during regular operating hours.
You may also like...