Bringing People Together at the CU Art Gallery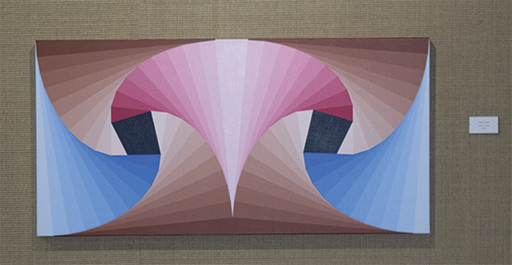 By Haylee Key
Staff Writer
On Sept. 26, Cameron University held a dedicated ceremony to honor those who sponsored the restoration of the Cameron Art Gallery.
In 1980, the Art Building housed a gallery space managed by a professional gallery director, but funding issues led to the elimination of the director position.
Thanks to dedicated faculty members, the space remained operational for a while.
They continued to hold exhibitions, but the space became less and less used until it turned into a studio space where students could focus on their projects.
Art Professor Emeritus Jack Bryan knew there would come a time when Cameron would have an exhibition space once more.
Bryan, along with friends and family, established the Jack Bryan Endowed Lectureship in Art in November 2000.
Bryan wished that the endowment would accrue funds until a new location opened to house the art gallery.
His foresight made it possible for extensive renovations, including new lighting and wall covering.
After 20 years, the Jack Bryan Endowed Lectureship in Art reverted the space in the Louise D. McMahon Fine Arts Complex back to its origins.
Bryan said the importance of the art gallery was to show art and has many hopes for it's future.
"The concept of any educational art gallery is to reach out to the community," Bryan said, "and allow traditional and non-traditional students to create art."
During his speech at the ceremony, he spoke about how art is human nature and about how people have always created art in some form or another.
The art gallery featured artwork by award-winning painter Jason Wilson.
Wilson is notable for his ability to create illusions that trick the eye with his use of color. He gets his inspiration from quilts he has seen and has work exhibited in galleries across the country.
Wilson said that for each painting he must "paint it, pull it, dry and repeat."
This is a long process that can take months to complete.
Attendees at the ceremony were able to observe the artwork and talk among themselves.
They spoke about what the art gallery once was and the exhibits that they once held regularly, such as the Buffalo Show, sculpture competitions, traveling shows and national competitions.
The attendees hope that the art gallery will live up to that and much more.
Many of them also openly discussed their own artwork and their inspirations.
They also hope to get the high schools involved as potential students of the art program.
Ultimately, the attendees wish to involve the community so that all kinds of people can come together and enjoy art.
Wilson's paintings are on display at the Cameron Art Gallery for students and faculty to view.
You may also like...