An Unforgettable Trip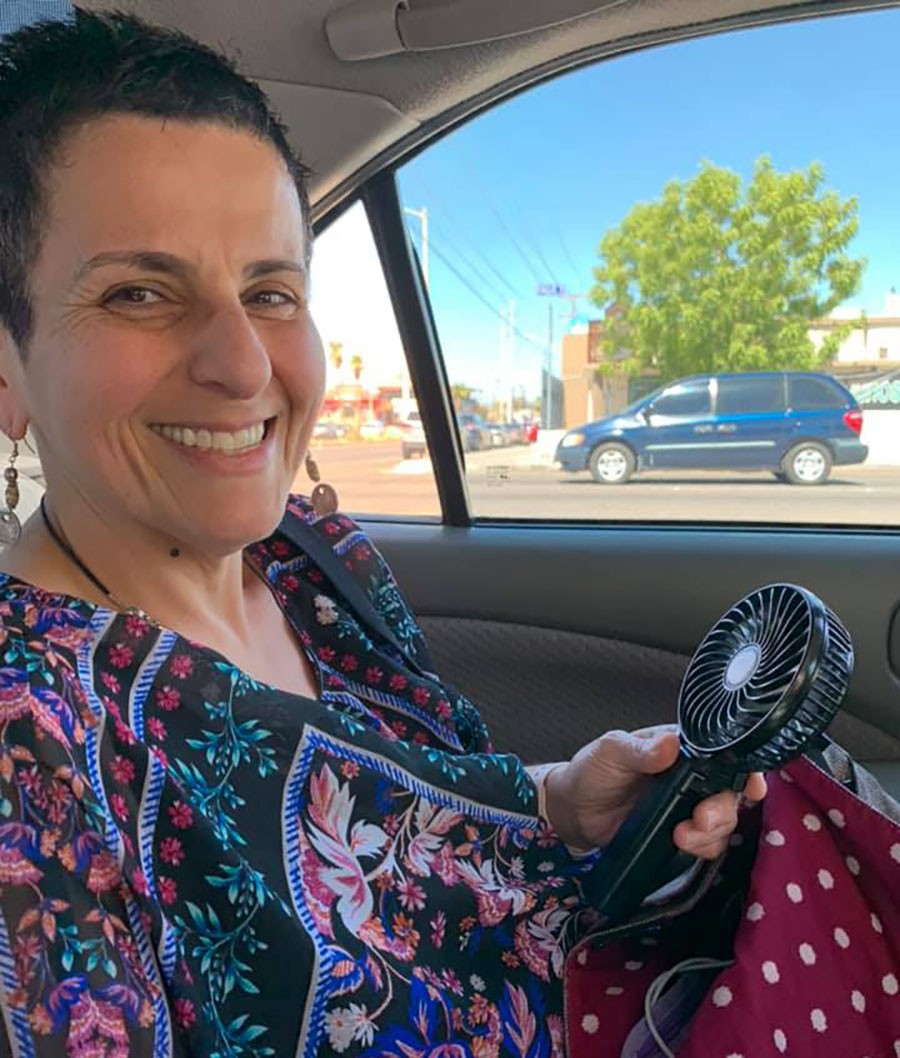 Tyrrell goes to the Mexico border to find the truth
By: Adrianna Finch; Assistant Editor
Born in Bethlehem, Palestine, Communication, English and Foreign Languages Associate Professor Dr. Suz Tyrrell has a heart for adventure.
Her latest took her to the Mexican border.
Tyrrell said, she knew she had to go and see what it was actually like at the border.
"I had opinions," Tyrrell said, "but I hadn't thought about going to the border, certainly not in the summer."
Tyrrell had no previous plans to go on this trip. She had already purchased a plane ticket to Minnesota and could not go to the border at the same time due to finances and lack of time.
While making plans, Tyrrell realized this trip could be for more than personal reasons. Since she is teaching a class during Fall 2019 about immigration, she could turn this into a business trip as well.
"I asked Dr. Keller," Tyrrell said, "'Do you think that it would be approved if I bought my own ticket and didn't ask for any money from the university?' Could I possibly go that first week when we come back, for a couple days."
Keller approved of the proposal and told her to go for it.
Tyrrell put in a request for travel and was approved to go on the trip.
"I was really thankful that all the people who all have to sign off on travel when it's out of state," Tyrrell said, "were all very supportive of the trip and understood the value that it would have for teaching the class."
With approval and a plane ticket, Tyrrell finished planning for her trip.
In an attempt to find someone she knew close to the border, Tyrrell posted to her Facebook page.
After her post, she got a response in her private messages from a friend who lives in Yuma, Arizona, which is about 25 miles from the Mexico border.
Tyrrell and her friend had no idea what they were going to do on that trip.
The only plan was that she wanted to cross the border.
"I really didn't care," Tyrrell said. "I am very much a free spirit, and I'm willing to do anything that is not illegal, immoral, or unethical. I'll try it."
As she got off the plane, the only thing that Tyrrell was worried about was the heat in Yuma, Arizona.
Emotionally, she did not feel much. She said it felt like she was just going to see people.
"I just felt like I was going to yet another place where people were in a tough spot," Tyrrell said, "A governmental system was causing them even more pain."
Tyrrell told her Immigration class that it was surprisingly easy.
She said that they parked on the American side of the border and just walked across, and no one cared.
It seemed to Tyrrell that Mexico welcomes Americans.
While Tyrrell was across the border, her friend and a translator took her to see one of the shelters that houses asylum seekers since the "Remain in Mexio" policy passed.
Tyrrell said that being in that shelter will always stick with her.
"The baby I held at the shelter, what's his future?" I don't know. Will they be allowed into the U.S? I can't answer that." Tyrrell said, "Those are the types of things that will always stick with me."
Another reason why this trip, like many of her others, will stick with her is because Tyrrell is also an immigrant from Palestine.
"I am doing well for myself," she said. "I have a job that I love, and I live in a house; it's not a very big or nice house, but it's perfect for me. I have a good life."
Tyrrell said that her life would have been very different if she has not come to the United States.
"Had I remained in Palestine, I wouldn't have the life I have now." Tyrrell said, "I wouldn't even be allowed to speak freely for fear of oppression or being shot or being stripped searched every single day. So yeah, I look at those people in the shelter, which was a good shelter when you compare the standards of some of these shelters, with a lot of compassion and empathy."
Tyrrell plans to bring back her experience and share it with anyone and everyone.
"I want Cameron students to know that if they hear it on American News Media," Tyrrell said, "there is so much more to it than that. There is always two sides to every story."
Tyrrell said that if there is one thing she will do, is tell people what is true and what is not.
"I won't be silenced because there is something to say, and I want to say it," Tyrrell said.
You may also like...