Tasting the Globe with Juli Meyers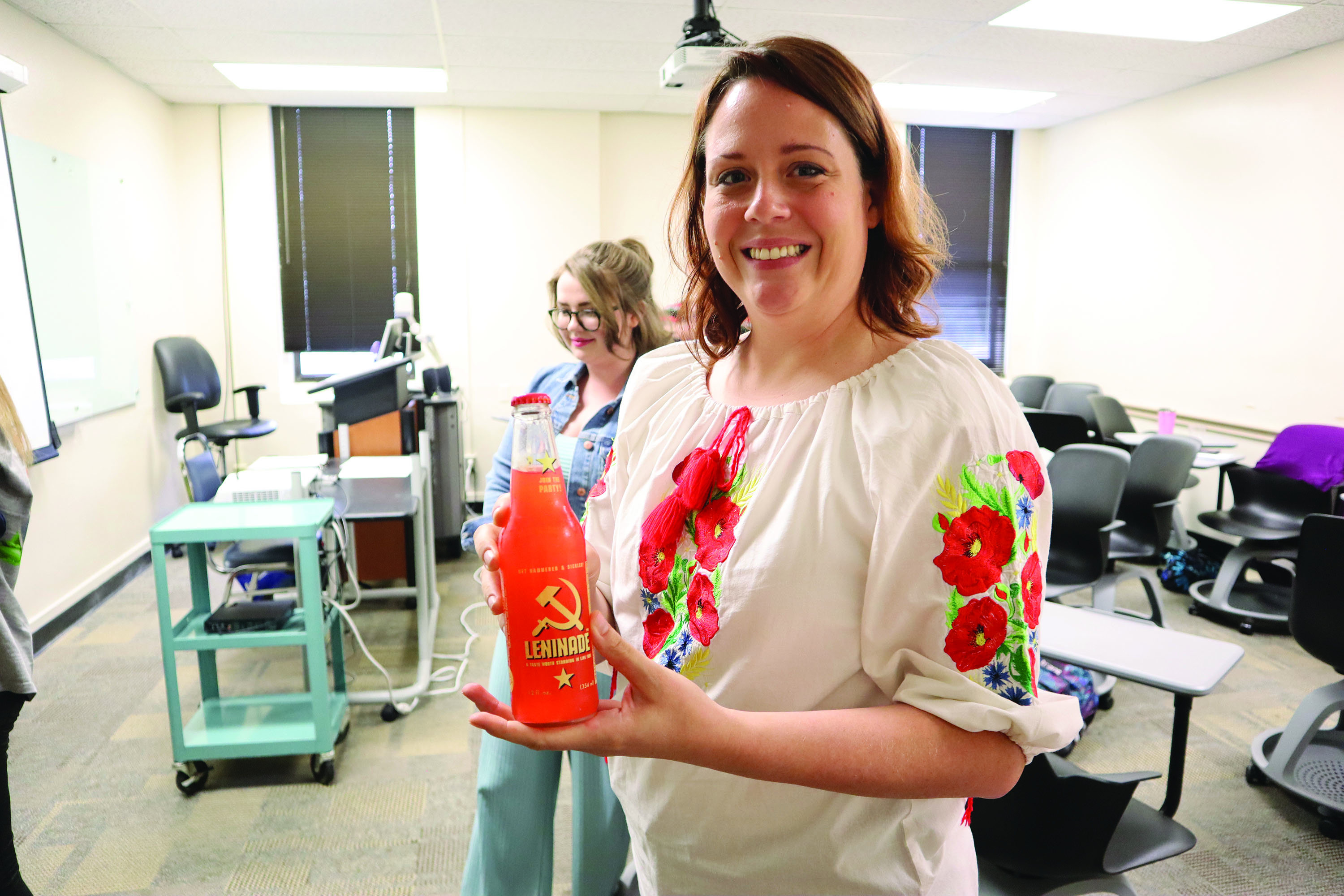 By Bryan Araujo – Staff Writer
International Languages sophomore Juli Meyers' food blog "Pandemonium Noshery" features recipes from over a hundred different countries.
Meyers is the daughter of a former U.S. Navy Urologist and eventually became an Air Force spouse. She has been traveling since childhood and considers herself a nomad in a sense — jumping from one destination to the next.
Her travels have taken her through 48 states in the United States as well as Canada, Mexico, Israel, Switzerland, England, China and the Philippines. These experiences have exposed her to the many cultures from all these different countries.
"Pandemonium Noshery" started as a hobby in 2015. As a full-time, stay-at-home mom and homeschool teacher stationed in Georgia with her husband, Meyers was looking for an expressive outlet.
"I needed something that was mine and my own that I was building," Meyers said, "I wanted to travel and this was sort-of traveling or a least as much as you could do without leaving the house, so I started cooking."
Meyers has been adding to her archives of recipes ever since.
Meyers uses pandemoniumnoshery.blogspot.com, a free blogging platform to present her recipes, capturing and editing photos with a do-it-yourself approach and dollar store items to create backdrops. She doesn't have big ambitions for her blog; she does it simply for the pleasure of it.
"It's just my hobby," Meyers said, "and that's what I want out of it."
She said it can be difficult to find people in Lawton interested in studying food.
She took her focus online to engage other people via Facebook groups and other cooking blogs where she participates in challenges every month.
"I'm part of one called 'Eat the World'" Meyers said, "We just pick a country every month and cook something from there."
This month, Meyers prepared Russian and Ukrainian dishes to present and share at the Communication, English and Foreign Languages (CEFL) Russia Bears Watching II workshop.
Meyers prepared "plov," a dish comprised of beef stew meat, rice and carrots and a cake called "ptichye moloko" which translates to "bird's milk cake."
Foreign languages instructor Donna Clopton is teaching the Russia workshops.
Clopton shared bottles of "Leninade," a popular fizzy beverage from Russia at the seminar. She said she got lucky when Meyers volunteered to do the cooking for all her workshops.
"She's not only a very good student, by the way, but she's a very good cook," Clopton said, "I don't believe I've ever met anyone that had over four-hundred recipes that they were a master of all at the same time. She's extraordinary, I'm lucky to have her as a student."
The Russia Bears Watching series is a collection of one-credit workshops covering Russian Culture. This was the second of three.
Meyers said her friendships and experiences while living in Israel contributed to her international culinary skill set. While attending The Church of Jesus Christ of Latter-Day Saints religious services, Ukrainian/ Russian culture became endearing to her.
"When we were in Israel, everyone we went to church with was Russian and Ukrainian refugees and immigrants," Meyers said.
"So I got to talk to them, church was in Russian, they would cook for us. So that was pretty cool."
Meyers made some friends who spoke English and would help interpret for her.
Meyers would like to eventually move back to Israel, where she mostly feels at home.
The front page of her blog features her most recent dish: Caruso Pasta, a Uruguayan pasta dish with ham, mushrooms, onions and cheese. Her favorite dishes come from the Middle East, but lately she's been into South American cuisine.
Aside from her blog, Meyers also works for the Red Cord in Lawton. The Red Cord is a non-profit organization whose goal is to spread awareness on Human Trafficking.
"I've always been interested in law enforcement," Meyers said, "I was looking at what bothered me the most."
Ultimately, Meyers aspires to one day work for Operation Underground Railroad, a private organization started by Tim Ballard to fight against Human Trafficking by finding missing people and bringing traffickers to justice. Tim Ballard will be visiting Lawton Red Cord in January for their fundraising gala.
You may also like...