Making Cameron History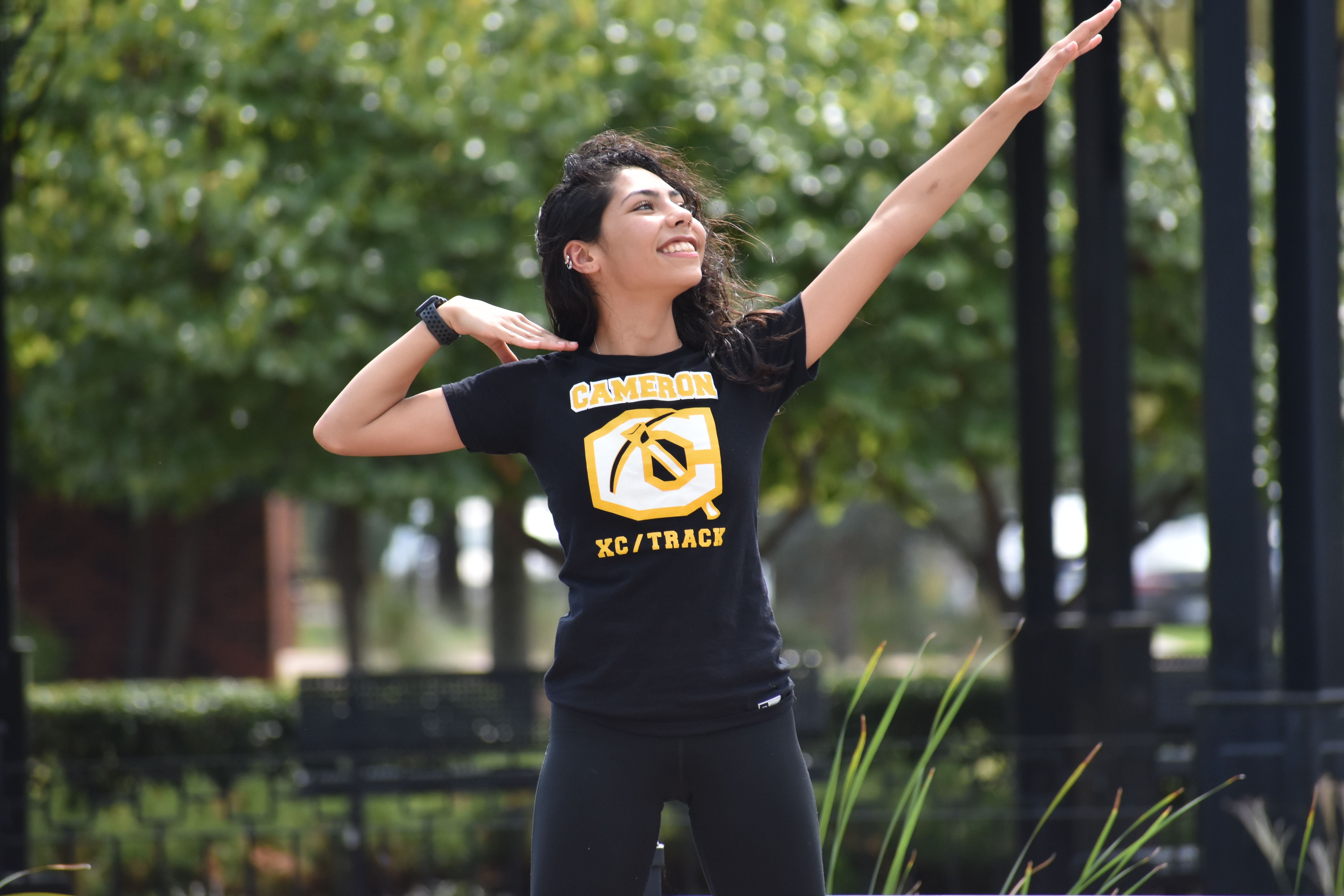 By David Perkins
Sports Editor
When sophomore Alma Duran got the first win of her college cross country career on Sept. 13 at the Aggie Duels meet, she was not fully aware of the significance of her win.
History was made at the only hometown meet of the season. Duran's first place finish marked the very first win of the women's cross country program.
"It really caught me off guard even during the race," Duran said. "I didn't know I was going that fast, and I wasn't aware that I was in the lead."
The women's cross country program is very young. They had their inaugural season thirteen years after the men's program.
The program began last year and only has one full season under its belt. Last year saw three second place finishes out of six meets.
Now, thanks to Duran, the Aggies have tacked on their very first win in the program's history only two meets into their second season.
"That's cool to hear that I am the first girl to win first place," said Duran. "I saw myself as fortunate to be getting my education and getting to run. So this is a bonus, and I am genuinely proud."
The win comes after a summer of hard work for Duran, who has been training in her hometown of Laredo, Texas. Her goals have been steady improvement, staying consistent and maintaining endurance.
"I try to run six or seven miles every day if my work allows," Duran said.
Duran believes that the three major factors for cross country racing are speed, endurance and, most importantly, mentality. Getting a win for the Aggies is a big boost for her mindset.
"Mentality can be a break through," Duran said. "You place your own limitations on yourself."
The reason why the women's program is getting such a late start goes back to a time when Cameron was short one men's sport in the Lone Star Conference (LSC) and men's cross country was a cost effective sport.
Now, thirteen years later, the women's program has been added and Coach Zach Johnson is at the helm coaching both teams.
The women's LSC cross country competition shares a quality with the men: It is extremely tough. The LSC has a reputation for being one of the toughest conferences in the nation for track and field sports.
Johnson is pleased with the way the women's team started out the program in the brutal competition last year.
"For the first year of the program I thought we did pretty well," Johnson said. "We were really young and depending on a lot of freshmen. On a perfect day, I thought we could have been a spot or two higher at the conference meet, but with that many freshmen on the team that is probably the best we could've hoped for."
So far this season, the women have placed third and first in their first two meets. A strong start, but Johnson said they have had a run of bad luck with some of their top runners. Summer injuries and accidents and even homesickness of one international athlete have been setbacks for the team.
Returning all-conference athlete Edna Cheptum has not been able to race yet this season either because of an IT band problem.
"She's just now getting back into it," Johnson said. "Hopefully she will be back for the Chile Pepper Festival in Fayetteville."
Despite these less than ideal situations, coach Johnson has been pleased with the performance of the team.
"Alma's been leading all the workouts," Johnson said. "She's been running really well. So has Taylor Esquivel, Keyanna Patterson, and Vivien Chesire. They've all stepped up and filled the top five pretty well."
Throughout the season cross country runners only have a handful of events. This year the women have seven scheduled meets.
"All considered, we just need to get Edna back in the lineup and running well," Johnson said. "If we can do that for our second season we will have a pretty decent team."
You may also like...