From the Page to the Stage: The Method of Behind the Madness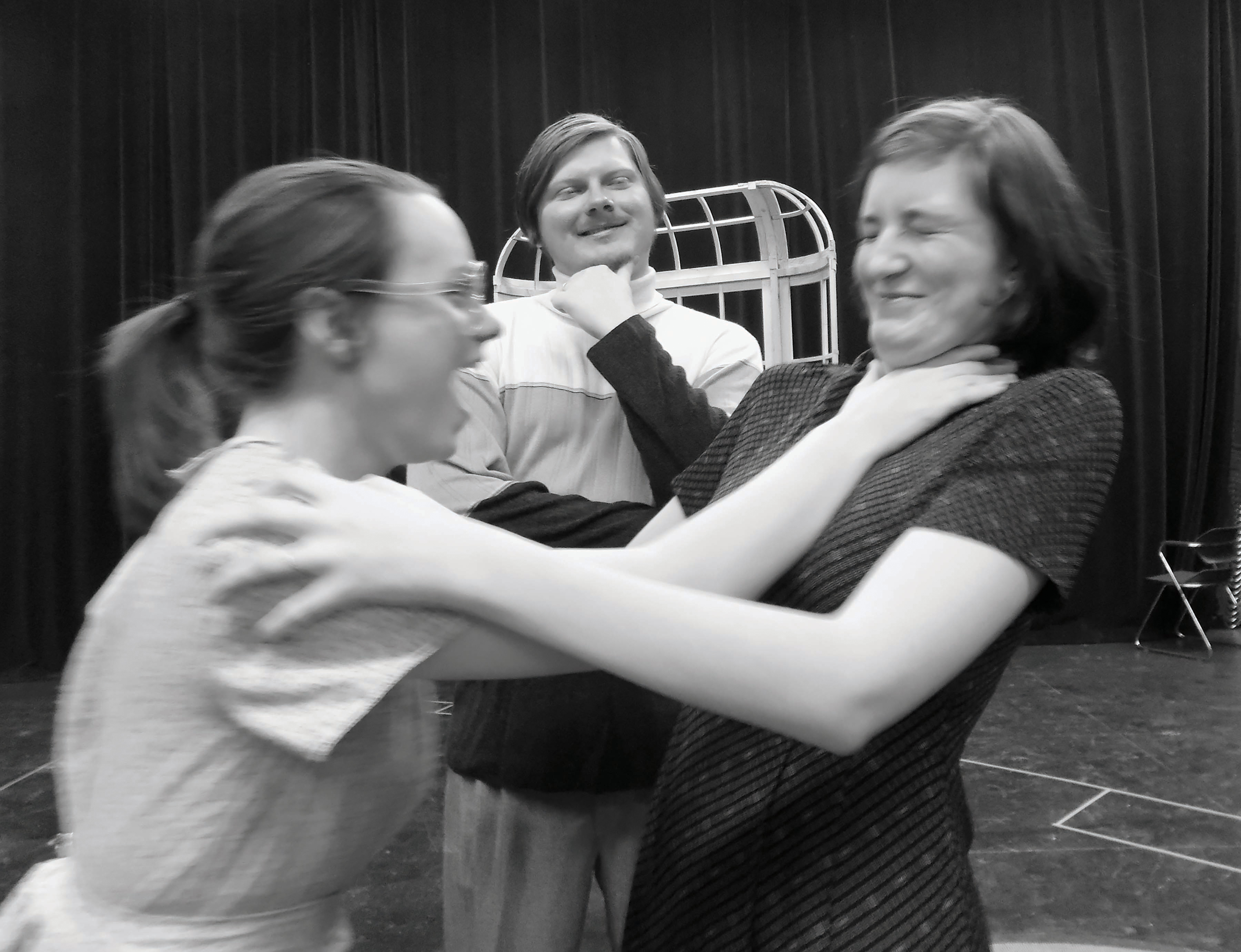 Break a leg!: (Left to right) Annie (Joy Christie), Norman (Cole Nowlin) and his wife, Ruth (Cierra Renee), prepare for the opening night of "Living Together."
Celeste Powell
Staff Writer
A month before the opening day of "Living Together," the space for the performance was unadorned.
Cameron's "black box" theatre is a space with plain black walls and a flat floor that allows flexibility in the formation of the stage and audience seating.
In order to transform a "black box" theater into a set for a period play, it's about the details. It's about establishing the setting in every aspect of the audience's senses—music, lighting, accents.
The writer described it as a "very dirty brownmuseum" in need of repair, the set charmingly followed this in their attention to detail with water stained blotches, tears in wallpaper and falling wall molding.
Transforming a decades old British play for a modern, American audience requires extensive research—for those who weren't alive, anyway.
A believable period play marries every element visible from props to set to costuming. Kelsey Hood, costume and make-up designer, said researching is only half the battle.
"As much fun as it is to do a period show, they're a lot of research," Hood said, "A lot of perpetrations goes into our shop building our own costume pieces."
Articles the Cameron costume shop made were period jackets, dresses, an apron and all men's actors pants.
For the actors, research took a multifaceted approach—understanding both the decade of the 1970s and the dialect of a British accent.
Cole Nowlin, performance theatre major, began preparing for the role by considering aspects of the different country's popular culture.
"Specifically, for British accents, there's so many verbal ticks to work off of," Nowlin said, "If you just grab a few that you know of, you can usually get away with it."
Nowlin also described how actors wait until a design is set before committing to a new look.
"Norman from 'Living Together' is supposed to be shaggy, but I'm not quite capable of that." Nowlin said. "They went with what looked best with what facial hair I'm capable of growing."
"Living Together" succeeded in transporting the audience 43 years back in time, situating us as a silent bystander. Just like a cat stuck in a tree.
For more information about the Theatre department, contact Scott Richard Klein at scottk@cameron.edu.
Tags A&ECeleste Powell
You may also like...