Coffee with the President: A Reflection of the Fall Semester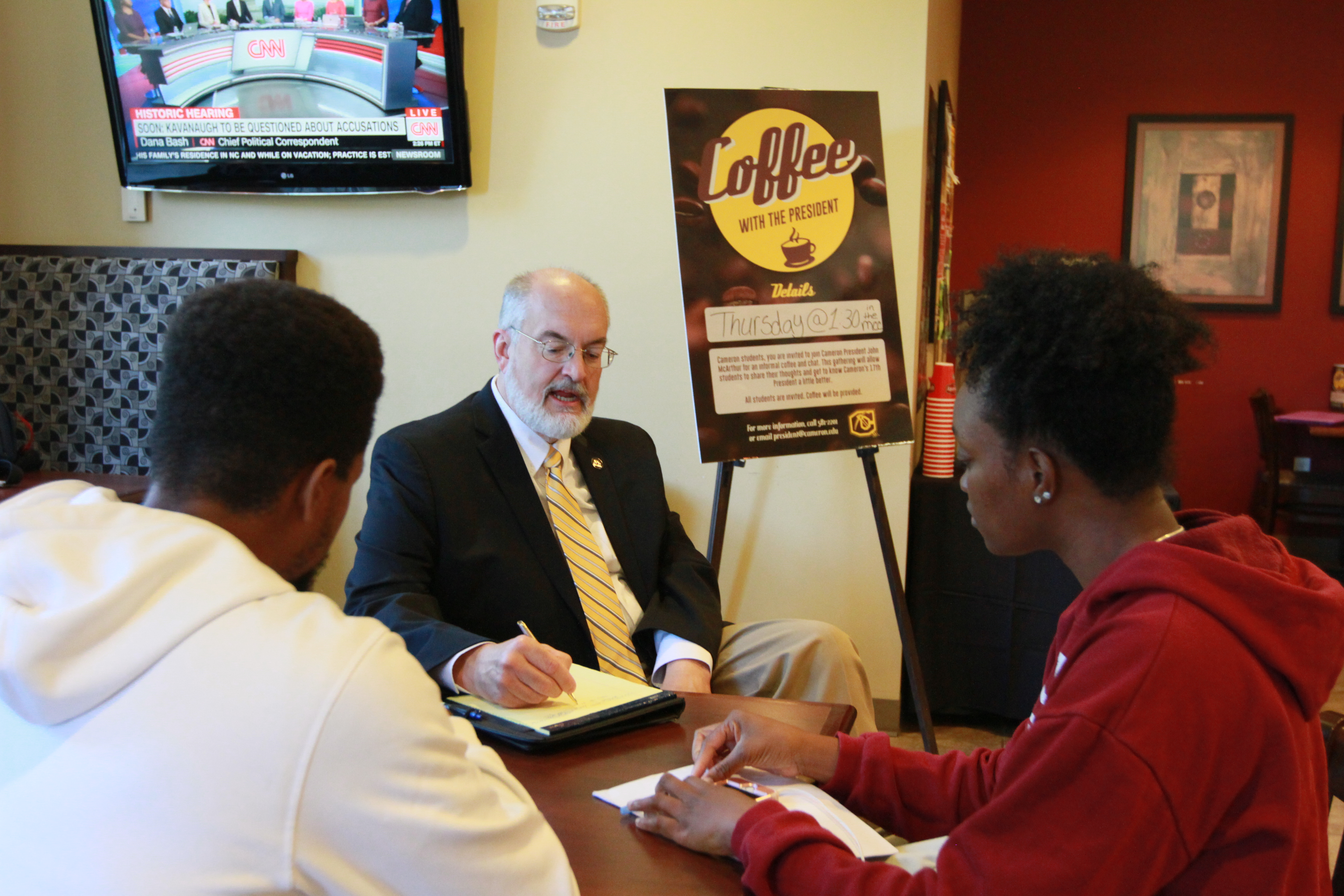 Madison Lyda
Student Life Editor
As the fall semester is coming to a rapid close, Cameron students and faculty are gearing up for finals, the holidays and another semester.
With every semester that comes and goes, the university welcomes new opportunities, hardships and student experiences to look forward to.
On Nov. 19, President John McArthur hosted Coffee with the President in the McMahon Centennial Complex to discuss Cameron with any students.
McArthur discussed his thoughts on the ending of the fall semester and what lies ahead for Cameron.
"Where did the time go? How can it be November already? I've still got things on my desk from September," he said with a smile. "I look at the semester and at all the things we've accomplished with excitement, but look at it wistfully in terms of 'Oh, boy, we've still got so much more to do.'
"We have so much more I know we are going to accomplish. We're never done, we keep pushing forward."
McArthur expressed excitement for the increased enrollment for the spring semester and an understanding of the students who work through obstacles to come back every semester.
"More students are continuing their education, which is something I really continue to work on and strive for," he said. "We want students to get those degrees. I understand that so many of our students are working two to three jobs; they're caregivers for other human beings, and it can be so hard for them to get through school.
"So we are working to improve things for them to get them on track to graduate which is so very important for them and the university."
This semester, Cameron has received many awards and accreditation reviews for academic programs, such as the music department, biology program and the respiratory care program.
McArthur said Cameron completed many achievements during the fall semester, particularly in ways where students were given more opportunities for academic achievement, scholarship and representation.
McArthur said he loved the opening of the CU Duncan campus Biology laboratories shortly after Labor Day weekend.
"The excitement for those students to finally have their own laboratory and be able to pursue a biology degree, chemistry degree, allied health and nursing in the Duncan location has been so great and special for us here," he said. "The excitement on the students' faces when they realized they could pursue their dreams from home really filled us with so much joy."
Along with the opening of the new biology labs at CU Duncan, the Lawton campus has also experienced a milestone: this semester the university initiated the start of a new seasonal sport: the women's cross country and track team.
"I have enjoyed learning about and getting to know the young women who are members of the new cross country and track team," McArthur said. "It's a new sport for us, and they have had astounding success in their first term.
"The excitement they hold, it's contagious, and I love watching students who love what they do and have a want to be here. It's that hidden Aggie gold that lives in their joy and want to accomplish their goals that makes us who we are."
Another achievement McArthur said made him excited was the introduction of the new associate's degree in Strategic Communication, which will offer students another route for success as they make their way through college.
"The faculty worked really hard to put together a package of classes for a two-year version of the Communication degree so that they can see public relations, marketing, media and writing in a short amount of time," he said. "We're hoping that what comes out of this is that students will get a taste of that success and continue on to get a bachelor's degree."
McArthur said last, but not least, that his favorite achievement from the semester was the representation of not only the student body, but also of a student organization through a special event held to honor the memory and history of Indigenous Peoples through the first annual Indigenous Peoples' Day.
"This was Lawton's first Indigenous Peoples' Day," he said. "We made a presentation to the City of Lawton, and they agreed to create that. I am really proud of the members of the student association with no help and no precedent and still doing it all on their own.
"They did a fantastic job bringing in the speakers, the dancers, the artists and the other events they've done to help the general population be a little more aware of the Native American population."
With there being no short in student and organizational achievements at the university, McArthur said Cameron wants to enhance the approachability and knowledge of the university through prospective students, so students can continue to be successful in their own ways here.
"We are working on the functionality of the university," he said. "We're working on changing out our website to make that more approachable by prospective and continuing students.
"Years now, we've heard 'Cameron is a hidden gem' or that we are 'Oklahoma's best kept secret,' and we would like to be a little bit less of a best kept secret. We want more people to know about the wonderful education opportunities here."
Reflecting on the past semester, McArthur took a moment to ponder on his fondest memory from his fifth year as the President of Cameron University.
"Well, I look forward to each and every day, so I think every day just gets better," McArthur said. "Looking back, Aggie Escape, the freshman orientations, being able to see the university through the eyes of a student who is here for the first time—that is a special feeling for me. Just being able to see that sense of excitement and hope in the faces of so many young people."
McArthur asked to share a closing note to all students of the university as the end of the semester nears and they venture into new semesters, paths, and careers.
"My hope for the holidays approaching and the semester ending is for my students to have safe travels," he said. "Make good choices, finish strong and finish with the same enthusiasm in life you had coming into the semester.
"You have accomplished so much, and you are the reason Cameron continues to be a success no matter who you are or what you do."
You may also like...