Nepali Night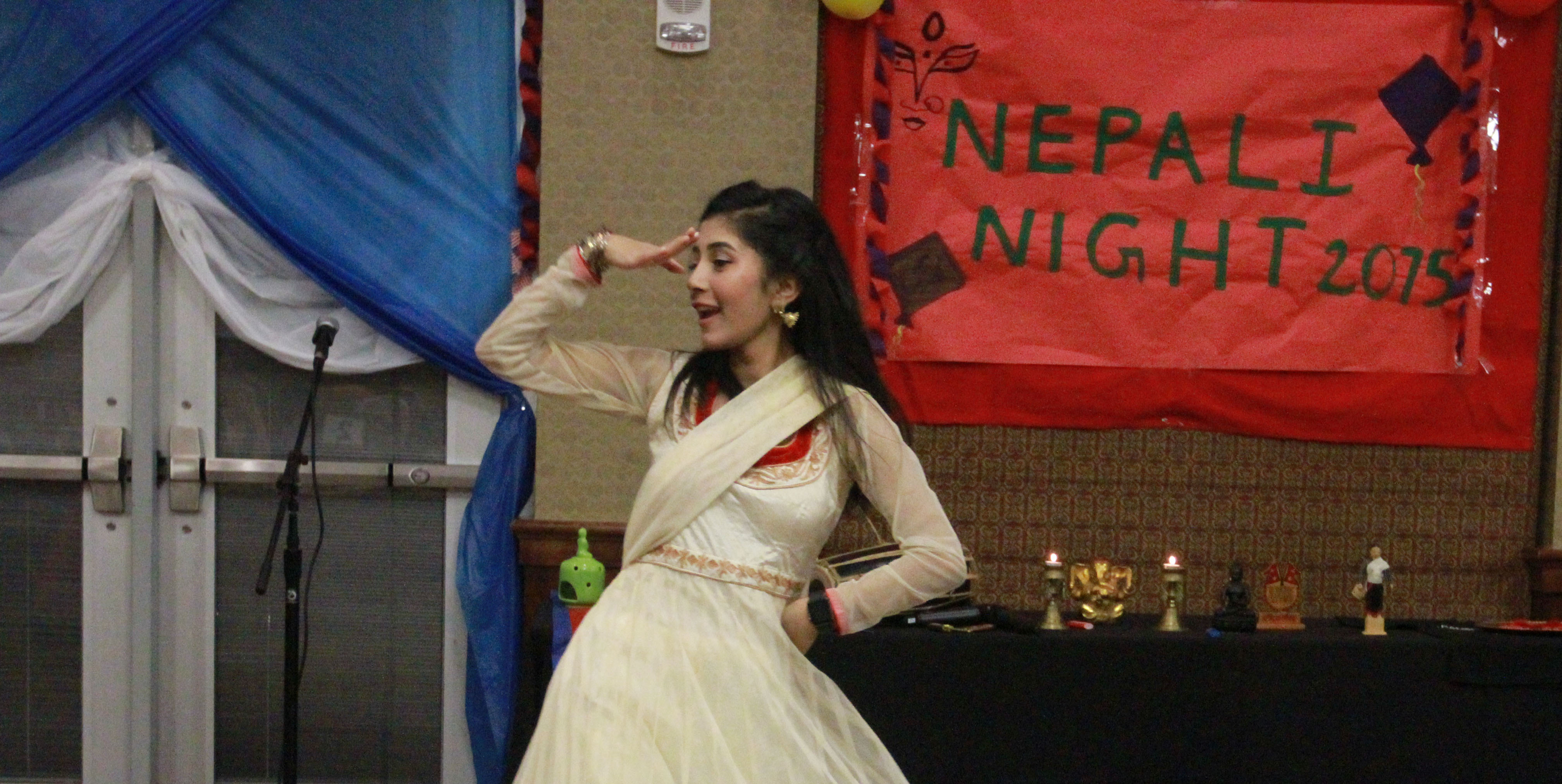 Stacie Larsen
Managing Editor
At 5:30 p.m., on Nov. 4, in the McMahon Centennial Complex, Cameron University's Nepalese Association (CUNA) hosted their 11th annual Nepali Night.
CUNA president and senior Computer Science and Mathematics major Upama Neupane said the celebration serves a dual purpose, as it is not only a way for members of CUNA to celebrate Dashain and Tihar, two traditional Nepalese festivals, but also that it's a great opportunity to introduce others to Nepali culture and traditions.
The event began with a brief description of what Nepali Night is all about from CUNA member and senior Information Technology major and the Master of Ceremony Suvi Shah, and a candle lighting by President McArthur and Cameron Professor of Computing and Technology Dr. Abbas Johari.
Neupane said the candle lighting is a cultural tradition.
"Before you start any kind of program, there is a belief that if you light a candle, it's good luck," she said.
Neupane also said two new people light the candles each year.
"It's one of the honorable things for the Nepalese people," she said, "We always choose people who we think should be honored."
After guests stood for both the Nepali and United States National Anthem, Neupane welcomed the guests and introduced the CUNA student officers.
Following the introduction, Shah invited guests to enjoy a variety of Nepali cuisine, including jeera rice, cauliflower and potatoes, chicken tikka, spicy potato salad and rice pudding.
Throughout the evening, CUNA members participated in a variety of performances, including a Nepali cultural dance, a Bollywood dance, a fashion walk and a fusion of Nepali songs.
Neupane said the informational slides were a way to introduce facts about Nepal and encourage tourism.
"There are a couple professors that have already been to Nepal, and they really liked it," she said.
She also said Nepal hosts individual tours, with the next one being called "Nepal 2020."
Associate Professor in the Department of Art, Music and Theater Eric Abbott said he has attended Nepali Night for the past 10 years, and he first heard about the event through one of his student workers, who happened to be from Nepal.
Abbott's attendance to the event eventually led him to visit Nepal. He said he visited many of the places that were included in the Nepali Night slide shows and participated in one of the tours Nepal offered.
"I went a year-and-a-half-ago, and I want to go back," he said. "I went on a safari and rode an elephant."
Abbott said what he enjoys most about attending Nepali Night goes beyond the performances and food.
"It's the comradery," he said. "It feels like I'm going to see family—really good family that I got to choose."
Abbott added that he thinks it's important to have events like Nepali Night at Cameron.
"I think it's helpful to understand people from around the world. It makes us less hostile in general," he said. "My feeling is the more we get to know people, the less likely we are to hate them."
Chair and Associate Professor of Mathematics Narayan Thapa is going on his second year as CUNA's faculty advisor.
Thapa said he thinks it's important that universities have organizations like CUNA for international students.
"Some of them are seventeen, eighteen years old," he said. "[They] are in a completely different environment in terms of geography, in terms of language, in terms of food, in terms of culture."
He also said he wants to see the members of CUNA succeed.
"My first priority is their education—that's why they are here," Thapa said. "I'm working for the students to make a difference."
Neupane said she's proud of the work that the members of CUNA have put forth in making the club a success on campus.
"CUNA was able to win the title of Organization of the Year last year," she said. "The club is actually working really hard in every sector."
Neupane said CUNA is not only open to students from Nepal.
"Anyone is welcome to join the club," she said. "You can be a board member.
"Being in CUNA, you'll not only learn about Nepali culture, you'll also be able to know more about how to run a club on campus."
For more information about CUNA events, visit the Cameron University Nepalese Association Facebook page.
You may also like...