I Stand with Dr. Ford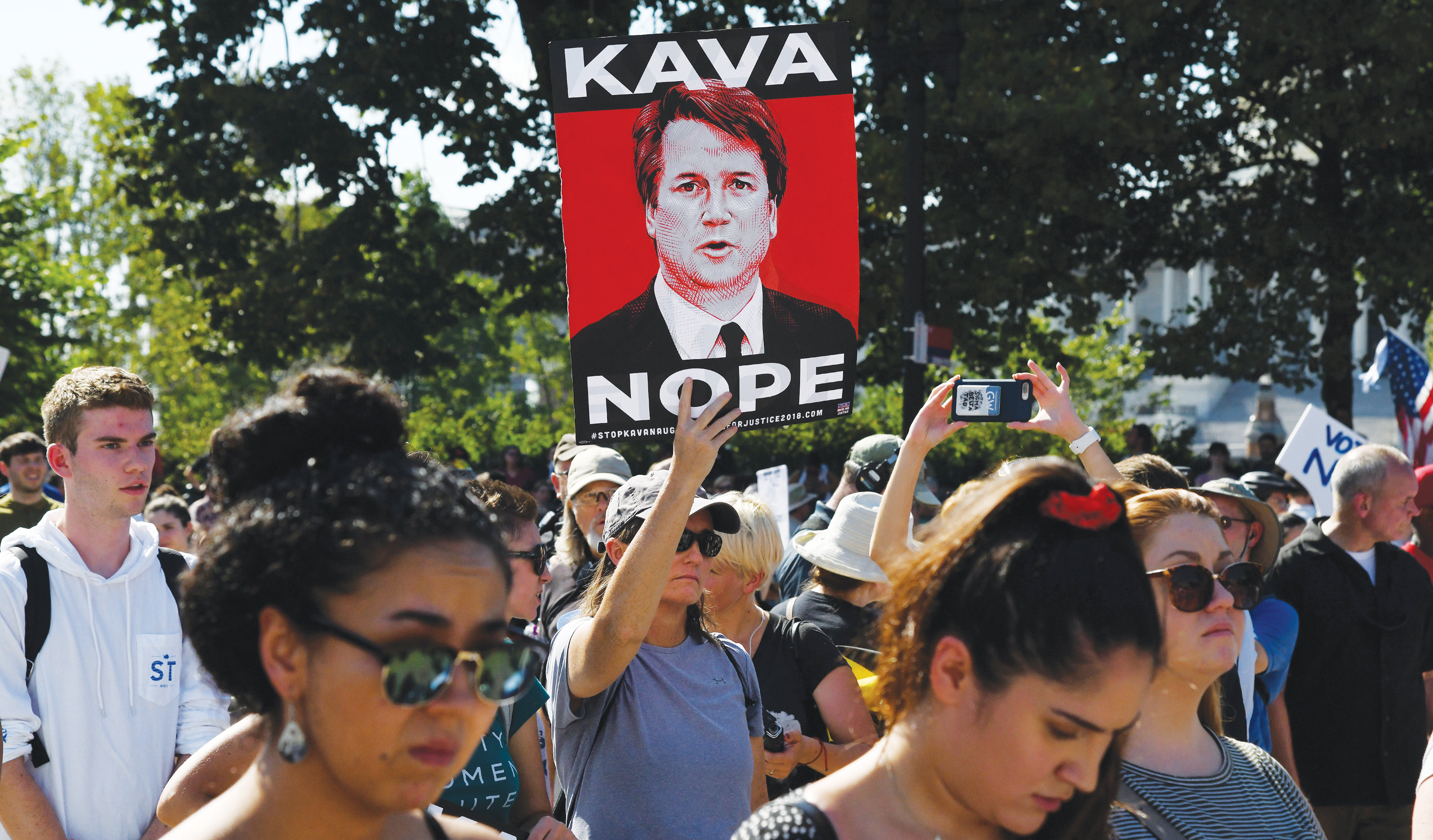 Protesters hold up signs during a protest against U.S. Supreme Court nominee Brett Kavanaugh on Oct. 4, 2018 in Washington, D.C.
Destiny Garcia
Copy Editor
@destinygarciaNY
On Sept. 27, United States Circuit Judge Brett Kavanaugh and Palo Alto University Professor and Stanford research psychologist Dr. Christine Margaret Blasey Ford testified before the Senate Judiciary Committee concerning recent allegations of sexual assault.
Many have labeled Ford's allegations false and have questioned the timing of her report in the climate of Kavanaugh's Supreme Court nomination.
As much as I wish I could say these comments are surprising, they are not.
Our country lacks a realistic understanding of what it means to be sexually assaulted and the challenges associated with coming forward.
The Senate Judiciary Committee gave Kavanaugh a complete definition of sexual assault, parts of which were referenced during Kavanaugh's testimony.
That definition included rubbing or grinding one's genitals against somebody, clothed or unclothed. The definition applies whether or not the acts were sexually motivated or, for example, horseplay.
Democrat, political pioneer and reformer Senator Dianne Feinstein began her opening by saying that "sexual violence is a serious problem, and one that largely goes unseen."
The hearing was the first opportunity for Ford's story to be taken seriously in a public space, and Feinstein stressed a sincere evaluation of Ford's experience.
"In the United States, it is estimated by the Center of Disease Control, one in three women and one in six men will experience some form of sexual violence in their lifetime." Feinstein said. "According to the Rape, Abuse and Incest National Network, sixty percent of sexual assaults go unreported. In addition, when survivors do report their assaults, it's often years later, stemming from trauma they suffered and fearing their stories will not be believed."
Feinstein continued by describing a report she received directly from a sixty-year-old California constituent who told her that she survived an attempted rape at age seventeen.
"She never told a soul, until much later in life. The assault stayed with her for forty-three years," Feinstein said.
Feinstein said she thinks it is important to remember these stark realities as we heard from Ford about her experience.
In her testimony, Ford said she battled the consequences associated with coming out with her story. She said the copy of her letter to Feinstein on July 30, 2018, included her name but included a request to be kept confidential.
"My hope was that providing the information confidentially would be sufficient to allow the senate to consider Mr. Kavanaugh's serious misconduct without having to make myself, my family or anyone's family vulnerable to the personal attacks and invasions of privacy since my name became public," Ford said.
It is clear Kavanaugh feels entitled to respond instantly to these allegations.
"It's an outrage that I was not able to come immediately to defend my name," Kavanaugh said.
Citizens of the United States who are victims of, or accused of crimes are not entitled to immediately defend themselves twenty-four hours later. Most often, the accused and victimized wait far longer than the ten days Kavanaugh waited to be heard.
Ford described her assault as an event that drastically altered her life for a very long time.
"I was too afraid and ashamed to tell anyone these details," Ford said. "I did not want to tell my parents that I, at age fifteen, was in a house without any parents present drinking beer with boys. I convinced myself that because Brett did not rape me, I should just move on and just pretend that it didn't happen."
I stand with Ford as a victim of sexual assault.
Three years ago, when I was sixteen years old, my boyfriend of three months put his hands and genitals on me when I did not consent.
At times, I did say no, and at other times I didn't. I never said yes.
I did not acknowledge what had happened to me until over a year later when I was in counseling for anxiety, depression and self-harm.
At first, I did not understand if what had happened was sexual assault. I thought that since he did not rape me, since I was not screaming or aggressively pushing him away, that it was not sexual assault.
Later, I came across an image that said, "Coercion is not consent," I honestly did not know what coercion meant, so I had to Google it. I felt both as if a weight was lifted off my shoulders and scared. I felt a sense of filth, failure and guilt.
I was afraid to tell my mom that I had been making out with my boyfriend in the backseat of his car. I did not want to have to explain that to her.
What I had "let him do."
Many of my close friends and family are victims who have not reported their stories.
It seems with the #MeToo movement that it is socially acceptable to report sexual assault and harassment. If that were true, reports would not be swept under the rug, and women would not be afraid to speak out.
Ford felt the need to come forward when she saw Kavanaugh's name on a list of qualified candidates for Supreme Court. She felt it was her civic duty to report what happened between Kavanaugh and herself.
I think it is possible Kavanaugh's memory of the assault isn't clear.
When Kavanaugh was asked, "What do you consider to be too many beers?" Kavanaugh replied saying, "I don't know. You know, we – whatever the chart says, a blood-alcohol chart."
Kavanaugh agreed that he had taken part in having too many beers at times.
Public Prosecutor Rachel Mitchell addressed Kavanaugh's interview on Fox News in which he discussed his alcohol use.
"You said that there were times in high school when people might have had too many beers on occasion," Mitchell said. "Does that include you?"
Kavanaugh replied, "Sure."
Kavanaugh also struggled to answer a question concerning his intoxication.
When asked "Have you ever passed out from drinking?" Kavanaugh replied saying "I — passed out would be — no, but I've gone to sleep, but — but I've never blacked out. That's the — that's the — the allegation, and that — that — that's wrong."
Feinstein said, "He declared that he 'never' drank so much he couldn't remember what happened, and he has 'always treated women with dignity and respect.'"
Yet, other women have come forward to challenge his supposed character.
"James Roche, his freshman roommate at Yale, said Kavanaugh was, 'frequently incoherently drunk,' and that was when, 'he became aggressive and belligerent,' when he was drunk." Feinstein said.
Liz Swisher, a friend of Kavanaugh's from Yale, said, "There's no medical way I can say that he was blacked out, but it's not credible for him to say that he had no memory lapses in the nights that he drank to excess."
Therefore, I believe that Kavanaugh was capable of sexually assaulting Ford.
His testimony appeared to be sincere, but rather than deeply evaluating his actions, Kavanaugh is denying the fact that this happened.
Rather than being targeted as liars, women should feel that reporting their stories is not waste of time.
"Today our Republican colleagues are saying, 'This is a hiccup, Dr. Ford is mixed up,' and declaring, 'I'll listen to the lady, but we're going to bring this to a close,'" Feinstein said.
What is worse is that many of Feinstein's colleagues on the other side of the aisle made it clear that no matter what happened during the testimonies, the Senate would plow right through and ensure Kavanaugh would be elevated within a week.
In fact, on Tuesday, the majority scheduled a vote on the nomination before anyone heard one word of testimony regarding allegations of sexual assault and misconduct by Kavanaugh.
Republican leadership even told senators they should plan to be in over this weekend, so the nomination could be pushed through without delay.
Ford refused to bite her tongue.
Aware of the consequences, Ford selflessly took the risk.
Author Meggie Royer said, "A woman's first blood doesn't come from between her legs but from biting her tongue."
Kavanaugh expressed his wish to be treated fairly.
"I ask you to judge me by the standard that you would want applied to your father, your husband, your brother or your son," Kavanaugh said.
I speak for Ford and all other victims when I ask you to evaluate her credibility by the standard you would want applied to your mother, wife, sister, daughter or yourself.
I ask you, in your evaluations of Ford to judge her with the same fairness Kavanaugh requested.
I ask you to judge Ford as somebody, rather than somebody's.
You may also like...