CU Women's Volleyball Falls 3-1 against Midwestern State University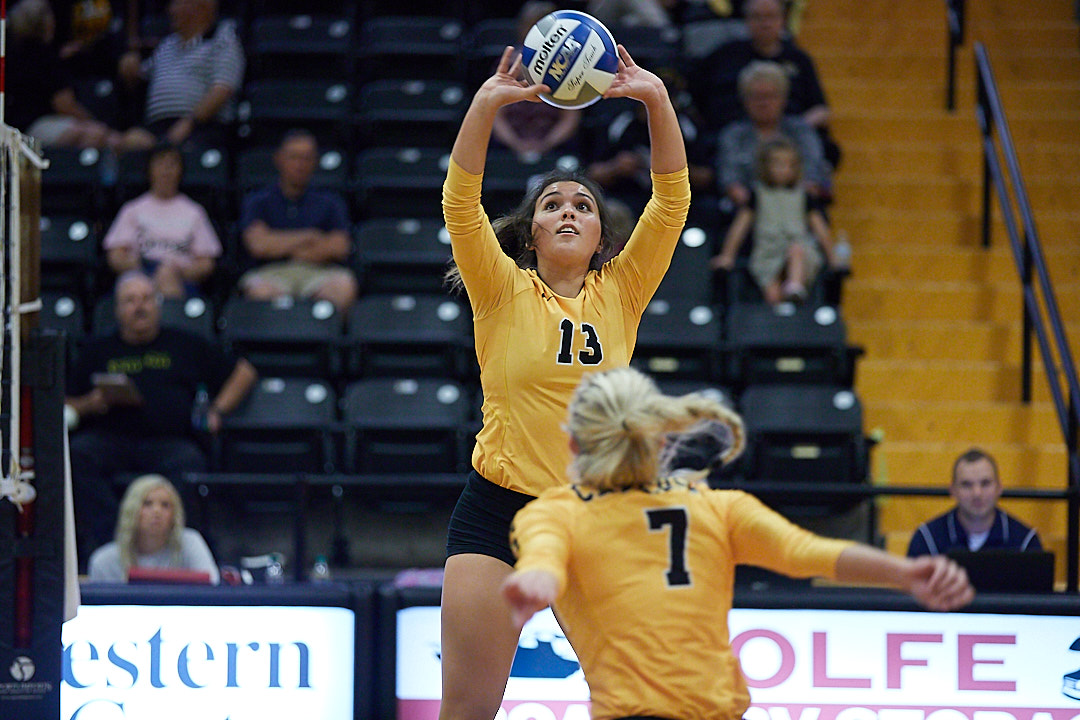 Katie Livingston
Sports Editor
On Oct. 2, the Cameron University Women's Volleyball team lost 3-1 in Wichita Falls, Texas against Midwestern State University (MSU).
This marked their tenth consecutive loss in the season.
Head Women's Volleyball Coach Tatiana Booth said the loss was personal.
"That was our rival," she said. "So everyone's still frustrated and tense about it."
Cameron started off strong in the match at MSU, particularly on offense.
Sophomore setter Katherine Manning started off the game with four aces, followed by senior defensive specialist/libero Brittnee Altic who landed three aces.
Freshman outside hitter Shanatalle Demirjian lead the team in kills with a personal record-breaking 12 in the match.
Senior outside hitter/right side Paige Dixon, senior defensive specialist/outside hitter Brittany Lawson and senior middle blocker Brandy Carr contributed an additional 25 kills.
In the first set, Cameron took the lead by taking three consecutive points against MSU.
However, MSU picked up their game by tying Cameron at 10 points.
After the tie, Cameron failed to regain their footing, and MSU took a 25-21 win.
In the second set, MSU lead at 4-0 which they were able to maintain until Cameron pulled ahead 15-14.
Cameron kept their lead. Demirjian contributed a kill, putting Cameron at a 23-19 advantage.
MSU managed push ahead of Cameron 24-23; however, Demirjian landed another kill to tie the two teams, to which MSU responded with another kill.
Carr then contributed a kill, evening the score again, until MSU landed yet another kill to reach set point. Manning responded with a pair of kills, giving CU the advantage until the teams tied again at 27.
Thanks to Dixon and Manning who both landed a kill and an ace respectively, Cameron took the second set at 29-27.
At the beginning of the third set, Cameron held their lead by taking MSU at 4-1 thanks to another kill from Demirjian.
However, MSU eventually pulled ahead and took the set at 25-18, taking a 2-1 lead in the overall match.
MSU carried their win into the fourth set, taking three consecutive points against Cameron.
Cameron caught up, taking three points of their own. The two teams reached another tie at 8, until MSU took the lead.
Cameron couldn't regain footing, coming right behind MSU twice at 20-19 and 21-20 thanks to an ace from Manning and a kill from Demirjian.
MSU then took five consecutive points and won the set at 25-20 and the match at 3-1.
Despite the loss, a few Cameron players set personal records.
Altic landed 3 aces, giving her a total of 32 in the season and placing her in the lead of the Lone Star Conference for aces.
Altic said she felt she had fallen into a rut during the game but was able to regain confidence.
"I had confidence for the first time in a few matches going back to the line to serve," she said, "I was confident during the game."
Demirjian lead the team with 12 kills, a personal best for the freshman. She said it was a surprise.
"I wasn't aware of that," she said, "that I was leading that game, until one of my [teammates] actually sent the tweet to me. And it was kind of an encouraging pat on the back."
During the match, Demirjian said she was focused on the game more so than her personal records.
"It was frustrating because I know how much potential our team has," she said. "It was supposed to be a very big game for us where we could compete at our highest level. We just didn't come out how we wanted to."
Booth said that though the players are athletic and talented, their biggest weakness right now is mindset, and she hopes that they can work on improving mental toughness.
"We have to have a better mental state,"she said. "If we make a mistake, we can't just harp on those points. We have to be coachable and make adjustments. But our biggest thing is just mental. It's all in our heads."
Altic said she hopes she and her teammates will be able to improve consistency in the future.
"We really can only go up from here," she said. "I just wanna get better at each game. I wanna stop doing good one game and bad the next."
Booth said she is hopeful Cameron will be able to pull ahead during the remainder of the season.
"We have 10 to 11 games left, and it's still time to have more wins," she said. "We're just working on finding our consistent balance. When it clicks it clicks.
"We've learned that talent is not the only thing that's going to win a match. We have the talent checked off but we still have to check off some other boxes."
You may also like...