Aggie Spirit: Cameron University Hires New Spirit Team Coach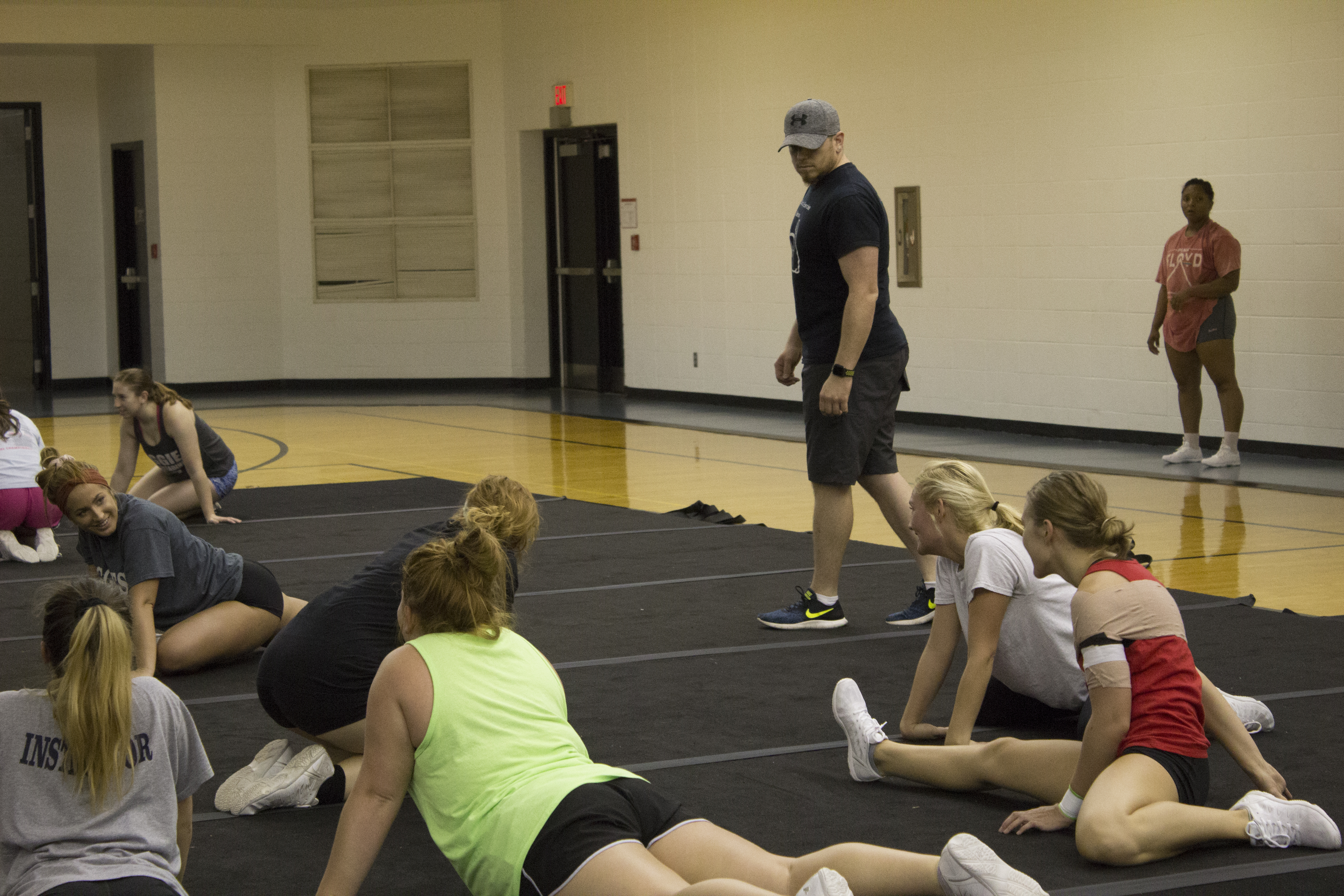 Katie Livingston
Sports Editor
Head Coach of the Spirit Team, Kevin Milner, never expected to end up where he is today.
"It originally started as a hobby," Milner said. "I never thought I'd be in a position at a college level doing cheer and dance."
A recent graduate of Cameron, the university hired Milner in the fall and began work this semester. Though Milner loves his new position, the job was never a part of his plans. In fact, Milner didn't become interested in dance and cheer until his last year of high school.
"It's kind of funny how it all came about," Milner said. "I went through junior high and high school, and it wasn't on my mind."
It wasn't until Milner met a cheerleader from Duncan high school that he became enamored with the sport.
"I went to her practice and saw her and thought, 'Man, you know? I could do that,'" Milner said.
Intrigued mainly with the tumbling side of cheer, Milner began taking classes in Lawton. He soon realized that he had a natural talent for it. After only seven months of classes, the gym he was attending offered him a position as an instructor. Still, Milner didn't see his hobby as a viable career option.
"I grew up in a family where what you did was work," Milner said. "I just picked up jobs because they made money and because I could do it."
Milner came from a family where work was a matter of obligation, not enjoyment.
"Heck, since I turned sixteen I had my first job working at Burger King," Milner said. "I was told that you get a job for money to live. I started that, and I hated it."
After graduating from high school, Milner decided to follow in his mother's footsteps and learn a trade. He began working in heat and air along with juggling other jobs on the side.
Though Milner never thought he'd attend college, his fiancé encouraged him to apply to Cameron.
"Her family's idea of was to have a good life style you have to have a good education behind you," Milner said. "So in her mindset, go to college so you're offered better pay and a better job. She convinced me."
When Milner first started at Cameron, he attempted to maintain several jobs while pursuing his academic career.
"And here I am working weekdays and weeknight and part of my weekends making the money I needed to survive on. And then in that time getting to go to college," Milner said. "It's not an easy task."
Eventually Milner knew that he'd have to consolidate if he wanted to stay afloat.
However, he knew couldn't let go of his position as a gymnastics and tumbling instructor.
As Milner got further into his schooling, his mindset about work began to change.
"In the beginning it was the mindset that if I had a college degree I could get more money." Milner said, "For what job I didn't know. I had no idea."
He jumped from degree to degree, trying business and accounting and even music. Nothing seemed to stick until Milner found Sports and Exercise Science.
"I found my way into Sports and Exercise Science," Milner said. "I don't even know how I ended up there."
Though Milner entered the degree program almost by accident, it soon became clear to him that he was in the right place. He noticed how his coaching classes complemented the gymnastics and tumbling classes he was teaching. Only then did Milner begin to see his hobby as a potential career.
"My long term goal by then was to maybe be part of a professional team and being an instructor and a coach," Milner said. "That's what I saw myself doing."
Once Milner heard about the job opening for spirit coach, he knew he had to apply. Now, Milner's hobby has become his nine to five.
His favorite part so far has been his team.
"They're very energetic and they're very adamant about being a part of and dance," Milner said. "I enjoy watching them do what they do best."
For Milner, goals this year include encouraging team spirit, both among his players and for other Cameron teams, keeping his team on track in sports and in academics, and improving routines.
"Hopefully, by the end of this year, maybe looking at competition," Milner said, "and building routines and stunts for competition with next year's team."
For now, though, Milner plans to stay focused on encouraging the spirit team to maintain their energy on the court.
"Players are playing better and your team may win or lose based on what the spirit team brings," Milner said. "That's why having them as lively as they are is such an important factor."
After all, encouraging team spirit is what the aggie spirit team is all about.
You may also like...