The 2018 CU Organization Fair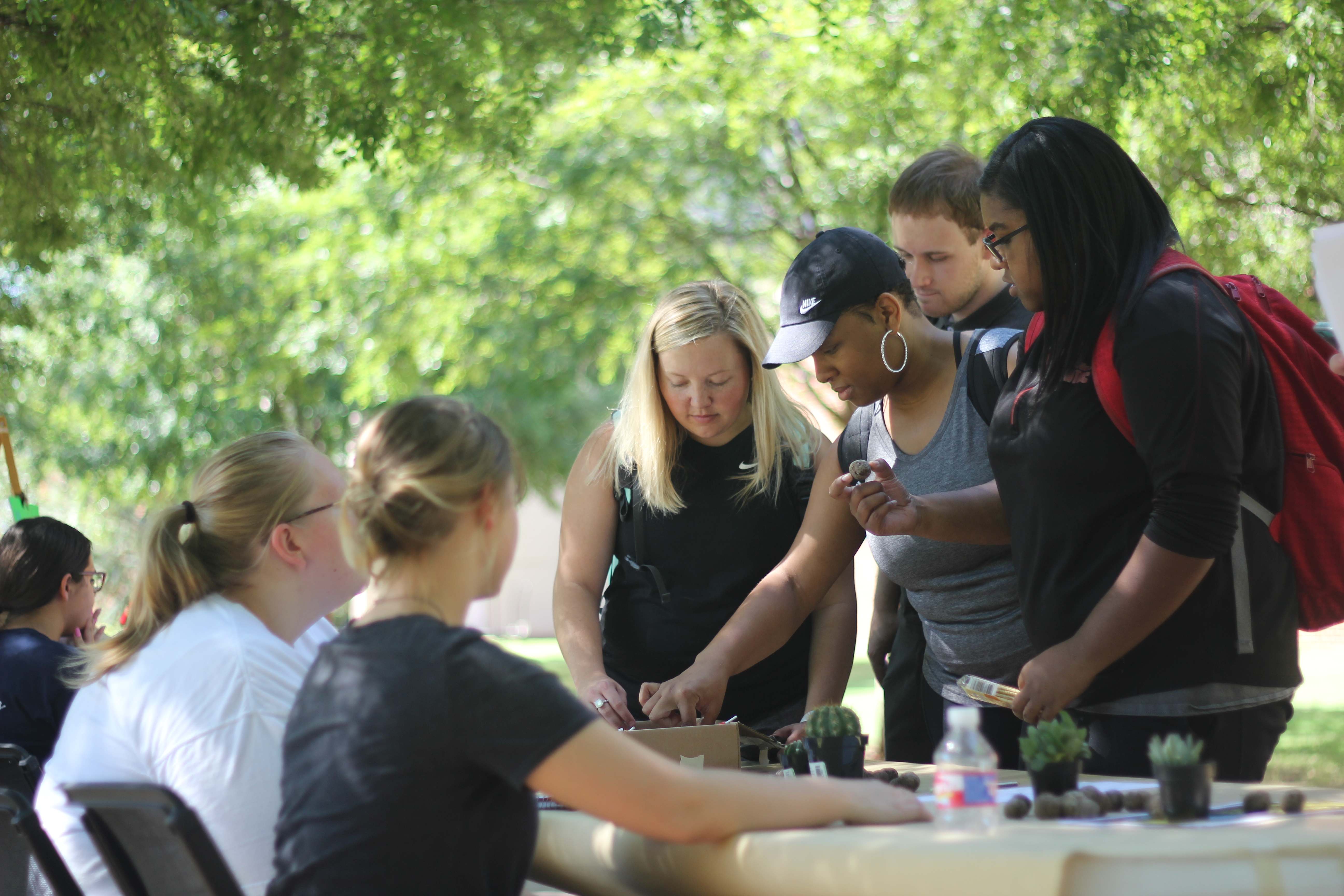 Madison Lyda
Student Life Editor
@maddiline
On Aug. 30, student organizations on campus gathered at the Science Complex East Lawn for the annual Fall Student Organization Fair.
Organizations from all corners of campus united in effort to attract the incoming freshman class and corresponding classes interested in becoming involved on campus.
The Organization Fair offers groups on campus the opportunity to reach out to the student body in a convenient and social setting for a long enough span of time so that students do not have to worry about missing their classes to attend and learn.
The event focused on encouraging students to be involved in at least one organization during their stay at Cameron.
Organizational groups such as the Resident Hall Association, the Nepalese Club and Greek life appeared with various sources of information regarding individual group organizations.
Students were given specific information regarding group missions, meeting times and locations, special upcoming events and contact information.
Sophomore Biology major and Earth Club President Kaylee Craig said the Organization Fair offered her group the opportunity to grow in membership and awareness, "Our goal coming into the event was honestly just to increase membership. Being a new organization, we don't really have any members right now. It was important for us to be able to inform others of not only our organization but of how we plan to help the environment."
Craig said she appreciated the opportunity to express the goals of their organization to new students, "We don't often have many opportunities to talk about our organization before the semester starts, and it's really cool that we are given a platform like this early on in the semester to reach out to students before the craziness of classes start."
In addition to learning about the different organizations and clubs on campus, students learned about academic groups and meet professors involved on campus as well.
The event offered an opportunity to socialize with other students with the same interests and to make valuable connections.
Making its first appearance at the event was Cameron's newest organization, Earth Club.
Earth Club is dedicated to the betterment of the environment and teaching members how to maintain a sustainable and healthy environment around them.
Greek life informed prospective members of upcoming social events and provided information regarding what students can expect from their individual chapters before recruitment commenced.
Senior Psychology major and Omega Zeta Theta president Sarah McGarr shared how important it is to the Greek chapters to be able to spark an interest in incoming students as early as possible, "Our main goal was to answer any and all questions students had about Greek life or OZT in general. We were able to take down important contact information for interested individuals. It is so important to reach out to students as soon as possible so they're aware of their options early on."
The fall Organization Fair is an annual event held by the Office of Campus Life, any additional information or questions can be answered by contacting them at (580)581-2217 or by email at lcothren@cameron.edu.
You may also like...