Striking Balance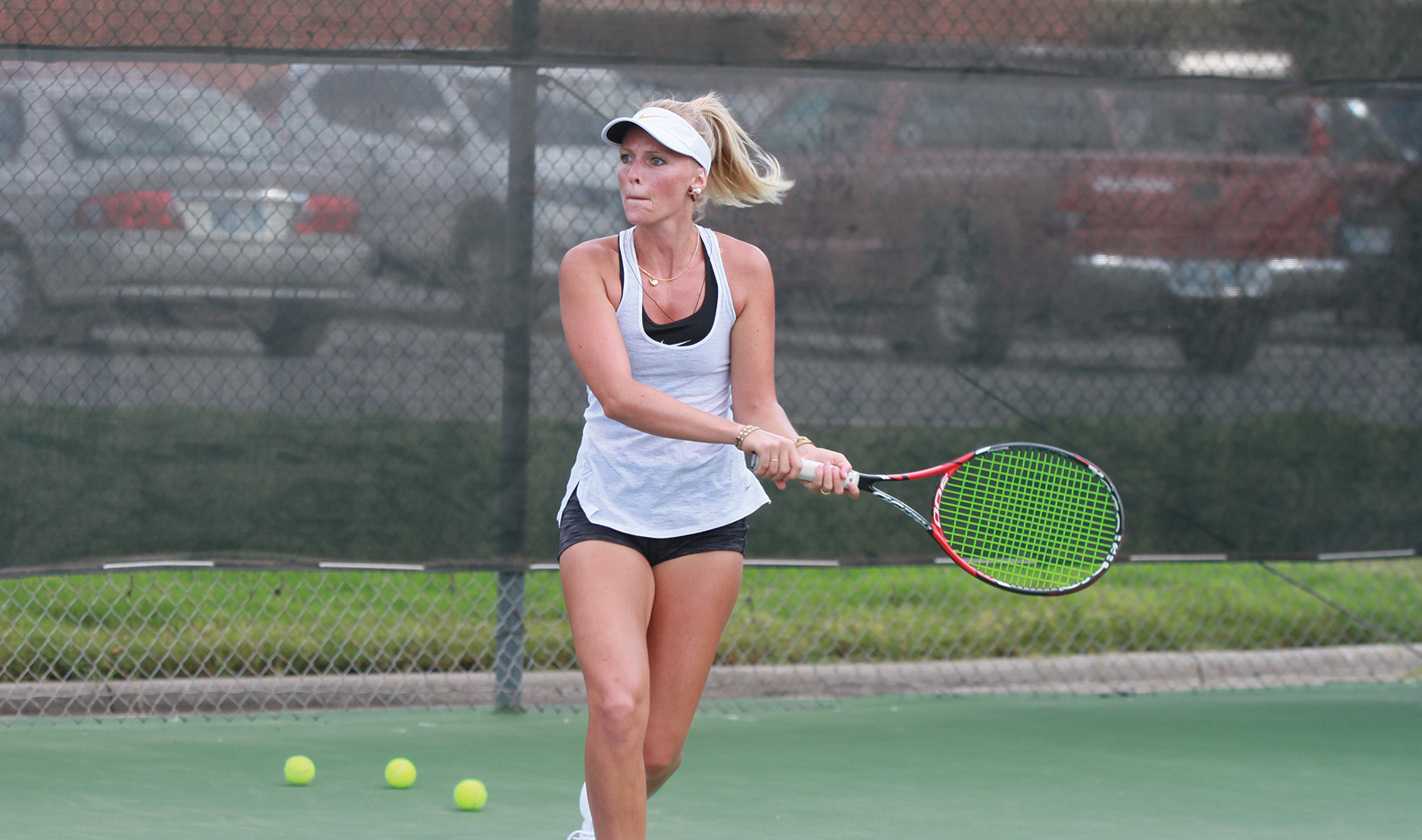 Katie Livingston
Sports Editor
Women's tennis player Rebeka Velasova knows that when she's having difficulty striking balance in her hectic schedule it's important to take a moment to herself and have another slice of peanut butter toast.
"I just love love peanut butter," Velasova said. "Peanut butter forever."
It's a small thing that she does for herself, but Velasova feels indulging in things she loves makes her high performance life style sustainable.
"Once you do something with passion and you love it, it's not work anymore," Velasova said.
From the time she was eight years old Velasova loved tennis. Even at a young age she maintained a busy schedule between school, horse riding, dancing and tennis. But no matter how busy Velasova got, she always found time for tennis.
Later, in high school, Velasova realized that she'd have to streamline her schedule. She could only retain one of her sports. For Velasova, the choice was easy.
"I decided to stick with tennis because tennis is a passion," Velasova said. "It helped me to get to know myself, to grow and develop."
As Velasova's high school schedule became more hectic, tennis became more cathartic. She would walk onto the court weighed down by her studies and responsibilities and walk off completely rejuvenated.
"When I got out of my practice, I felt so much better," Velasova said, "really ready to face challenges and to do things again. So this is the first time I really realized I will never give up my tennis. Because this is what makes me successful."
Though Velasova experienced success on the court, it was her success in the classroom that lead her to come from her home country of Switzerland to the United States. It was while studying at Northern Arizona University that she first thought about playing tennis collegiately.
"This was the first time I realized that college tennis exists," Valasova said. "That it's possible at the same time to study and to be competitive."
Valasova knew that college tennis was something she had to do, so she began the grueling process of applying to universities.
"That was difficult because I didn't have any results," Velasova said. "Why should a coach take me when he doesn't see any results in America? So I tried to impress with my personality and to show I'm a hard worker and I'm ambitious and I'm motivated."
Velasova's hard work served her well, and now she's a pivotal player on Cameron University's women's tennis team, living her dream of staying active on the court and in the classroom.
During practices, Velasova puts everything else out of her mind to focus on herself and on her performance.
"My studies are all behind me," Velasova said. "I don't think about my studies. I think about myself, and I'm focusing on the ball. That's how I get the most out of it."
For Velasova, it's intense focus on the court that makes her a solid player. However, she also realizes that she doesn't exist in isolation. She works hard to build strong bonds with her teammates and coaches.
"You are responsible for yourself, but you are also responsible for your teammates," Velasova said. "If you come out here and you have bad energy that's going to affect them. You want to be this positive energy."
Velasova carries over the same intense focus she has on the court into her studies. In the same way that she blocks everything out during practice, she attempts to achieve mental clarity during her study sessions.
"When I'm studying, I'm not thinking of anything else other than studies," Velasova said. "When I'm writing an essay, I can only have quiet around me."
Velasova prefers to study in either the library or her room where she can be surrounded by silence, her books and a cup of coffee.
"I'm focusing on myself and the text and creating this relationship with the text," Velasova said. "That's when I'm doing my best work."
Though she prefers isolation for studying, Velasova also realizes that building a sense of community makes her a better student.
"I'm trying to have a really good relationship with my professors," Velasova said, "because they know more than me. So I ask them. I ask them questions."
Assistant Professor in the Department of Communications, English and Foreign Languages, Dr. Carie Schneider, admires the effort that Velasova put into her class work.
"One of the things that stood out about Becky in preparing for her reading assignment is that she took several weeks to prepare for it," Schneider said. "She took the extra time to come and meet with me."
Velasova also tries to foster positive, mutually beneficial relationships with her classmates.
"I need good feedback to keep me going because that keeps me motivated," Velasova said. "So if you want good feedback, you have to give good feedback. I'm trying to give that energy."
Velasova said that it's these positive interactions with players, coaches, classmates and professors that keeps her going strong, working hard and trying her best. But she knows she also has to rely on herself.
"You need to organize yourself and be very disciplined," Velasova said, "and you need to do what you love."
Though doing what she loves keeps Velasova motivated, it doesn't mean that every day is perfect. Her ambitious lifestyle and drive to become the best version of herself can lead her to overstretch herself. She often gets inside of her own head in a way that she describes as self-destructive.
"Sometimes I think 'Am I good enough for this? Will I make it?,'" Velasova said. "I start comparing with others."
When Velasova notices herself overthinking, her response is to try and take a step back, organize her thoughts and focus on the things that she can control.
"Can I influence the weather? No," Velasova said. "Can I can influence how others will interact with me? No. But I can focus on what I can control. So when I'm feeling overwhelmed I try to focus on one thing and then move to another."
Velasova also noted the importance of self-love and self-acceptance.
"Once you're doing good at something […] learn how to say good job," Velasova said, "Once I learned this, everything became easier for me."
If all else fails, Velasova turns to peanut butter toast to make things better.
"When I'm down I just love pennut butter toast," Velasova said, "So I eat one more of that."
Even on the hard days, Velasova knows as long as she loves what she does she can make it through.
"If you want something and if you're passionate about something you can do whatever you want in life." Becky said. "That's how I keep the balance." That, and peanut butter toast.
You may also like...