Pride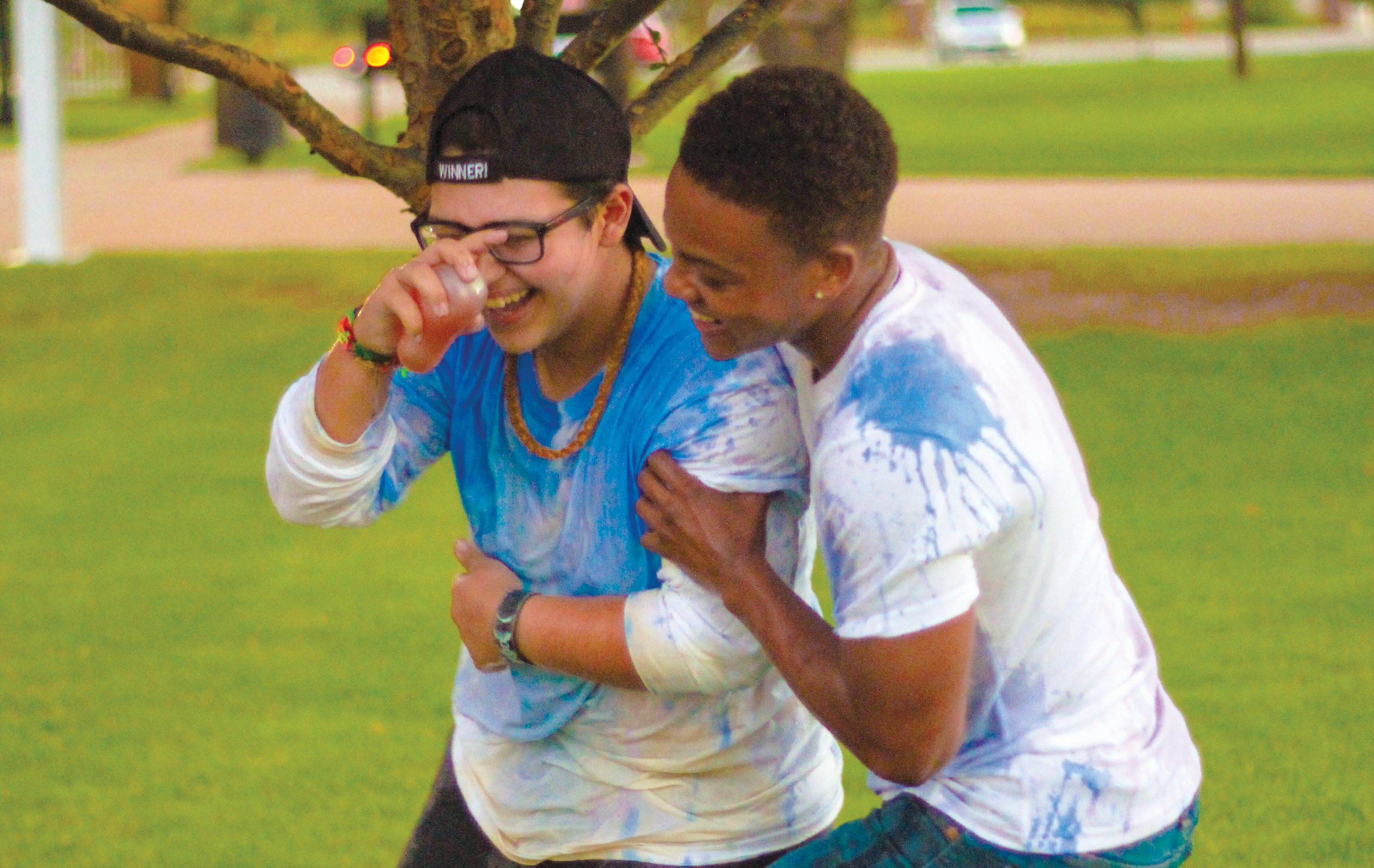 Madison Lyda
Student Life Editor
@maddiline
On Friday, Sept. 14, Cameron Pride came together in a celebration of a new semester with an event that colorfully showcased the bonds of organizations.
Located at the lawn in between the Shepler towers and the Aggie Rec Center, Cameron Pride took to the campus together to host a tie-dye water balloon fight.
The event happened shortly after the organization held its weekly general information meeting that is located weekly at the Student Housing Office every Friday at 6:00 p.m.
Students involved with the organization came together to express their creativity and collective uniqueness by helping one another tie-dye their organization shirts with the help of water balloons containing color pigments.
Individuals participating in the event brought their own white t-shirts.
After the event, the organization's logo for the shirts will be printed on.
The balloons gave students an opportunity to showcase their personalities by allowing them to design their organization shirts with the colors that represent their personalities.
Knowing the struggles and everyday battles that the students involved in Cameron Pride may face outside of the organization, Cameron Pride Vice-President and Junior Art Education major Lynndon Lambert shared that the event was a bonding exercise to relieve stress and help build stronger bonds within other individuals with people within their community.
"We understand that life gets hard, and it can be difficult to find ways to relieve all of the stress," he said. "The balloon fight was able to bring a smile to everyone's face even for a moment and bring us even closer together."
Cameron Pride also hosted their general information meeting where individuals were able to learn of upcoming events in the organization along with getting to know others in the group.
Students in attendance shared their personal struggles and some shared stories of their coming out and how they've grown from their struggles.
Cameron Pride President and sophomore majoring in Pre Law Greyson Basham was one of many individuals who shared his coming out story to the group.
Basham explained his love for the organization and why he cares so deeply for the individuals involved.
"There was nothing like this where I grew up. I had nothing," he said. "Pride is the only family that I have."
Basham explained that Cameron Pride is an activist organization open to all individuals and provides a safe space for people to gather regardless of race, gender identity and sexuality.
"Cameron Pride is an organization who seeks to help students and people in the community by providing educational events and giving those who need it, a second family," Basham said. "A place where no matter what they are accepted and loved. Cameron Pride is open to everyone and it always will be."
Cameron Pride provides support, education and advocacy for all gays, lesbians, bisexuals and gay-friendly heterosexuals within Cameron University and the surrounding communities.
"We are a safe place to figure out who you are or who you want to be. We will be your friends, we will be your family," Basham said. "You are not alone."
For more information on Cameron Pride in regard to how to get involved, questions about upcoming events and meeting times or other opportunities available for LGBTQ+ students are encouraged to contact Cory Sanders at (580) 581-5901.
You may also like...