CU Greek Life: Calling All the Greeks to the Yard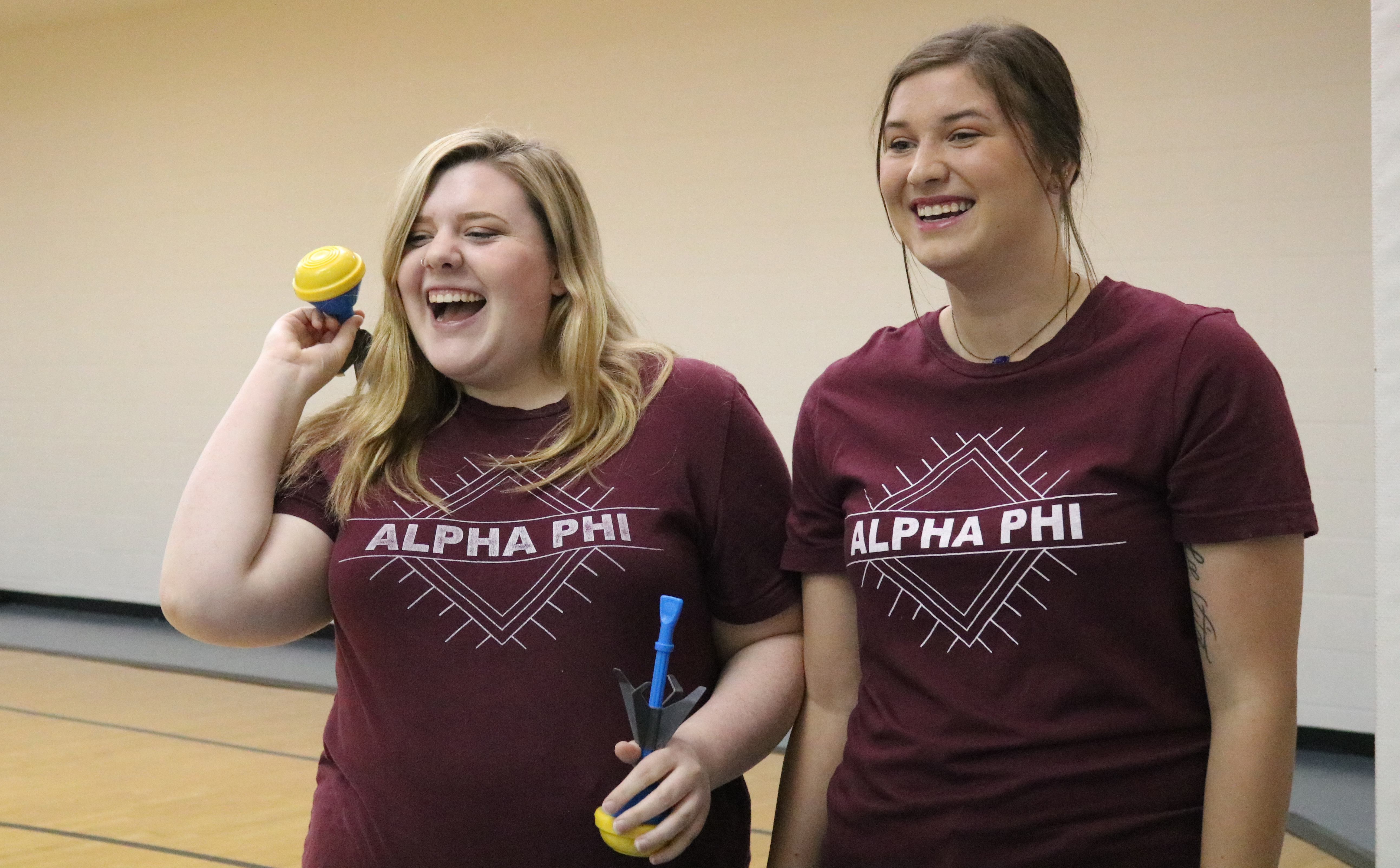 Lawn and Order: Sophomore Allied Health Sciences majors Katherine Hellickson (left) and Megan Carl (right) join in on a game of Lawn Darts. At 7 p.m. on Sept. 4 at the Aggie Rec Center, CU Greek Life competed against one another in various lawn games including bag toss, frisbee, lawn darts, and bonding exercises.
Celeste Powell
Staff Writer
Starting at 7 p.m., Sept. 4, in the Aggie Rec Center, Cameron Greek organizations hosted a Greek Lawn Day with basketball, Frisbee, giant tic-tac-toe and lawn darts.
The event initiated fall Greek recruitment and provided a way for students seeking a sorority or fraternity at Cameron to interact with the organizations in a fun environment.
The CU Greek Council organizes all Greek events.
Greek Council is the overseeing body of all Greek organizations and is comprised of a representative from each organization. The council is tasked with setting all organizational guidelines.
Greek organizations held collective Greek events before individual chapter events to allow students opportunities to find the organizations in a central location.
Greek council president Alex Bonano-Cruz wanted to provide diverse events to reach out to multiple types of students at Cameron.
"It's important students know Greek life isn't just one niche of people," Bonano-Cruz said. "It's a melting pot of men and women who have unity under brotherhood and sisterhood and success in their minds."
Coordinator of Campus Life Daniel McFadden oversees Greek life at Cameron and serves as the advisor for Greek council.
McFadden believes being a member of a Greek organization is a great experience for students to learn outside of the classroom.
"They are able to really grow themselves and learn leadership skills that are necessary for potential jobs in the future," McFadden said. "It's a way to become wellrounded and experience the different atmospheres of what a student organization can bring you."
The Office of Campus Life on Cameron.edu states that members are expected to be connected to Cameron, show commitment to service and develop a commitment to social excellence.
CU lists social experience, scholarship, community service, leadership and career development as reasons to join a sorority or fraternity.
Bonano-Cruz understands that joining a Greek organization may be intimidating, but said that students should take a chance.
"Try it," Bonano-Cruz said. "If it's not for you, at least you made some friendly new faces on campus … but, if you like it, it'll be an experience you only get now and will cherish forever."
Greek Bid Day is on Sept. 15 and marks the end of the two-week recruitment process at Cameron University.
A Bid is a formal invitation to join a sorority or fraternity. Students may receive this after attending individual chapter events and getting to know organizations and their members.
For more information contact Daniel McFadden in the Office of Campus Life at 580-581-2217 or by email at dmcfadden@cameron.edu.
You may also like...