CU Cadets Succeed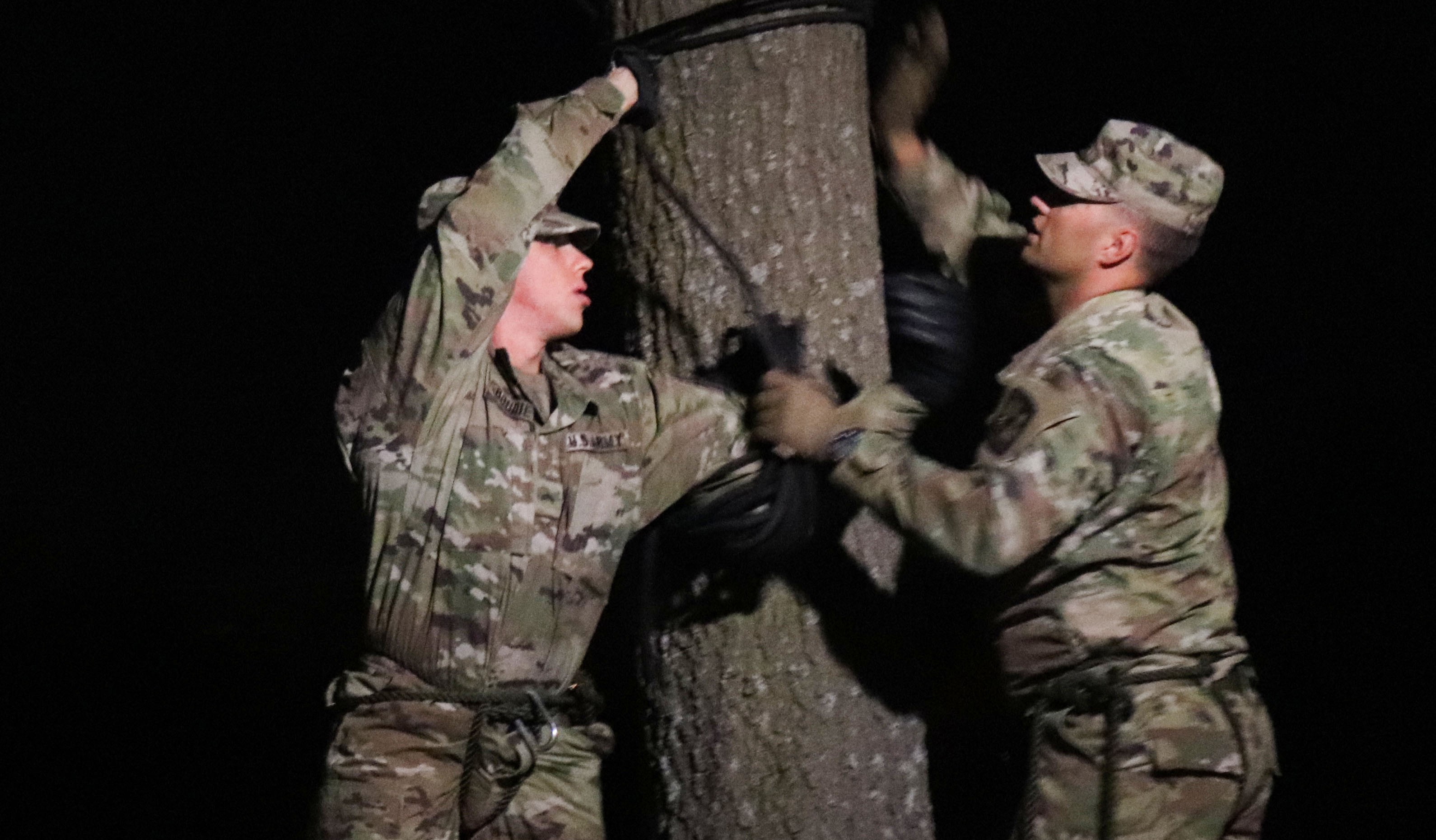 Getting Tactical: ROTC Cadet Robin Boudiette (left) straps together a harness late at night to simulate a high-pressure situation. Cadets Boudiette and Crosswhite attended specialized training over the summer.
Drue Watkins
Co-Managing Editor
During the summer of 2018, two Cameron University ROTC cadets attended specialized US Army schools, with both cadets successfully graduating with full honors.
The first ROTC Cadet is junior Robin Boudiette, who completed Airborne training at Fort Benning, Georgia and became a paratrooper.
Airborne training consists of a three-week long regimen—known as Basic Airborne Course (BAC)—which teaches Soldiers the techniques involved in parachuting from airplanes and landing safely.
Boudiette said joining the Airborne was something he always wanted.
"It's a dream of mine," he said. "I want to branch Infantry and being Airborne is a pretty big part of that. I made my decision, committed to it and gave it my all."
The BAC follows a rigid structure that slowly exposes soldiers to airplane safety, with an emphasis on physical exercise and creating instinctive reactions when exiting a plane's doors.
Boudiette said he felt as though he was well-prepared, mainly due to his ROTC training.
"I'm used to being around a lot of military personnel," he said, "and that helped out. I wasn't really concerned about the physical aspect of the school—you know, things like pushups, sit ups and running. I was confident in myself."
The most challenging part for Boudiette revolved around learning the intangibles of jumping out an airplane—the instructors, known as 'Black Hats,' used mock doors and had the Soldiers land safely on gravel a foot below.
Boudiette said learning how to position his body for a landing proved difficult.
"It's even harder when you have to learn how to navigate mass exits with people on your left and right," he said. "And it's also hot—you know, it's Georgia in midsummer, 95 degrees, maximum humidity with our helmets on. It's one of those mind over matter things.
"The Black Hats were also really good. They knew what they were doing and pushed us enough to succeed. We would've been lost without them."
The final week of training is known as 'Jump Week,' when soldiers must successfully, and finally, jump out of a live plane (C-130) five times at 1,250 feet.
Boudiette said his first time jumping out a plane was nerve-racking, but one of the most profound moments of his life.
"I was shaking and terrified," he said, "and I was the second guy out the door. I closed my eyes on the jump, but it felt really peaceful after a moment. We did a 'Hollywood Daytime Jump,' which is basically just a parachute without your combat equipment."
Those who pass the training get the honor of applying the 'Silver Wing' to their uniform and become US Army paratroopers.
Boudiette said it was amazing to represent Cameron University throughout the whole experience.
"It's just a dream, jumping out of airplanes," he said. "I loved every second, and representing Cameron felt great. I was glad to be given the opportunity."
As for his future in the Army, Boudiette said he has most of it planned out.
"I plan on going Infantry and getting my Ranger tab," he said. "I'd like to start out my career at the 25th Infantry Division in Alaska. As someone who really likes the outdoors, I think it fits me."
The second Cadet who competed during the summer is junior Robert Crosswhite, who went to Fort Benning, Georgia to participate in Air Assault School—a 10-day, highly competitive course designed to prepare US Army Soldiers for insertion, evacuation and pathfinder missions that utilize multipurpose helicopters.
This particular school is hosted by the Army National Guard Warrior Training Center.
Crosswhite said he was extremely proud when he completed the training, earning his Air Assault Badge and the 2B Additional Skill Identifier (ASI).
"When I first graduated Air Assault School, I had a sense of relief," he said. "I did not want to let my ROTC program down since they are the ones who sent me—coming back with wings on your chest is a great feeling."
Though the training emphasizes rigorous and physically exhausting workouts, with methods such as 12-mile hikes in under three hours with full gear, it is also mentally demanding, as candidates need to learn aircraft safety and orientation, alongside the principles of aero-medical evacuation and combat assault operations.
Crosswhite said his ROTC program prepared him well for the situations he had to endure, like studying in stressful environments.
"The whole thing was hard," he said. "From the physical aspect of it, to the sling load operations, and to eventually repelling out of the UH-60 (helicopter). A lot of it you have to learn on the fly while you are there."
Each Soldier attending the school must go through different phases to graduate; for example, the Rappelling Phase is a three-day series that consists of completing two rappels from a 34-foot tower and two rappels from a UH-60 Blackhawk helicopter, which is hovering at 70-90 feet in the air.
The possibility of getting accepted into these specialized schools is limited, as there are many other cadets across the nation striving to attend. Crosswhite said the ultimate decision of his attendance at the school was up to his cadre.
For his future career in the military, Crosswhite said he feels like it's pretty standard.
"My first and primary goal is to commission like every other cadet in the nation," he said. "After that, I have no idea. I might just stay in for four years and get out."
For more information on Cameron ROTC, visit Burch Hall Room 110 or check out www.cameron.edu/militaryscience
You may also like...