Phi Sigma Iota Hosts Banquet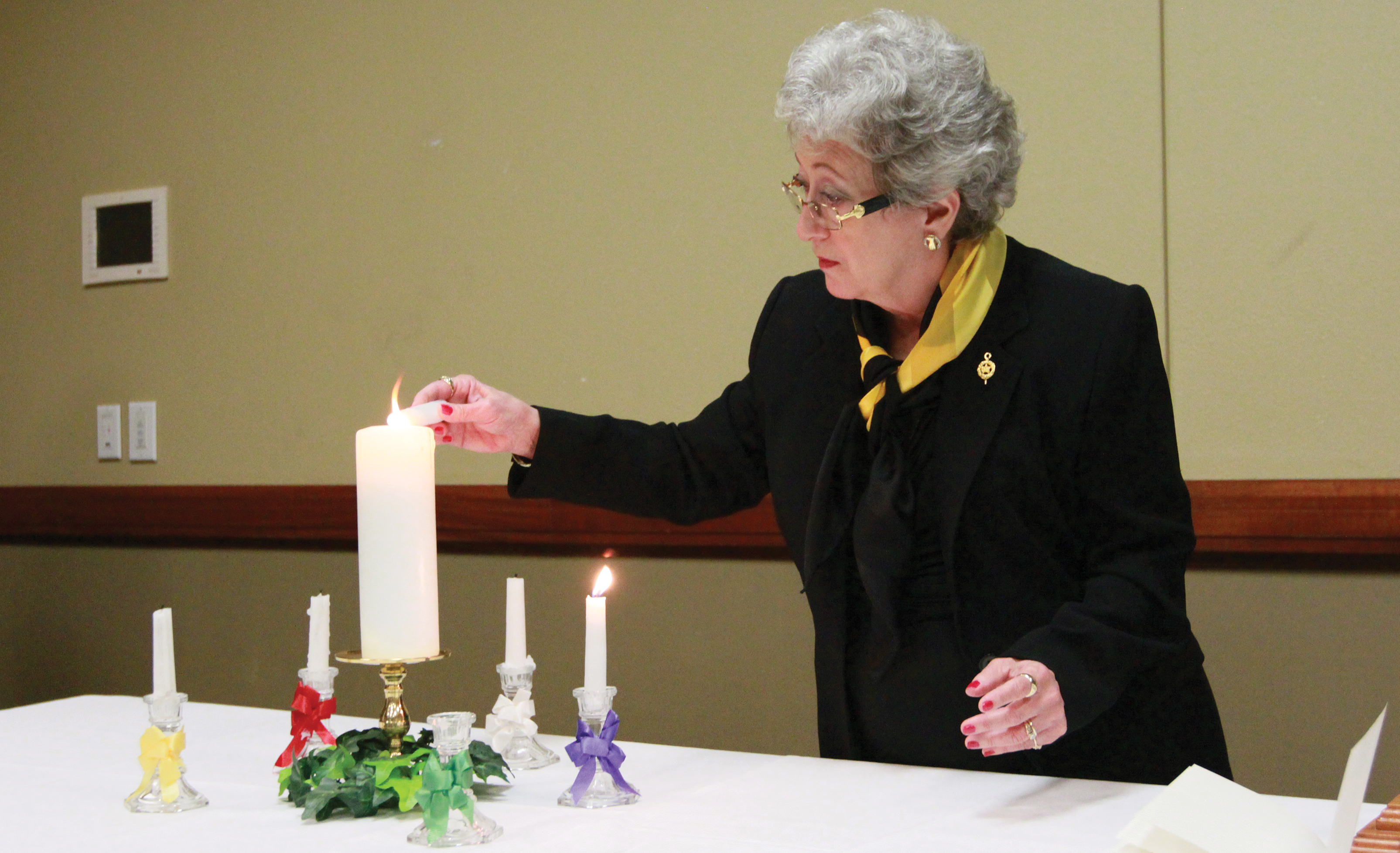 Initiation celebration: Dr. Teresa M. Lubrano lights the candles during the celebration in honor of the languages they represent, including Latin, Itilian, German, French and Spanish. During the initiation, the organization's two new members received white roses, which symbolizes what the organization stands for.
Stacie Larsen
News Editor
At 6:30 p.m., on April 6, Cameron University's International Foreign Language Honor Society, Delta Rho Chapter of Phi Sigma Iota, hosted its 31st annual initiation banquet in the CETES Conference Center.
The event included an initiation ceremony, calling of new officers, a full meal and the presenting of scholarships and awards.
Phi Sigma Iota Co-Advisor Dr. Teresa M. Lubrano said she helped charter the Delta Rho Chapter of Phi Sigma Iota at Cameron in 1988 and served as the organizations first faculty advisor until 2015, upon retirement.
She said she thinks its important to have organizations like this one available to students.
"It promotes amity among nations, " she said. "It promotes the study of foreign languages, [and] of research in those languages.
Lubrano said the requirements for joining the organization include taking at least one course in a foreign language at the junior level or higher and having an overall GPA of 3.0.
"It is the greatest honor that can be bestowed on a student of foreign languages," she said. "It is a wonderful honor on your resume.
"In the past, we have had the greatest comradery among members. They learn from each other."
Lubrano said she hopes that the students who join the organization are able to gain experiences that will not only impact their lives as students but also as graduates.
"I hope they learn leadership qualities," she said. "I hope they learn comradery, how to work together, pride in what they have accomplished, and the urge to continue their education, [and] to be life-long learners.
Lubrano said each candle lit during the lighting ceremony represented a different language, including Latin, Italian, German, French and Spanish.
She also said, upon charter, the decision to have a white rose as the organization's symbol was influenced by a poem written by a Cuban poet José Martí, "I cultivate a White Rose."
"It [the poem] talked about how he included everyone that he cultivated the rose for, both his enemies as well as his friends.
"It [the rose} was a symbol of amity, of inclusion, and tolerance for all ideas, all nations, [and] all languages."
The evening concluded with the announcing of scholarships, including the Graziella Scholarship given to Phi Sigma Iota President Maribel Gomez and the Delta Rho Benke Scholarship given to vice-president Geraldine Brady.
Gomez said she was excited to learn about the organization and what it offers.
"My minor is Spanish," she said. "That's why I am in this organization.
"It celebrates every language."
She also said she was surprised and happy to have received the scholarship.
"I feel proud to be part of this honor society."
Brady said her involvement in the organization has helped broaden her horizons and given her the opportunity to meet others with similar passions.
"At first, I started with French," she said, "and then it opened my eyes to Latin and Spanish.
"It has helped me in the outside world in the fact that it made me more open and outgoing.
For more information about Phi Sigma Iota, visit their Facebook page at www.facebook.com/Phi-Sigma-Iota-Cameron-University-Lawton-Oklahoma.
You may also like...