PAC Grocery Bingo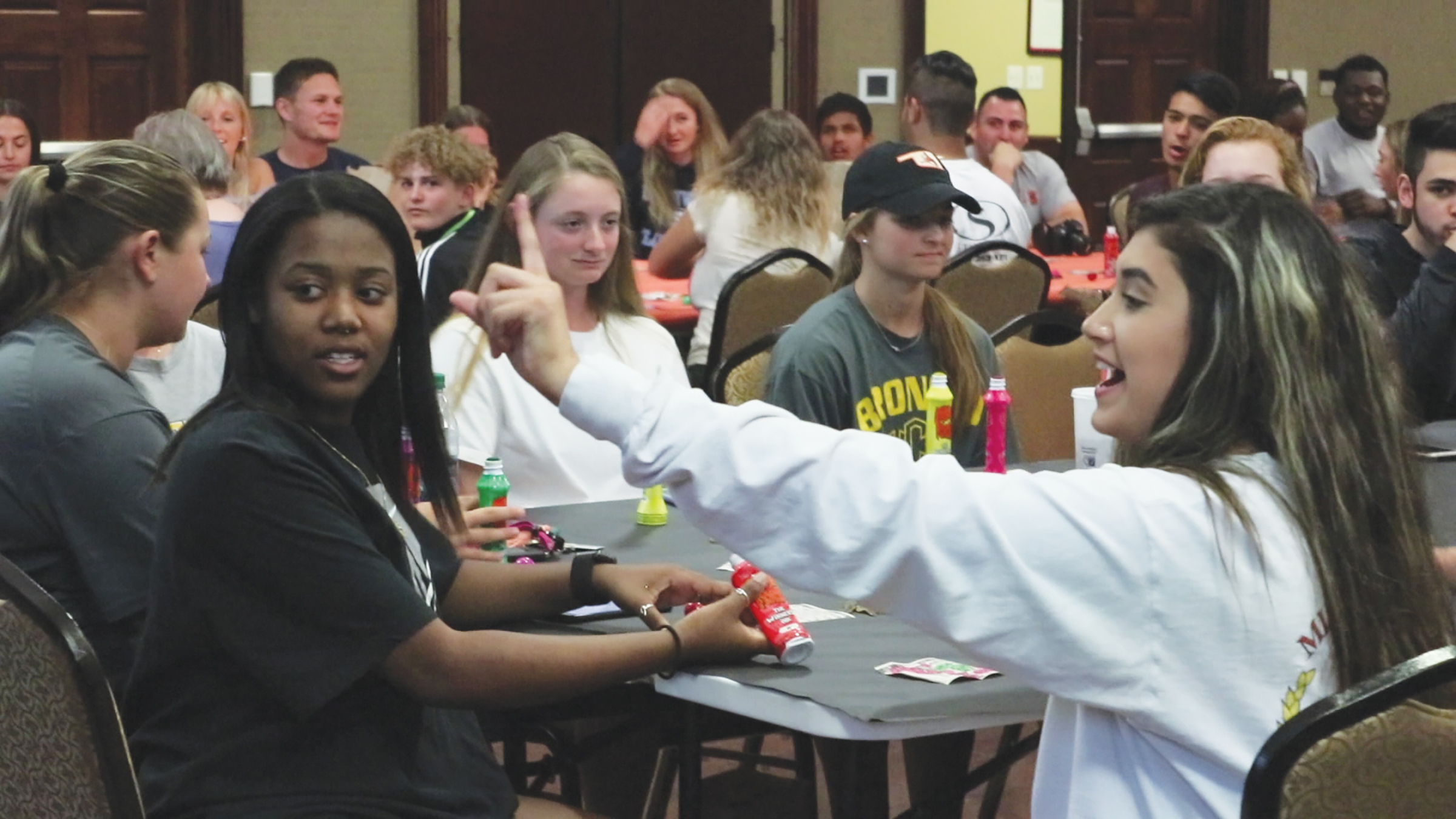 Miranda Fritts
Staff Writer
At 7 p.m., April 5, Cameron University's Programming Activities Council (PAC) hosted grocery bingo in the MCC McCasland ballroom.
Grocery bingo is a bi-annual event organized every semester by PAC. Students play for a chance to win bags of groceries and a few special prizes.
The bingo caller, Megan Cathcart, called out numbers and decided what pattern the students would use to win.
She changed the winning pattern every few rounds, from five in a row bingo, to blackout, to the infamous CU pattern.
A projector at the front of the room displayed each number called, which allowed for students to follow along.
Each table held multi-colored markers and blank bingo cards. When Cathcart began a new card, PAC members would go around the room and hand out them out.
PAC provided over 50 brown bags full of various types of groceries. Some of the contents included Gatorade, Cup of Noodles, granola bars and wet wipes.
This semester's special prizes included a Fitbit and a Bluetooth speaker. Blackout became the winning pattern, which means every number on the card should be marked to win.
When it came down to the special prizes, the rule is the first person to make it the caller table wins.
This caused multiple students to run to the front and wave the winning cards in front of Cathcart.
Senior communication major Kerry Schooneart said she looks forward to grocery bingo every semester and watching how competitive it can become.
"Grocery bingo can get intense," she said, "but it is always good time. It is probably the most attended event on campus, if you ask me."
Over 100 students attended this semester's grocery bingo. While not every student won, a majority walked away with a bag or two full of groceries.
The preparation for grocery bingo involves PAC members shopping for groceries at Sam's Club, packing the bags, acquiring bingo cards, stampers and then booking the room.
This semester, Daniel McFadden, Cameron University's new Coordinator of Campus Life, organized and attended grocery bingo for the first time.
"It was definitely exciting and thrilling," he said. "Lots of high energy, which I think is great from the student body."
McFadden said this year will be hard to top and he hopes to make the next grocery bingo even better.
Sophomore communication major Johann Tate said grocery bingo is his favorite PAC event, and he always enjoys the fun intensity.
"You can really feel the energy when people are about to win their prizes," he said. "But the fact that I won, it was a real good moment."
PAC is recruiting new members. For more information on how to become a PAC member or get involved with upcoming events, contact the organization at (580)581-2217 or pac@cameron.edu.
You may also like...