English Awards Banquet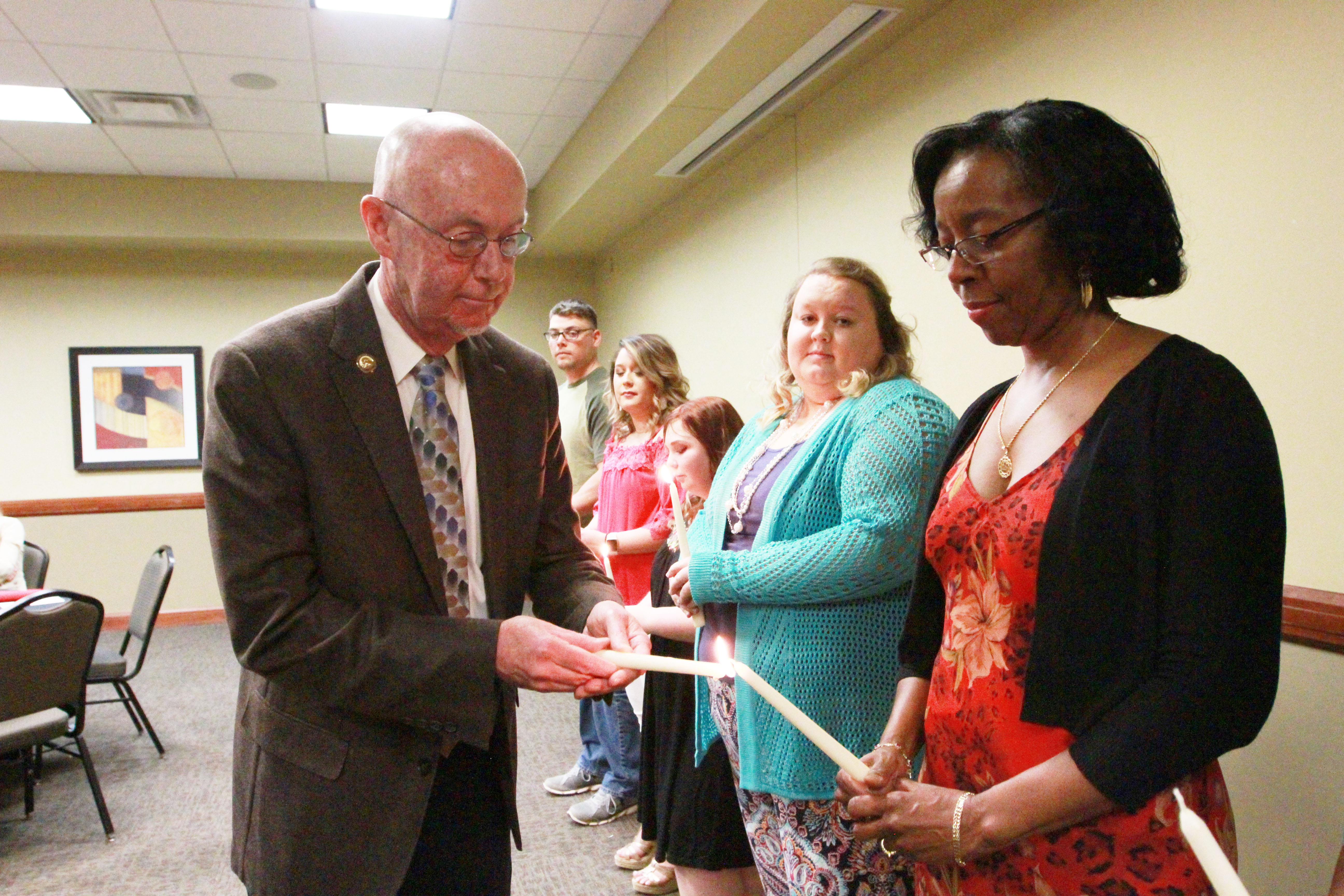 Celebrating success: Dr. William Carney (left) inducts several students into the Beta Omicron Chapter of Sigma Tau Delta. The banquet also included an announcement of Sigma Tau Delta's 2018-2019 officers, recognition of graduating senior English majors and a presentation of awards and scholarships.
Stacie Larsen
News Editor
At 6:30 p.m., on April 13, in the CETES Conference Center, Cameron's Department of English and Foreign Languages hosted its annual English Awards Banquet.
The celebration included the induction of several new members to the Beta Omicron Chapter of Sigma Tau Delta, Cameron's English honor society, an announcement of Sigma Tau Delta's officers for the 2018-2019 academic year, recognition of graduating senior English majors, a buffet style dinner and a presentation of Awards and Scholarships.
Associate Professor and Director of English Composition Dr. William Carney, who is also the faculty advisor for Sigma Tau Delta, said the purpose of having the awards banquet is to give the English department the opportunity to recognize the outstanding work produced by Cameron students, as well as their academic achievements.
"In a lot of cases," Carney said, "English majors are not the type to speak well of the work that they've done."
Carney also said that he hopes that students who participated in the contests gain a broader perspective and appreciation for their own creative work as well as the work produced by their fellow classmates.
"I hope they get motivated," Carney said. "I hope they get inspired.
"I hope that they see classmates doing well, and I hope they see classmates whose work that they have actually read and think, 'I can do that.'"
Carney said his favorite part of the evening was the induction of new Sigma Tau Delta members.
"It's just so much fun to see majors you've known for a couple of years," he said. "Maybe you had them in your freshman composition class and then suddenly there they are.
"They have blossomed. They have written well. Their grades are good, and it's gratifying to see the pride that they take in it."
Carney also said he thinks it's important that students know Sigma Tau Delta is not for English majors only.
"If you [students] have nine credit hours in English," he said, "a 3.0 GPA, and a 3.0 in those English courses, please come and talk to me.
"Some of our officers in the past have themselves been other majors."
The awards and scholarships announced at the banquet included the Leigh Holmes Prize for Creative Nonfiction, the John G. Morris Poetry the Prize, the AWP Nominees for fiction, non-fiction and Poetry, the Lawton Shakespeare Club Award, the Jessie Mae Hines Language Arts Scholarship, the Lawton Shakespeare Club English Scholarship, the Loren & Rebbeca Mckeown Endowed Scholarship and the English Tuition Waiver.
English & Foreign Languages professor Dr. John G. Morris recognized the three winners of the John G. Morris Poetry Prize, along with two students who received honorable mentions.
Morris said he created the Poetry Prize twelve years ago in order to honor his mother, who died in 2003 and was his first inspiration to write.
"When I was about eight years old," he said. "I stumbled across a sheaf of stories she had written.
"I was very impressed at a young age with her as a writer, and then also with the idea that that's something that someone should want to do."
Morris said he put forth his own money to get the poetry contest started at Cameron.
"We didn't have a contest," he said, "and I thought we should have one—usually schools have contests of various kinds.
"It's a way to recognize the good work that students do. One of the things about the Poetry Prize is not all of the winners in the past have been English majors."
Senior English Education major Ana Paez took first place in the John G. Morris Poetry Prize with her poem called "The Great Vowel Shift."
Paez also received the Lawton Shakespeare Club Award, presented by Dr. W. Dean Clement. She said she was flattered by the positive remarks Clement made in regards to her participation in his Shakespeare class, as well as some of his others.
"Whenever I'm in his class or any class, and a professor will ask 'What that was about? What happened?' I'll come out and say what it is, but I'm pretty unique in how I say it," she said. "Dr. Clement pointed out that…I would say, 'Hamlet just straight ghosted Ophelia. It's no wonder she went cra-cra."
Paez said she is grateful for all of the wonderful experiences she has had at Cameron.
"I can't imagine having gone anywhere else," she said, "All the professors are really supportive."
For more information about Sigma Tau Delta or contest and scholarship opportunities offered by the Department of English Foreign Languages, call (580) 581-2272 or visit room 2014 in Nance Boyer.
You may also like...