Dr. Matt Jenkins Wraps Up New Film 'Little Rose'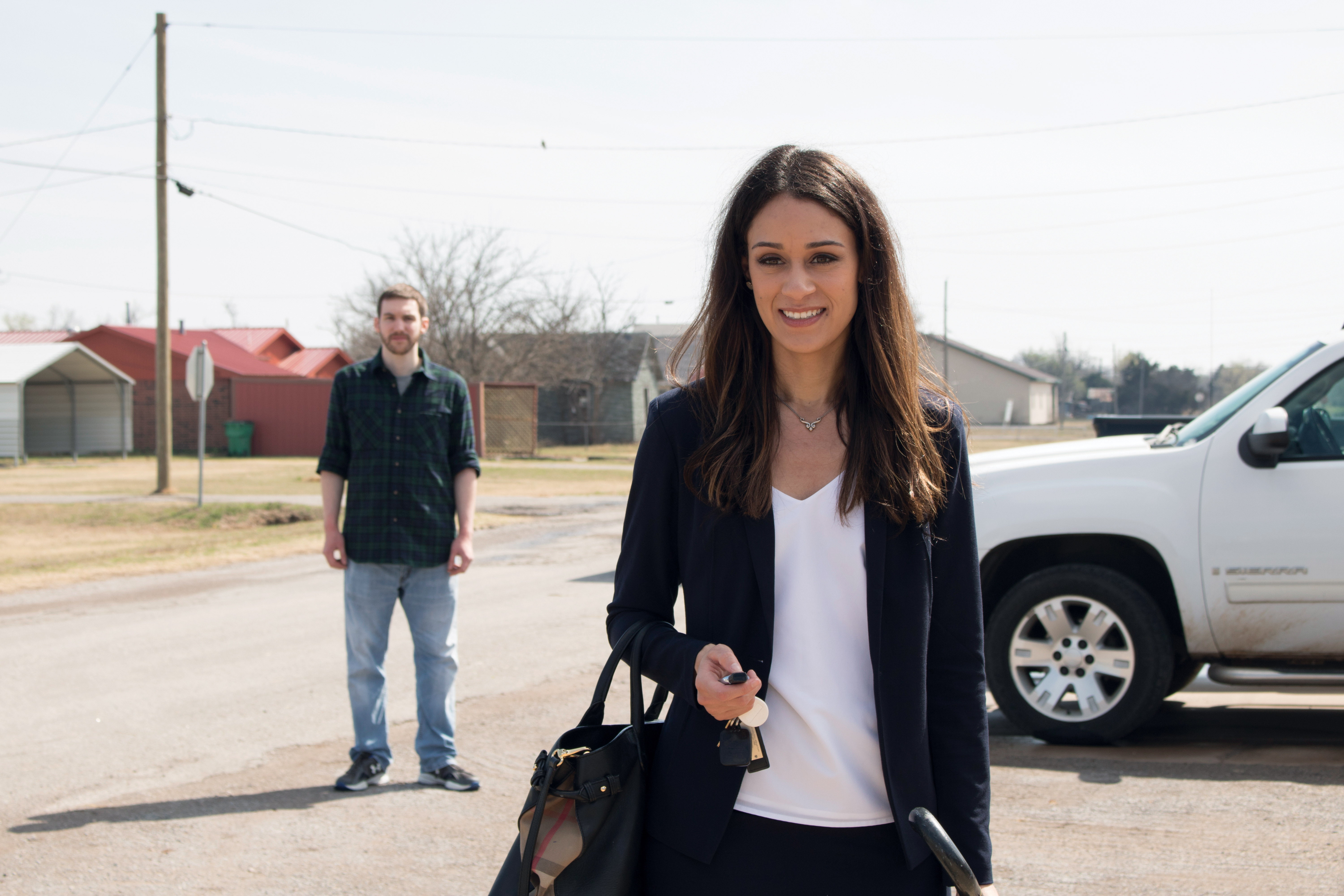 Behind the scenes: Actor Ronald Calzolari (Steve) and leading actress Brandi Barbee (Roisin) on the set of Dr. Matt Jenkins' film "Little Rose."
Kerry Schoonaert
Social Media Editor
@KerrySchoonaert
From March 14–18, Communication Professor Dr. Matt Jenkins finished up the last of his six and one-half day movie shoot of "Little Rose."
Describing the genre of his film as a "cheesy hallmark punk movie," Jenkins is now diving into the editing process of post-production.
The story follows a woman, Roisin (Brandi Barbee), who wakes up to find that her boyfriend, Tommy (Ronald Calzolari), has taken off with her car and all of her money. Roisin gets angry and makes it her quest to get her car back, but a secondary storyline occurs in the midst of it.
Twenty years prior, the lead singer of the punk rock band "Damned! The Shiftless," Davy Sane, disappeared. Now, TV show producer Daisy Chronicle played by Cameron graduate Sylvia Corkill, wants to find out about Davy's disappearance.
Daisy sends her editor, Steve, to uncover the mystery; coincidently, Roisin's boyfriend is the son of Davy Sane. Steve and Roisin then end up on their search together to find Tommy Sane and Roisin's car.
Jenkins said "Little Rose" is full of surprises.
"I like to put a twist in my movies toward the end," he said, "and there are several twists in this one, too, and you're like 'Oh goodness, didn't realize that was in it.'
"Movies don't have to be realistic, they have to be believable. That's why 'Star Wars' works. It's not realistic, but it's believable."
Jenkins used a few actors and actresses in "Little Rose" that he worked with before on previous films.
Houston actress Brandi Barbee, who plays Roisin, starred in Jenkins' last movie "Texoma."
Barbee said she had been anticipating filming "Little Rose" since last July, when Jenkins first showed her the script; she immediately loved it.
She explained that her character, Roisin, puts on a hard exterior, and is not scared to tell it like it is.
"I really like that deep down, Roisin just wants to be loved," she said. "She's not really one for second chances, so she says, but she's actually a softie, and we get to see moments of that tough façade dropping which is really nice and fun to play."
Barbee also said she had fun working with the cast and crew, and that everyone worked together to bring the story to life and make it the best they could.
"A lot of the cast knows each other from previous projects," she said. "So, it feels more like a family and everyone is comfortable with each other to explore and take bigger chances with the film."
Jenkins said he was happy the actors and actresses showed up ready to work. They knew their lines, others' lines and what scene numbers they were on even when he didn't know.
"I'm flattered that they will come from far distances like Dallas, Houston, Tulsa, to work with me," he said. "I'm honored that they want to and want to come back."
Jenkins said he loves production.
When the entire production team wrapped up and everyone had gone their own way, he was sad it was over after all the months of planning.
Jenkins hopes to have "Little Rose" edited and ready around fall of this year, just in time for the next festival season.
Tags A&EKerry Schoonaert
You may also like...