The 52nd Annual National Art Show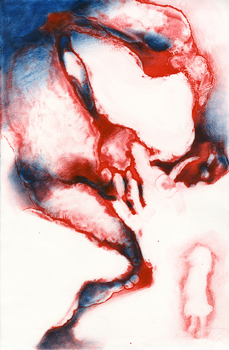 Mixed emotions: Del Mar College selected senior art major Kristi Smith's linocut print and ink "Woody Allen" for the 52nd Annual National Drawing and Small Sculpture Show.
Abigail Gonzalez
Staff Writer
At 6 p.m. on Feb. 16, Del Mar College's Joseph A. Cain Memorial Art Gallery hosted the 52nd Annual National Drawing and Small Sculpture Show.
Artwork by Four Cameron students and one faculty member's art piece had been selected for the show.
The students included Sarah Enoch, Lanetta Davis, Tiana Buckner and Kristi Smith, and the faculty member is Professor Katherine Liontas-Warren.
Juror and associate professor from E.M. Raclin School of the Arts at Indiana University South Bend Dora Natella, accepted 28 drawings and 24 sculptures out of the 197 entries.
Natella said she did her best to narrow down the choices, but it was difficult work.
"I was drawn to artwork that is evocative, mysterious and intellectually compelling," she said, "where form and content come together to generate meaning and transcendence."
Enoch's monotype print piece artwork, titled "Cluster F*** Headache," got accepted. She said the inspiration for her work came from a variety of sources.
"The floating head motif is one that I've carried across two semesters of advanced painting," she said. "In the context of this piece, it signifies the sensation of chaos, confusion and being lost."
Davis also had two of her pieces accepted into the show "Moonlit Night" and "Placebo."
"Moonlit" is based on her personal travel, and is a monotype booty print that is a part of a series she created depicting a pueblo home during different times of day.
"Placebo" is a charcoal drawing inspired by cancer patients who participate in drug trials; the art shows a person under a blanket while a scarecrow lurks in the background.
Buckner's watercolor piece, "The Longest Kiss," also gained acceptance. The piece shows two skeletons stuck together by their back ends. Buckner said she was inspired by the Guinness World Record, and she used the lip prop idea to make a theatrical and dramatic exaggeration of the record.
Smith's submitted artwork is the monotype print piece, "Woody Allen." She got idea from the Hollywood sexual assault cases, and the artwork portrays a shadowy and dominant figure towering over a small silhouette of a girl in her bed, passed out drunk and high.
Smith said it came out the way she wanted.
"I knew how the ink and turpenoid would react with each other since 'Woody Allen' was the second or third turpenoid monotype print I had made," she said.
Liontas-Warren had two pieces on display in the show.
Her first piece is a watercolor painting called "Fire in the Sky," which illustrates a landscape painting of mountains overlooking a body of water.
Her second piece, "A Call from Nature," is a charcoal drawing of a bird silhouette flying toward the clouds over a square-holed, mesh fence.
The individual pieces have been accepted, and will be on display in the Joseph A. Cain Memorial Art Gallery from Feb. 16 through May 4, as well as be available for purchase through Del Mar College.
Tags A&EAbigail Gonzalez
You may also like...