Prairie Power: Student Activism, Counterculture, Backlash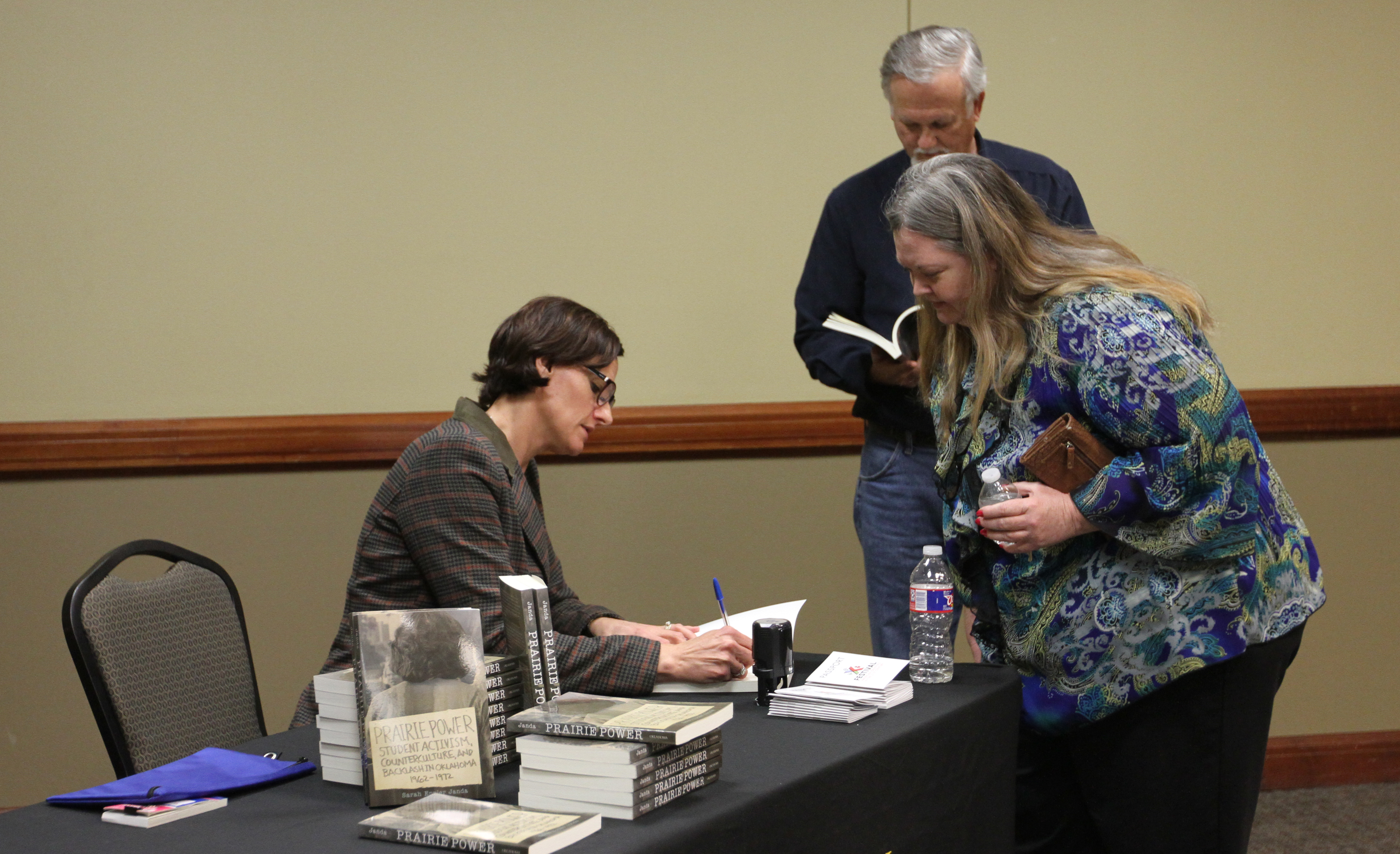 Protests in the past and present: CU Professor of History Dr. Sarah Eppler Janda autographs a copy of her new book "Prairie Power: Student Activism, Counterculture, and Backlash in Oklahoma, 1962-1972" for Instructor of English and Foreign Languages Leah Chaffins. Cameron hosted a signing to celebrate the recently published work at 2 p.m., March 6, in the CETES Conference Center.
Sarae Ticeahkie
A&E Editor
From 2-3:30 p.m., March 6, in the CETES Conference Center, Cameron celebrated "Academic Festival X: American Identities in the 21st Century" with a book talk and signing by Professor of History Dr. Sarah Eppler Janda.
Janda discussed her new book "Prairie Power: Student Activism, Counterculture, and Backlash in Oklahoma, 1962-1972."
The publication's ideas about activism correlate to the festival subtheme "Social Justice and the American Dream."
The event included a discussion, an open question and answer session, a signing and an opportunity for visitors to purchase the book.
Recently published by the University of Oklahoma Press, "Prairie Power" focuses on 1960s era student activism and "dropping out" on Oklahoma college campuses.
Janda said not many people paid attention to student activism in Oklahoma, so she wanted to detail specific Oklahoman experiences.
"I thought it was important to highlight the fact that there's a lot of variation among the activists," she said.
"They're not all the same − activists from OSU differed significantly from some of the activists at the University of Oklahoma."
She said the book explores student activism culture on a national level and how different government entities responded to protests and resistance.
"I also thought it was important to point out the surveillance culture that was emerging," she said.
"The FBI, a lot of police departments, red squads, all collected information. The army collected surveillance information."
"Prairie Power" also examines hippies in Oklahoma and nationally and how previous movements, including the back-to-land movement and the search for authenticity, inspired the free-thinkers.
The University of Oklahoma's Chapter of Students for Democratic Society and the Anti-war Movement fit into the hippy mentality of the midwest and southwest; a blend of free-speech advocacy, countercultural expression and anarchist tendencies set them apart from most east coast student activists.
Drawn to Oklahoma history, Janda felt that other historians had not thoroughly written about the subject.
"I wrote the book to fill a gap in the historical record by examining activists and hippies in Oklahoma and putting them in the context of larger national trends in the period," she said.
Janda said the book took several years to write, but with help from colleagues and a semester off from teaching, she completed the project.
Apart from her recent book release, Janda has written two other books about historical Okahoman experiences.
Published in 2007, "Beloved Women: The Political Lives of Ladonna Harris and Wilma Mankiller" takes a look at the lives of two Native American women from Oklahoma who thought of themselves as feminists with strong Indian identities.
Published in 2010, "Pride of the Wichitas: A History of Cameron University," focuses on Cameron's 100-year history from its inception as the Cameron State School of Agriculture in 1908 through the university's yearlong Centennial Celebration in 2008.
For more information about upcoming Festival X events, visit the www.cameron.edu/festivalx/calendar-of-events.
You may also like...