English Department Meet-and-Greet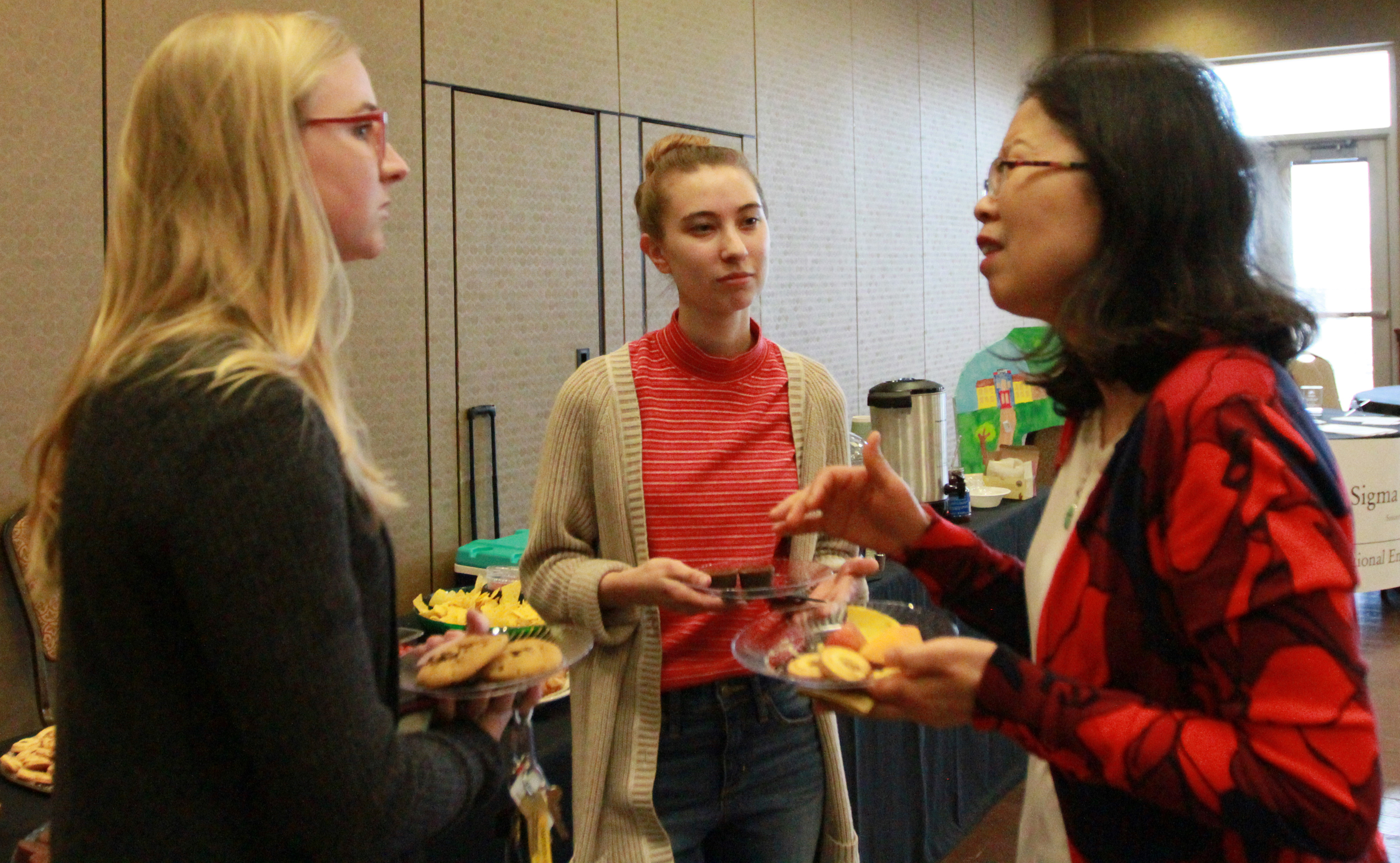 Great expectations: Associate Professor Dr. Yingqin Liu and students enjoy light refreshments.
Stacie Larsen
News Editor
From 2-4 p.m., Feb. 28, in the MCC Ballroom, Cameron's English and Foreign Languages Department hosted its second annual meet-andgreet open to students, faculty and staff.
Cameron English Instructor Leah Chaffins said the purpose of the meet-and-greet is to bring all English majors together and provide them with a chance to meet professors within the department.
"You might have a student who will know two or three professors who are in their field, like education, but you might not meet any of the others," she said. "We really want a community experience within the English department.
"This was the opportunity for all of us to get to know the students," she said, "the students to get to know us, [and] the students to get to know each other."
As Chair of the Recruitment Committee for the English department, she said it's important to her that students feel included.
"It's open to everybody because we want students who might be thinking about being an English major to come in and realize that there's this whole community and a great sense of oneness," she said.
Upon arrival, each attendee is given the opportunity to enter in a drawing for various prizes.
"We get the prizes predominately from the English department staff," she said. "We all make make donations of books and candles or whatever we have."
She also said the department received donations from the staff at Cameron's Office of Public Affairs.
"We want this to be an experience where you feel like you're getting something for being here," she said. "You feel good when you win.
"Everybody leaves a winner this way, and that's the goal. We want everybody to leave a winner."
Chaffins said she believes that these kind of events are important to have at a university because they give students an opportunity to share ideas and connect beyond the classroom.
"We get caught up in the books and the classes," she said, "but the college experience is more than that. It's about each other."
Chaffins said what she enjoyed most about the event was being able to talk to other writers.
"I'm an English instructor but my MFA is Creative Writing," she said, "so I really enjoy talking with other creative writers.
"In the middle of a semester or year, you don't really get the opportunity to do that. I had some really good conversations. We all want that."
Senior Sigma Tau Delta President Jessica Allmon said she enjoyed the opportunity to spend time with other English majors.
"To see all of us together that had something in common outside of a classroom was nice.
"All the best friends I've had, I've met in the English department."
She said her favorite part of the event was watching people walk up to the prize table and leave with a book.
"That to me is just so quintessential of an English major," Allmon said. " You go to get a prize and walk away with a book."
During the meet-and-greet, Allmon announced that Cameron's English Honor Society, Sigma Tau Delta, is sponsoring a literary journal called "The Rose" and is accepting submissions from students, staff and faculty until April 1, 2018.
She said the journal will consist of fiction, creative nonfiction and poetry.
The maximum length for submission is three pieces or 3,000 words for fiction/ nonfiction and five poems.
The journal is also accepting artwork, including drawings and photography.
Both must be sent in an email as an attachment in jpeg format, along with an artist's statement.
If interested, send submissions to sigmataudeltarose@gmail.com.
The title and genre, along with the author's name, needs to be in the subject line.
For more information about submitting work to Sigma Tau Delta's literary journal, "The Rose," contact Jordan Mackey at (580) 641-0301 or send an email to jm915504@cameron.edu.
For information regarding Cameron's Department of English and Foreign Languages, call (580) 581-2272 or visit room 2014 in Nance Boyer.
You may also like...