Academic Festival X: Retired General Jack Keane on American Diplomacy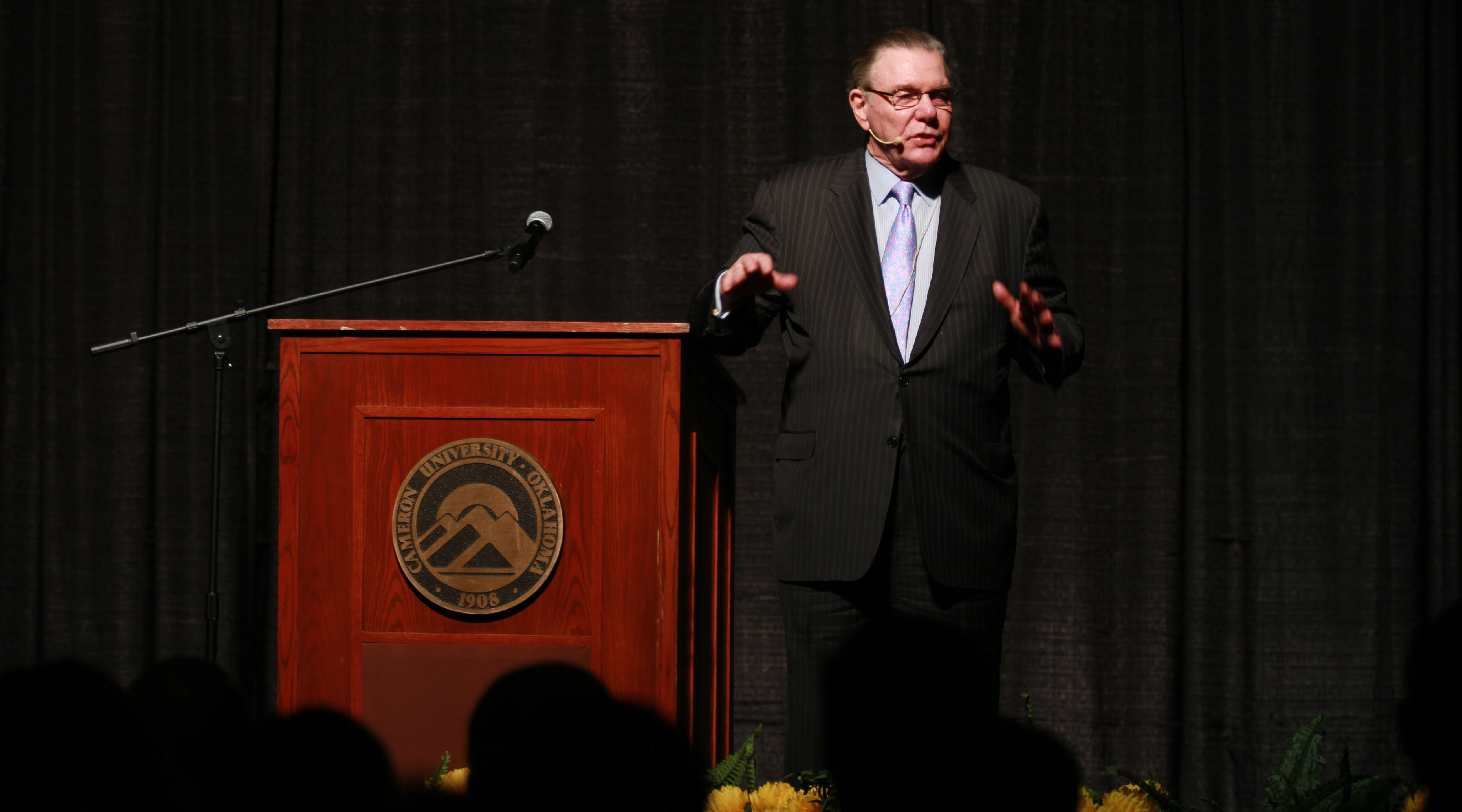 Cheyenne Cole
Managing Editor
"American Identities in the 21st Century" concluded on Feb. 27 with the final major Academic Festival X speaker, Retired U.S. Army General Jack Keane.
Keane visited campus for a student session at 3:30 p.m. in Johnson Auditorium in Ross Hall and a lecture at 7:30 p.m. in the Aggie Gym, where he discussed the theme "America's Place in the World: Power, Diplomacy and Commerce."
A former U.S. Army Chief of Staff, Keane is currently the president of GSI Consulting, the chairman of the Institute for the Study of War and the Knollwood Foundation.
Keane started by addressing how America's dynamic on a global platform has changed and the major challenges the country is currently facing, including radical Islamic movements and North Korea and Russia acquiring stealth technology.
"The United States military is still the primary military in the world," he said, "but there has been significant erosion of our capability, and some of our adversaries have matched that capability and certain selected areas have exceeded it."
He said the erosion can be attributed to when the U.S. cut military funding about 35-37 percent to use the money for domestic reasons after the Soviet Union collapsed.
"All of your military leaders agreed with that – it made sense," he said. "All of your national security policy leaders, by and large, agreed with it, but we do believe we cut too much into the bone."
Keane said Russia recognizes how important nuclear power is in today's political climate and is striving for dominance over the United States among other countries.
"Russia desires to be a world power once again," he said. "Putin wants to stay in power indefinitely. He caters to his domestic audience rather significantly, and he posits to that domestic audience that the strategic problem in the world today is the United States."
A member of the National Defense Strategy Commission, Keane said he is confident in the Trump administration's ability to discourage Russia from using nuclear weapons.
"We're going to have to build deterrence capability," he said. "I think we know how to do this. We've been successful at it in the past. The truth is when you push back on Putin, he backs up."
Meanwhile, Keane said China is using the "gray zone strategy," a plan in which shots are never fired, to accomplish regional ambitions.
"[China] want[s] to replace the United States, which has been the dominant force in the Pacific," he said, "It's contributed to its stability and peace and prosperity.
"All of the countries in the region, other than North Korea, are allies of the United States, not of China. They are grinding down our allies by militarizing the South China Sea."
He said China's One Belt One Road Initiative to invest four trillion dollars in energy and infrastructure is an attempt to gain geopolitical influence over countries in Asia, Eastern Europe and the Middle East.
"What we have to do as the United States is let those countries know that we can help, that we're going to be there, that they're our allies and we work with them in partnerships," he said.
Keane said the economic sanctions the United States is imposing on North Korea due to the country's nuclear policy changes and threats has cut off about 70 to 80 percent of their revenue.
"Our main effort in the United States is the diplomatic-economic sanction effort, strengthened by a credible military option that gives credence and intensity to that economic sanction," he said. "I think it's one of the reasons why so many countries are now participating in cutting off trade with North Korea."
However, he believes that the United States is close to a showdown with North Korea since they are close to nuclearizing intercontinental ballistic missiles.
"If you talk to diplomats, they welcome the threat of military action because it gives them leverage when they're working with other states," he said.
"It gives them political leverage. It takes some of the arrows out of the quiver, so to speak, of a diplomat."
You may also like...