Red River Career Expo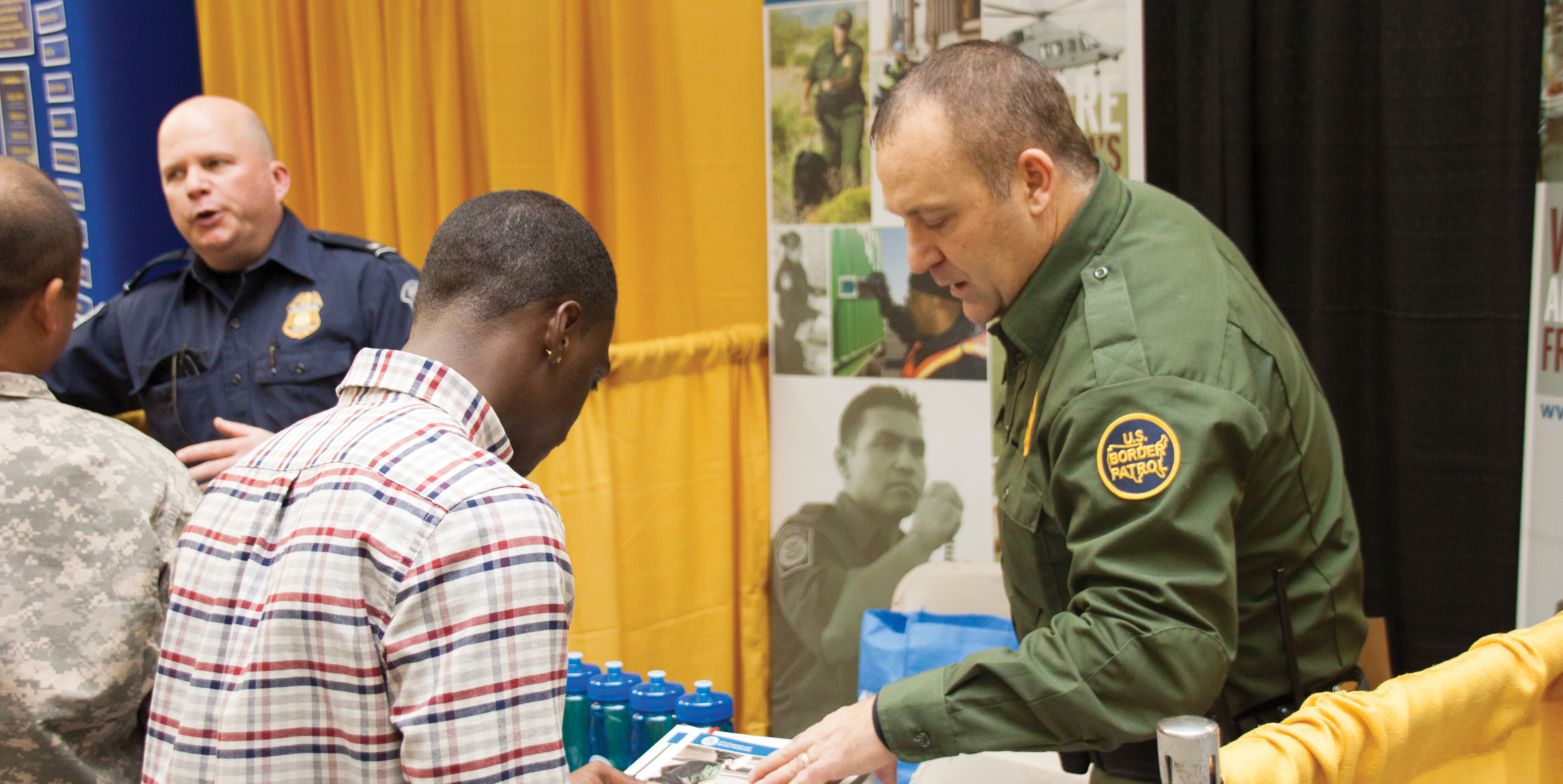 Stacie Larsen
News Editor
From 2:30-3:30 p.m. on Feb. 15, Cameron will host its public 21st Annual Red River Career Expo in the Aggie Rec Center.
The expo will feature a variety of companies and organizations from Oklahoma and Texas that will be offering jobs in various fields, including law enforcement, banking, health care, communications, accounting and engineering.
Director of Student Development Jennifer Pruchnicki said the expo is a great opportunity for students to find internships and jobs that will help them reach their career goals once they graduate.
"It's a good networking opportunity that can lead to future employment," she said.
Pruchnicki said there are certain things that students can do before and during the expo to make the most out of their job-seeking experiences.
Be Prepared
Prior to attending the expo, Pruchnicki suggests that students "do their homework" by finding out what businesses are going to be there, making a list of the ones they are interested in and then learning more about them.
"An easy way to do that is to go on the company's website and look at their mission statement," she said. "It impresses the company if you know a little bit about their industry."
Pruchnicki also said that students should wear business attire or at least business casual.
"It's different than a job interview," she said, "but it is like a job interview in that you need to make a good impression."
Next, Pruchnicki said students can prepare ahead by memorizing a 30-second elevator speech that includes their name, major, expected graduation date, current job position and responsibilities, along with what they are looking for in future employment.
Last, but not least, she recommends that students take copies of their resumes, along with a notepad and pen for note-taking.
Strategize
Pruchnicki said that since there will be many businesses at the expo, it could be a little overwhelming for those students attending for the first time.
"So, what we [Career Services] recommend is to do a walk-through and get a feel of the employers who are there," she said.
Pruchnicki added that students might find it helpful if, while on the first walk-through, they write down which businesses they want to visit and where they are in the room.
"You may not get to meet with every company," she said, "and there are going to be some that you are not interested in."
Pruchnicki said if students need help planning a strategy before the expo, they can visit Student Development at any time to make an appointment with Career Services.
"That's one of the services we offer in Student Development," she said. "For students who want to practice interview skills or polish their resume, practice a handshake even—that's what Career Services is for."
Game-time
After getting prepared and strategizing, Pruchnicki said students should take a second walk-through with the purpose of meeting and spending time with employers.
In addition, students should plan on spending at least an hour socially networking.
It is suggested that, as students approach the tables, they stand back and listen as the employers help others. This tactic can aid students in determining if the job is really something that they are interested in.
When meeting the employers, Pruchnicki said it's important for the students to remember to introduce themselves with a handshake and maintain good-eye contact.
"We also want students to remember to not go in there and just tackle all the freebies that are there," she said. "A lot of the recruiters come there and have cool gadgets that they bring to promote their businesses.
"We [Career Services] tell students that it's not trick-or-treat time, so just remember that, and to keep it classy."
Replay
Pruchnicki said that before leaving the expo, students should revisit the businesses that most interested them.
"They [the employers] will probably see hundreds of faces that day, so you want to leave that lasting impression," she said.
"You want to stop at those few employers that you are really interested in and say, 'I met with you earlier. I really appreciate your time. I will probably be reaching out, and I just want to thank you for coming to the event.'"
For more information, contact Career Services at (580) 581-2209. For a full list of businesses expected at the expo, visit www.cameron.edu/career_services/redriverexpo/list.html.
You may also like...