PAC presents Hypnotist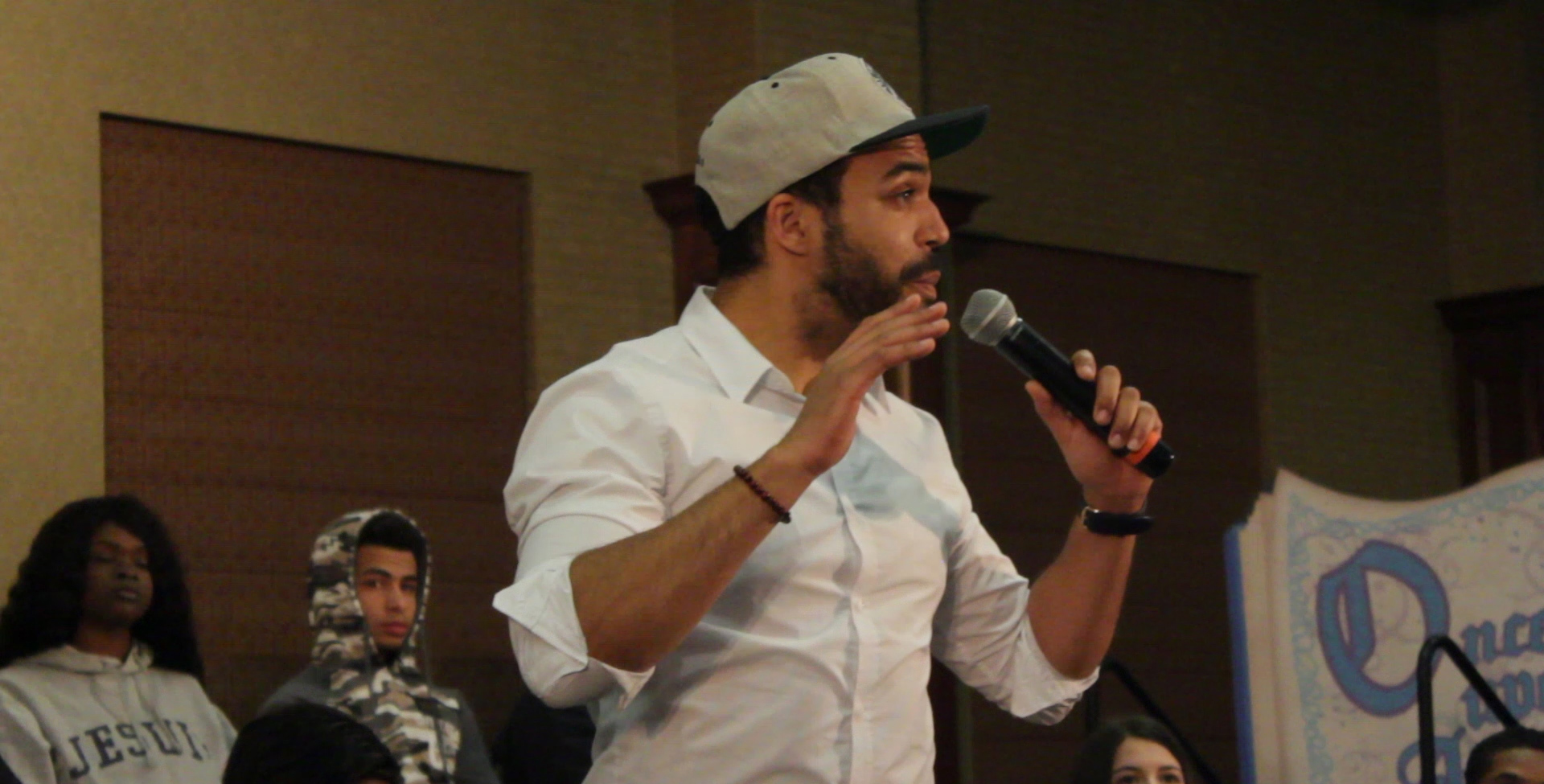 In a Trance: CU's Programming Activities Council hosted professional hypnotist Chris Jones, who manipulated audience members with suggestions of the mind.
Miranda Fritts
Staff Writer
At 8 p.m., Feb. 7, in the McCasland Ballroom, Cameron's Programming Activities Council hosted an event featuring professional hypnotist Chris Jones.
From Chicago, Jones performs for high schools and universities across the country.
PAC member Darius Morris kicked the night off by introducing Jones as someone who resembles Canadian rapper Drake Graham.
Before Jones began, he gave a disclaimer for what might happen and what to expect throughout the show.
"I do not pre-select people," he said. "However, people in the audience listening to my voice will also get hypnotized. Even if you don't volunteer and even if you don't believe in it."
Jones continued the precautionary introduction by giving some ground rules for if a person next you does become hypnotized.
He said some people might fall over onto the person next to them, and that nobody should freak out or mess with the person in any way.
He also said that being hypnotized does not hurt.
"It will feel like you are super drunk" he said. "It will feel like you have been asleep for three hours, kind of like a power nap."
Jones also explained how hypnotism can be beneficial, claiming it can ease childbirth and help people quit smoking.
After a few jokes and discussion of preliminary measures and benefits of hypnotism, he began the process by showing the audience how hypnotism works.
Jones asked audience members to stand if they were willing to be hypnotized.
After they stood, Jones asked the audience to hold out one fist as he painted the picture.
"Pretend you are holding a string connected to a helium balloon," he said. "See where that balloon is in your mind, and take a deep breath in and out."
As the students breathed in and out, their fists slowly moved up and down. Jones said this phenomenon occurs through the manipulation of suggestions to the mind.
Before he began the hypnotism, he chose a member of the audience, Kris Mayfield, to represent what Jones calls "team woke."
Mayfield's job consisted of expressing how a "woke" member of the audience would react to something a hypnotized member is doing.
According to Jones, he had met Mayfield previously that day in the Cameron cafeteria and enjoyed Mayfield's expressive facial movements.
At one point in the performance, Mayfield sat between two hypnotized females who were told to stare at him for an extended period of time. Mayfield said it freaked him out.
"I didn't want to do it," he said, "especially when they were all asleep or staring at me."
Jones eventually told Mayfield that he could leave the stage half-way through the performance, and Mayfield received a t-shirt that said "stay woke" for participating in the show.
Jones used the microphone to hypnotize anyone in the audience who had been willing or able. During that time period, several students standing and sitting became hypnotized.
Jones asked several hypnotized students to come on-stage, with others left in their seats.
The hypnotized students went through several scenarios including becoming zombies, felons and superheroes.
At the end of the show, he un-hypnotized the volunteers with a few last minute stipulations.
"When I snap my fingers, you will not remember the show," Jones said. "If your friends show you pictures, you will not believe that is you. When you wake up, you will believe that I am Drake, and you are at my concert."
Next, Jones hit the button on his remote to play the song "Hotline Bling," and then snapped his fingers. The previously hypnotized members went wild by asking for pictures, singing along and being fully convinced Jones was Drake.
For more information about PAC events or the organization, call the Office of Campus Life at (580) 581-2217 or email the PAC board at pac@cameron.edu.
You may also like...