Aggie Men Drop Homecoming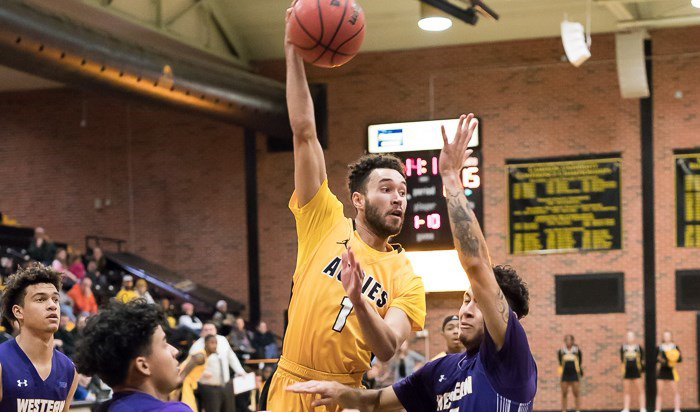 Drue Watkins
Sports Editor
On Feb. 10, the Cameron men's basketball team lost their homecoming game against the UT Permian Basin Falcons (UTPB), 73-66.
With their final home game being a loss, the Aggies drop to a 9-15 overall record and 5-10 within the Lone Star Conference (LSC).
The 13th ranked Falcons, however, advance to a 20-3 overall record and 12-2 in the LSC.
For the Aggies, junior forward Delano Jones led the team with 15 points, while junior guard Tyler Williams put up the second most with 11 points.
Aggies head coach Andrew Brown said that Jones brings a lot to the team, particularly with his ability to be a true team-player.
"He's efficient and reliable," he said. "The team can count on him, and his attitude towards the game is great."
Williams also led the Aggies with five boards and three steals, with fellow junior guard JV Long rounding up five assists and three steals.
UTPB's Daeshon Francis led the Falcons with 13 rebounds and 21 points scored.
Brown said the loss was a tough one to take, and that there are things to do better on.
"The team played as well as they could," he said, "but there are many things they need to improve upon as a unit, such as better execution of things we practice, and more efficient shooting."
The Aggies struggled with scoring in the first half.
By shooting at just 28 percent, Cameron could not measure up to the Falcons' 48 percent, allowing UTPB to pull ahead and dominate the court. From beyond the perimeter, the Aggies only made a lowly four out of 22 three-pointers, letting the Falcons take their largest lead of the game at 14 points.
UTPB held large amounts of the momentum, and Brown said that was a crucial part of the loss, along with that early lead.
"The way they [UTPB] played was exactly the way we wanted them to play," he said. "They're a really good team, and we held them to only 73 points in the end; all that is great, but our offensive performance as a team just wasn't up to par to contend with them. If we had just come to play, shoot well and get our hearts going, this was a winnable game.
"That early lead dug us into a hole, and it's a tough hole to get out of. Being down fast like that is a real motivation killer."
Cameron managed to chip away at the lead by just a little bit, ultimately being down by 11 points at the half, 38-27.
In the second half, the Aggies came out strong, scoring seven unanswered points and putting themselves within reach of a comeback. However, the defense for Cameron became stagnate, and the Falcons went on an 11-5 run to rebuild their lead by double-digits.
Brown said that the offensive prowess the team showed coming out of halftime was important.
"We looked better scoring-wise," he said, "but defensively it was the same deal: we just couldn't stop them long enough to catch back up."
Each time the Aggies scored, the Falcons bounced right back, never letting up on the large leads they established. UTPB's offensive consistency won them the game.
At the game's final two-minute mark, Jones and Aggie sophomore guard Jordan Lewis both managed to score three-pointers; however, UTPB protected the ball too well on offense, allowing time to expire and granting them the win.
The Aggies' season is close to being finished, as they have just three away games remaining on the schedule. Their next match-up is against Western New Mexico on Feb. 15.
Brown said the team wants to close out the season on a high note.
"It isn't easy heading onto the road for three games in a row," he said. "We're going to keep working on our game-plan in practice, and try to get as prepared as possible for a good final stretch.
The team has the talent to get there, but we just have to want it."
You may also like...