MLK Day Celebration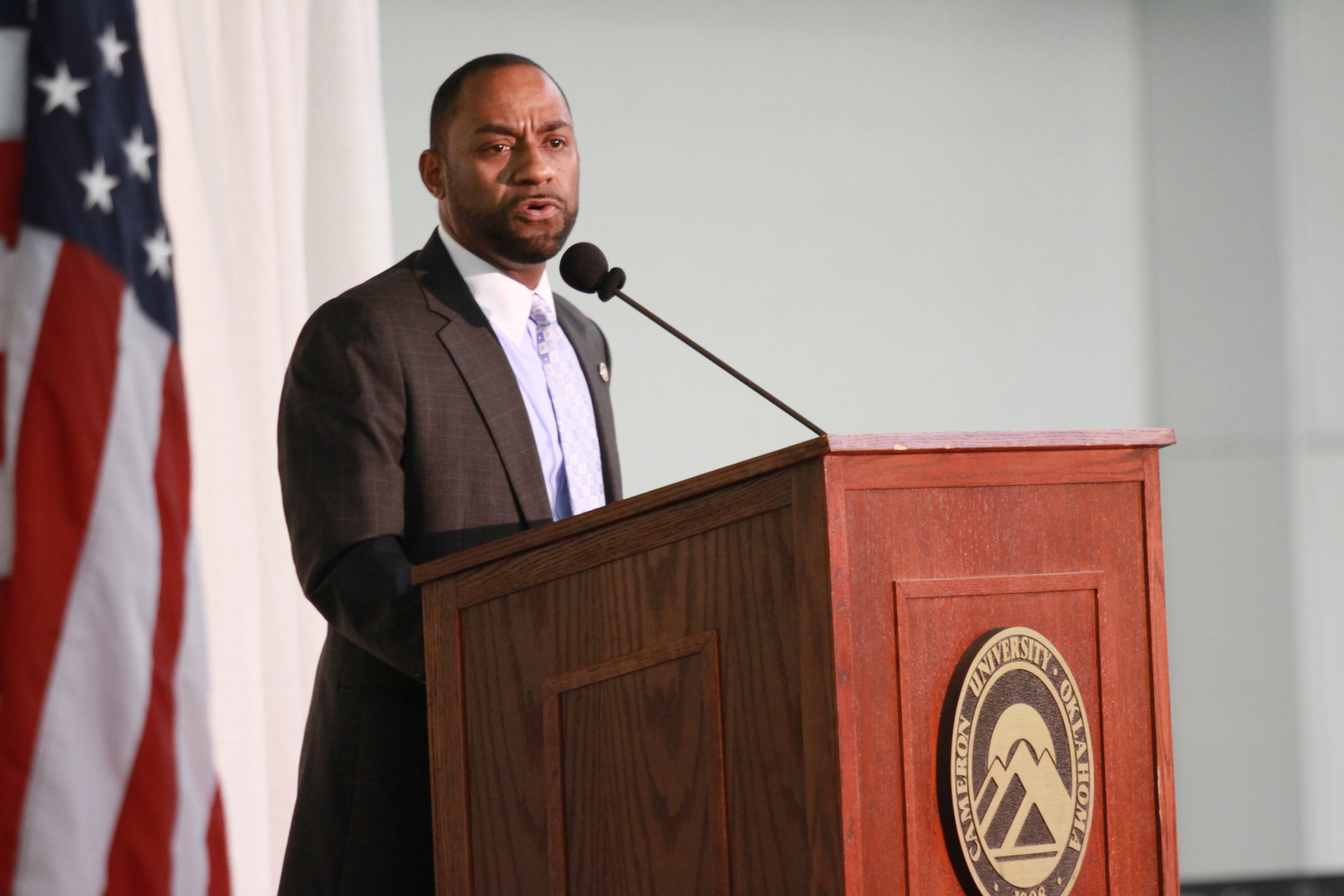 Stacie Larsen
News Editor
@SLarsenWriting
At 6:30 p.m. on Jan. 16, Langston University President Dr. Kent J. Smith, Jr. spoke at Cameron Campus Ministry's 34th annual Dr. Martin Luther King Jr. Holiday Celebration Banquet in the Aggie Rec Center.
Before focusing his speech on "The Power of Education: Igniting Passion For a Greater Tomorrow," Smith dedicated his following remarks to his late mother, who was a retired educator, guidance counselor and French teacher.
"My mother was also the one that encouraged me to start speaking publicly," he said. "In fact, the first speech I gave was when I was in the seventh-grade. My mother decided to give me a quarter for every speech that I would do–something that continued until two years ago."
Smith said that he believes in speaking from the heart, but also in speaking the truth that he knows.
"Yep, it's going to be that kind of speech," he said. "I'm going to say what I really feel."
He talked to the audience about a few factors that he believes prevent young people from getting an education, including poverty, incarceration, and death.
"Every five-seconds of the day, a child drops out of school," he said. "Every 55-seconds of the day, a child without a high-school diploma gives birth to another child. Every seventh-minute of the day, a child is arrested on a drug offense.
"Every 14 hours, a child ages five or younger is murdered. Every day, 1.3 million latchkey kids are left home to fend for themselves after school because they have a parent or grand-parent working a job or extra job to make ends meet.
Every day, 135,000 children bring guns to school to protect themselves. Everyday three children die of injuries inflicted by an abusive parent."
Smith said he sees King as much more than just an icon: he is a hero who pursued the universal dream with the hope of people achieving greatness throughout the world through messages of hope, love, peace, social and economic justice and equality with respect for themselves and others.
"I certainly believe that we need to talk a lot more about Dr. King's dream of social and economic justice and true equality for all," he said. "But do we really have justice and equality for all? Is the least among us the greatest of us?"
Smith said he believes that if asked today, King would say his dream has been deferred.
"If Martin Luther King Jr. were here today," he said, "he would see that more than 25% of African Americans still live in poverty. He would see that African Americans comprise only 11% of the workforce. He would see that only 18% percent of African Americans over the age of 25 are college graduates."
Smith said King would see the reality of African Americans is removed from the dream.
"He would see that according to the Black Aids Institute, nearly 600,000 African-Americans are living with HIV and another 30,000 become infected each and every year," Smith said. "He would see that 43% of all American babies are African-American."
"And the sad travesty is that over 93% of the murders of African Americans are done by other African Americans."
Smith said it's easy to point out what's wrong with the world, but it's hard to know how people move forward and improve as a society, given the state of the country.
For starters, he thinks that it's important to get to know King on a personal level, beyond his famous speeches or what the media tells.
Smith said that he believes that King's writings throughout his life will show how he evolved over time, just like many of us do as we gain knowledge, thoughts, and experience.
He also suggested that people focus more on three things: family, faith and education. Furthermore, people need to take care of each other.
"The world has us believing that if you just work hard and just pull yourself up by your boot straps, you can make it," he said. "But what if you don't have boots? How do you do that?"
He said the answer is an education.
However, he said that the world has some universities believing that if they find all the high-school graduates they can with the highest SAT scores and best grades and give them an education, once they graduate college, the universities will have accomplished something great.
"Do you want to know what success looks like to me?" he asked. "Take the kid that didn't know that they had a chance to go to college. Take the kid that didn't know their parents. Take the kid that has to pay for their own school, and get them to graduate across that stage."
He said that people need to focus on helping "the lowest of the low" become "the highest of the high."
"That's what Dr. Martin Luther King's dream to me really meant in terms of equality for all—not just for those that are blessed with great opportunities," Smith said.
Following Smith's remarks, Award Committee Chairman Rev. Phil Jones presented the Humanitarian Service Award to Retired U.S. Army Chief Warrant Officer Thomas Perry.
Then, the audience sang along with Kortney Smith's rendition of "Lift Every Voice."
The evening concluded with a benediction from Bishop James G. Nunn, and event attendees lined up for a meet and greet with Smith including photo sessions and autograph signings.
You may also like...