YouTube podcasts for Millennial Viewers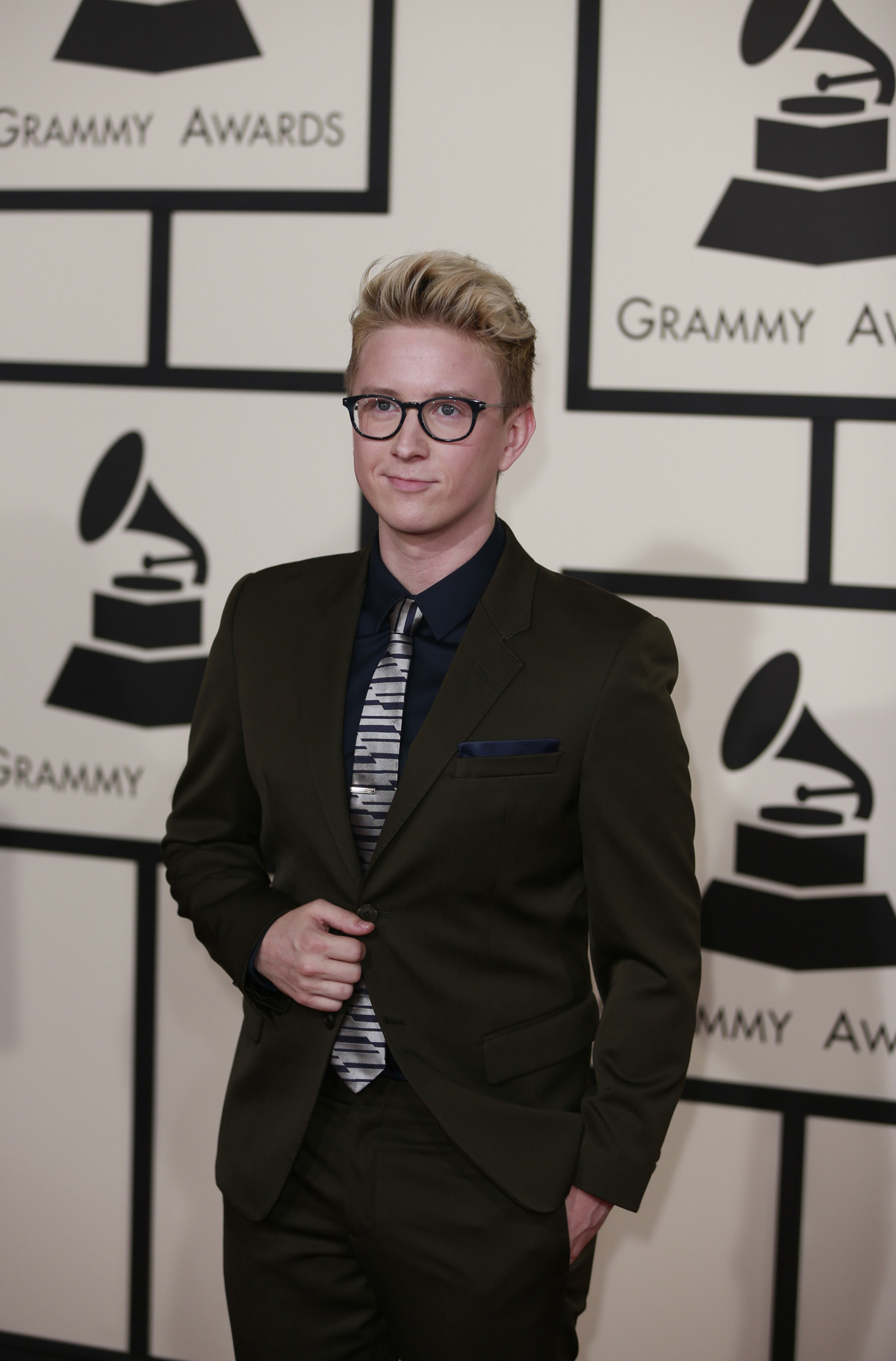 Millenial YouTube sensation: Tyler Oakley arrives at the 57th Annual Grammy Awards at Staples Center in Los Angeles on Feb. 8, 2015. Oakley has a podcast series with Korey Kuhl. The show discusses various elements in today's pop culture. The podcasts are available to stream on Podbay, Soundcloud and iTunes.
Madison Lyda
Staff Writer
As a major multi-media platform, YouTube has risen in popularity, with signature YouTube stars beginning to branch out to even broader audiences with help from YouTube management.
These original stars are beginning to channel into another form of media that is steadily rising into popularity with the millennial generation: Podcasts.
With the rise of this platform, some of YouTube's most popular stars have started to produce their own talk shows.
Here are my Top-5 YouTube podcasts available to the world today:
Jenna and Julien Podcast
The "Jenna and Julien Podcast" is headed by YouTube veteran Jenna Mourey, better known as her famous internet pseudonym "Jenna Marbles." Being one of the longest standing content creators, Marbles surprisingly joined the platform late.
Nonetheless, Marbles and boyfriend/co-host Julien Solomita pride themselves on referring to their talk show as being "weird, not by the book and completely unnecessary."
The two hosts interview individuals and have completely random, and sometimes even intoxicated, conversations about life. The two hosts elicit humorous commentary.
They take on topics such as Star Trek, Morality Quizzes, and even "honest company slogans," a hilarious mashup of current company jingles and slogans transformed into more honest and relatable versions.
The show is available for streaming on Soundcloud and YouTube.
Not too Deep
"Not Too Deep" is led by Grace Helbig, a YouTube veteran who has joined the podcast world in a hilariously outrageous celebrity interview talk show.
It has made its mark by claiming to be "Not Too Deep."
Helbig interviews guests by asking outlandish questions that will never fail to make the audience laugh.
Helbig uses her monotone sense of humor, paired with celebrity guests, to attract an audience ranging from all ages.
Throughout the interviews, Helbig often interrupts a conversation to ask questions off the top of her head that are often hilariously well-crafted.
The show's popularity has eventually landed her a spot on the television channel E! The podcast is available for streaming on Soundcloud, Fullscreen.com and iTunes.
Overexposed
"Kingsley's Overexposed #deceased" is conducted by Youtuber Kingsley, also known as King Russell.
He is an American comedian and blogger of humor.
Kingsley graces the podcast world with a new and exciting style of talk with his show "Overexposed," also known as "#deceased."
Kingsley concentrates on pop culture and digging into the nitty gritty; he often gets involved in the dirty details of media today.
As an American gay icon, Kingsley uses his personality for comedic effect and deliberate humor.
Kingsley talks much about the life of being gay and being a "queen."
He also shares advice about how to handle various pop culture issues.
The show is reflective on American adolescence and younger LGBTQ+ generations.
The show is available for streaming on YouTube.
Psychobabble
"Psychobabble" features YouTube legend Tyler Oakley and sidekick Korey Kuhl as they pride their show on being "a half hour of unfiltered gossip sessions, pop culture scrutiny, and stories never told before."
The two hosts talk about all things pop culture and translate their thoughts through wit and collaborative humor.
The two guys spend a half hour gossiping by using comedic social commentary and opinion-based reprisal.
The show is available for streaming on Podbay.com, Fullscreen.com, Soundcloud and iTunes.
Shane and Friends
"Shane and Friends" follows long standing YouTube veteran and comedic entity, Shane Dawson, along with co-host/ producer Jessie Buttafuoco and Drew Monson. The trio comes together in an epic hour-long venture through American social gossip.
They interview a relevant member of social stardom every week.
Celebrities such as Farrah Abraham, Rebecca Black, Miss Fame and Kathy Griffin have made appearances on the show throughout the previous five seasons.
Shane uses self-deprecating humor, along with wild side quests and various other forms of fun commentary, to give the show an overall excitingly relevant tone.
The show is available for streaming on iTunes, Fullscreen.com and YouTube.
Tags A&EMadison Lyda
You may also like...