Sigma Tau Delta Open Mic Poetry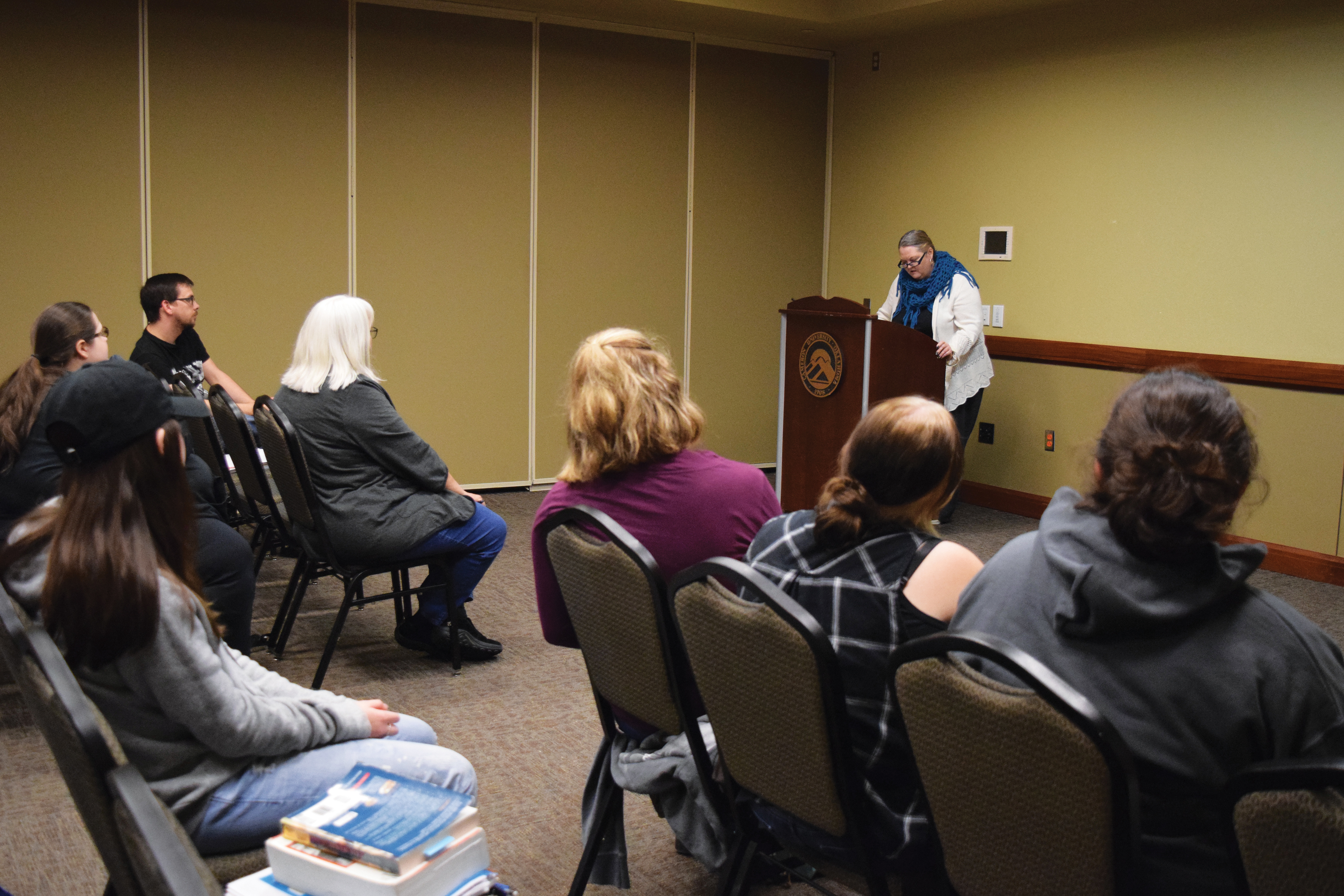 Free Verse: CU students and faculty look on as Cameron instructor Leah Collins reads poetry at Sigma Tau Delta's open mic poetry night. Students read original work and the work of other poets to promote literature and writing.
Sarae Ticeahkie
Student Life Editor
@SylviaSpeaks
From 3-4 p.m. on Nov. 13 in CETES conference room B, the English Honors Society, Sigma Tau Delta, hosted an open microphone poetry reading.
Students had the opportunity to read their own poetry or listen to the presentations of others. The event allowed poets to read as many poems as they would like, whether it be their own work or the work of other poets.
Senior English major and member of Sigma Tau Delta Gary Reddin offered his services to run the poetry reading for Cameron; he also maintains a poetry workshop in Duncan called Reading Down the Plains.
Reddin said the society's focus is to promote literature and writing.
Sigma Tau Delta also hosts an annual event called "Reverse," which is similar to the poetry reading.
Students who are enrolled in the Techniques of Poetry class taught by Dr. John Morris also had a chance to read their poetry. Each of the students are equired to read at two poetry readings and sit in at a third one for credit in the course.
Junior English major Ashley Arredondo read her poem "Drink Deep" about drinking alcohol at a friend's birthday party which resulted in disappointment regarding the taste of alcohol.
Arrenondo said that her interests in poetry revolve around the beauty of telling a story.
"Poetry is a very interesting take on telling a story," she said. "I'm a creative writing focus, so stories are really important to me."
Sigma Tau Delta is always looking to gain more members, and the society is open to any student regardless of their major. The requirements for a student to join is to maintain a 3.0 GPA and have two credit hours in English classes beyond English Composition II.
For more information about Sigma Tau Delta or future events, contact advisor William Carney at (580)-581-2928.
You may also like...