Grocery Bingo Night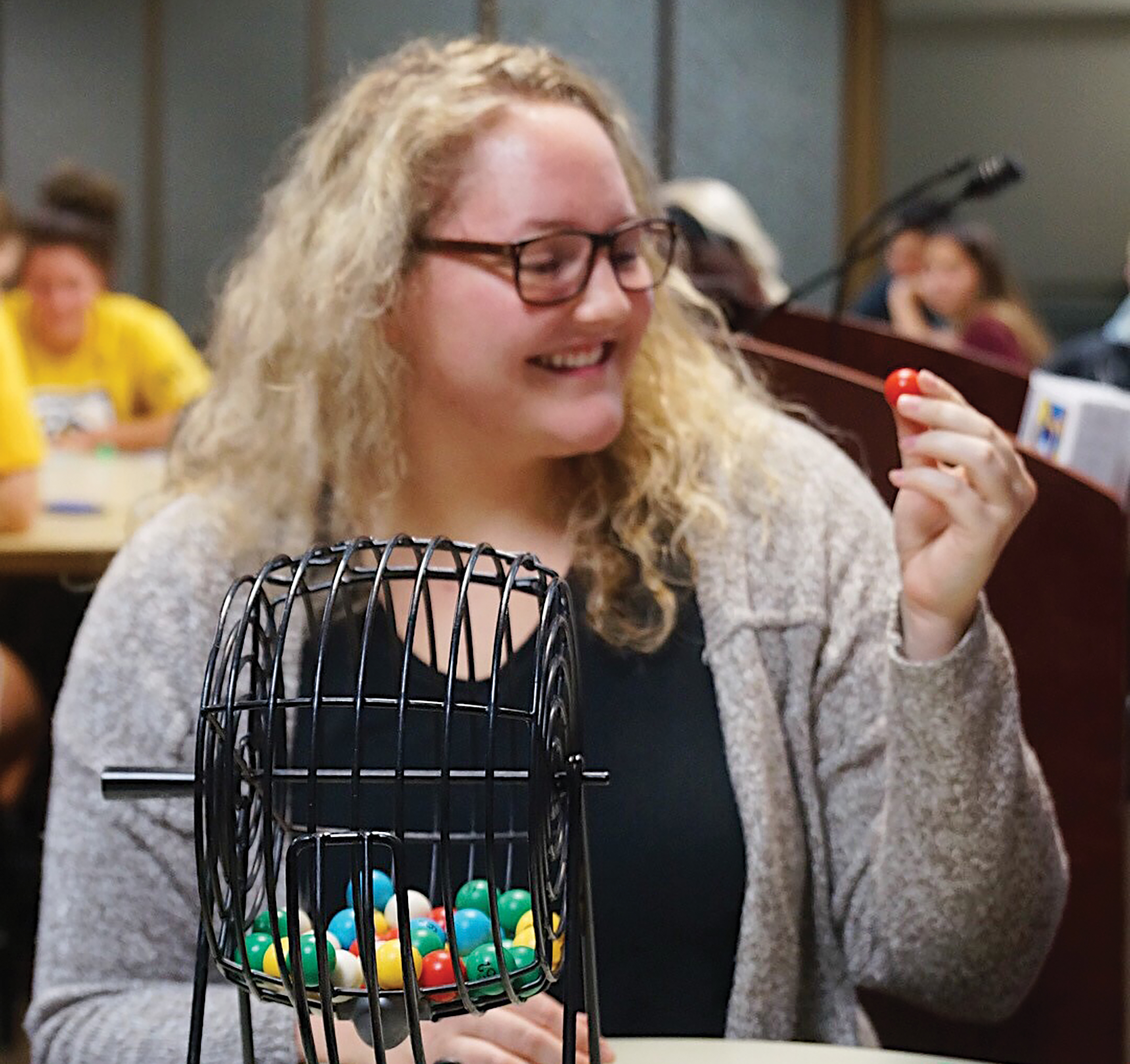 Madison Lyda
Staff Writer
At 7 p.m. on Nov. 14, the Programming Activities Council (PAC) hosted the annual fall grocery bingo in the Shepler Ballroom.
The event had was open to the public, with all attendees receiving a blank bingo card along with their own dauber for the night.
PAC offered a variety of prizes for the night's winners, with the largest prizes being a Google Chromecast and a Google Home Mini.
The other prizes included fifty sacks filled to the brim with an assortment of different grocery items like chili, cereal, chips, ramen and even health and beauty items.
At the end of the night, 52 people took home prizes.
PAC advisor Aaron Crouse walked around the room to talk to many of the students before the event began.
"I'm excited to see the students of Cameron come out and just have fun," he said. "They come out and win prizes, they get to take home free stuff which everybody loves and, more importantly, they get to relax."
The event began with the first 10 grocery bag prizes being handed out to the first 10 winners of the traditional bingo round.
Several different games of bingo went on throughout the night, including "Four Corners," which had been an outline of the letters "CU" and "T."
As the prize table began to get smaller and smaller throughout the night.
A few students were so determined to get a prize that they began to cheat on different rounds: some tried to use past bingo cards, and some even took more cards than allowed to ensure victory.
Laughter erupted in the room when the event moderator and PAC co-chair Courtney Lewis caught some students cheating; she called them out by typing messages like, "I can see you" and "Santa is watching."
As the night started coming to an end, and the prize options narrowed down to only the final two.
"Blackout" became the last game of the night; it is the hardest level of bingo where an individual must mark every square on their game card to win.
Attendees got closer to winning with every number called, and the front of the room had become so crowded that the moderator had to ask people to sit in seats to win.
Sophomore accounting major Kendra Mansfield said that the final round was intense.
"People from the back of the room were actually sprinting to the front of the room to get closer to the person who reads the cards," she said. "It got down to like twenty people needing the same number to win so when it was called it was like a scene from Animal Planet."
After a student received the last prize, the event came to a close.
The next grocery bingo will be held during Spring 2018.
For more information, contact the Programming Activities Council at (580)-581-2217 or email the council at pac@cameron.edu
You may also like...