Aggie Men Fall to Lions in Heartbreaker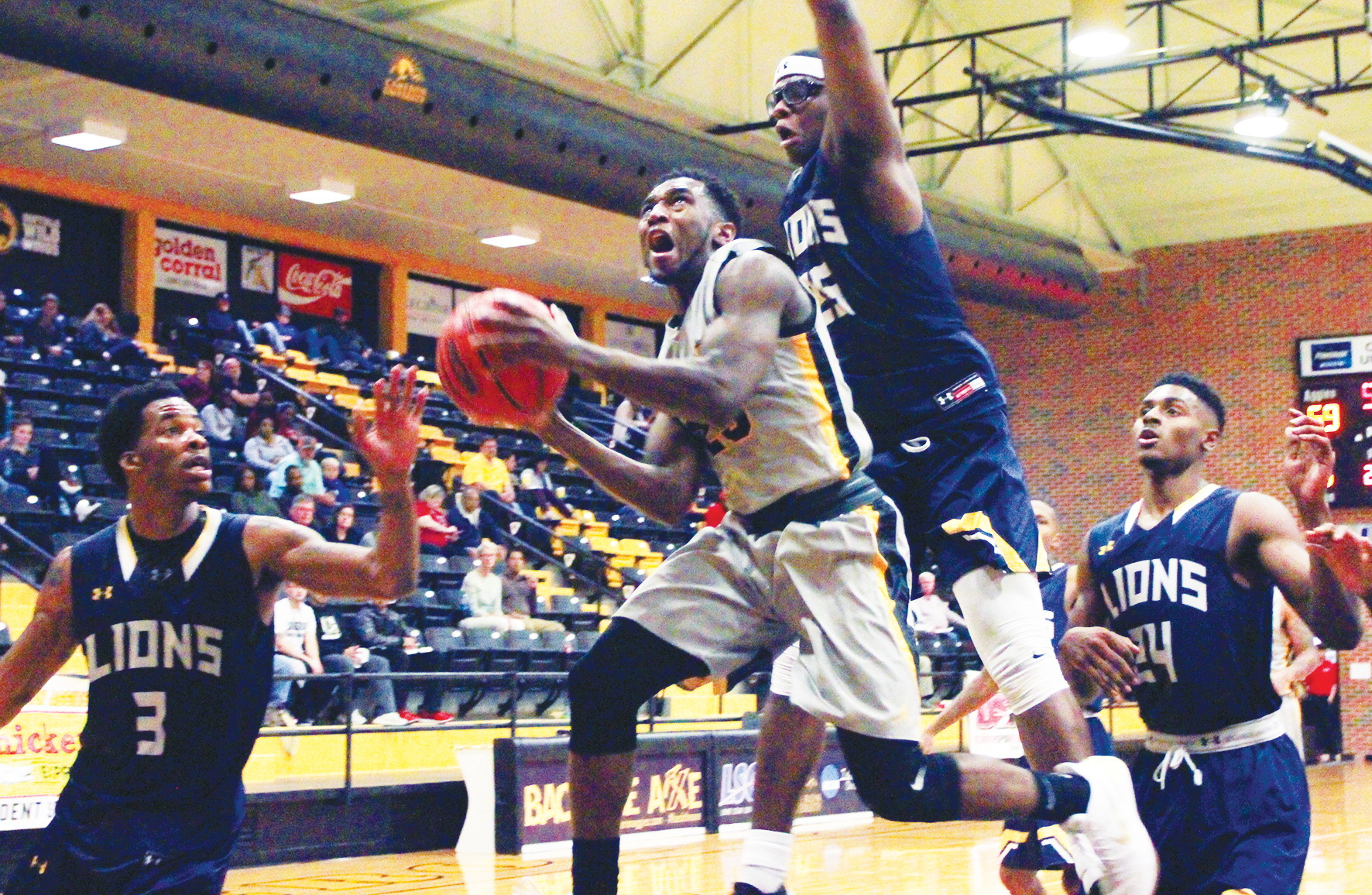 And the foul: Junior Tyus Momoh goes for a layup and is fouled on the play by Texas A&M-Commerce's Dorian Armstrong on Nov. 30 in the Aggie Gym. Momoh scored 12 points in the Lone Star Conference 69-68 loss.
Krista Pylant
Sports Editor
@KristaPylant8
The Cameron men's basketball team fell in a heartbreaking 69-68 loss in their Lone Star Conference opener against Texas A&M-Commerce on Nov. 30 in the Aggie Gym.
Back and forth action dominated the opening half of the game as both sides traded points until the Lions broke for a 12 point lead ten minutes in the game.
However, the Aggies came back strong to chain together an 18-2 run to grab the lead with three minutes remaining in the half.
In the final minute of the half, TAMUC scored two buckets to lead 36-35.
CU almost had the advantage as redshirt junior Johann Tate heaved a beyond half-court shot into the basket, but it did not count as time already expired.
Cameron's defense came up big in the second half.
CU limited TAMUC's leading scorer senior Dorian Armstrong to just seven points when he scored 15 in the first half.
The Lions also shot just 1-for-9 from beyond the arc when they drained five in the opening half.
The Aggies held a 68-65 lead with under two minutes to go, which the Lions cut to a one point lead with a layup at 51 seconds remaining.
CU missed a jumper, and at eight seconds, TAMUC scored the game winning basket and prevented a three-point shot from CU for the 69-68 win.
The Lions are now a perfect 6-0 on the young season while the Aggies drop to 3-4 overall.
TAMUC finished shooting 47 percent from the field while the Aggies shot 41 percent.
CU bested the Lions 9-6 in three-pointers and both sides shot an even 9-for-12 from the free throw line.
Redshirt junior Delano Jones led the Aggies with 13 points plus six rebounds, and junior Tyus Momoh was one point behind him at 12 points.
Tate rounded out CU's double figure scoring with ten points.
For the Lions, Armstrong led his team with 22 points and eight rebounds. He shot 8-for-10 from the field, 4-for-4 from out deep and 2-for-2 at the line.
Junior Willie Rooks with 16 points and junior Reggie Reid with 13 points finished out double digits for the Lions.
Next, Cameron will host LSC opponent Tarleton State at 4 p.m. on Dec. 2 in the Aggie Gym.
You may also like...