Volleyball Woes Continue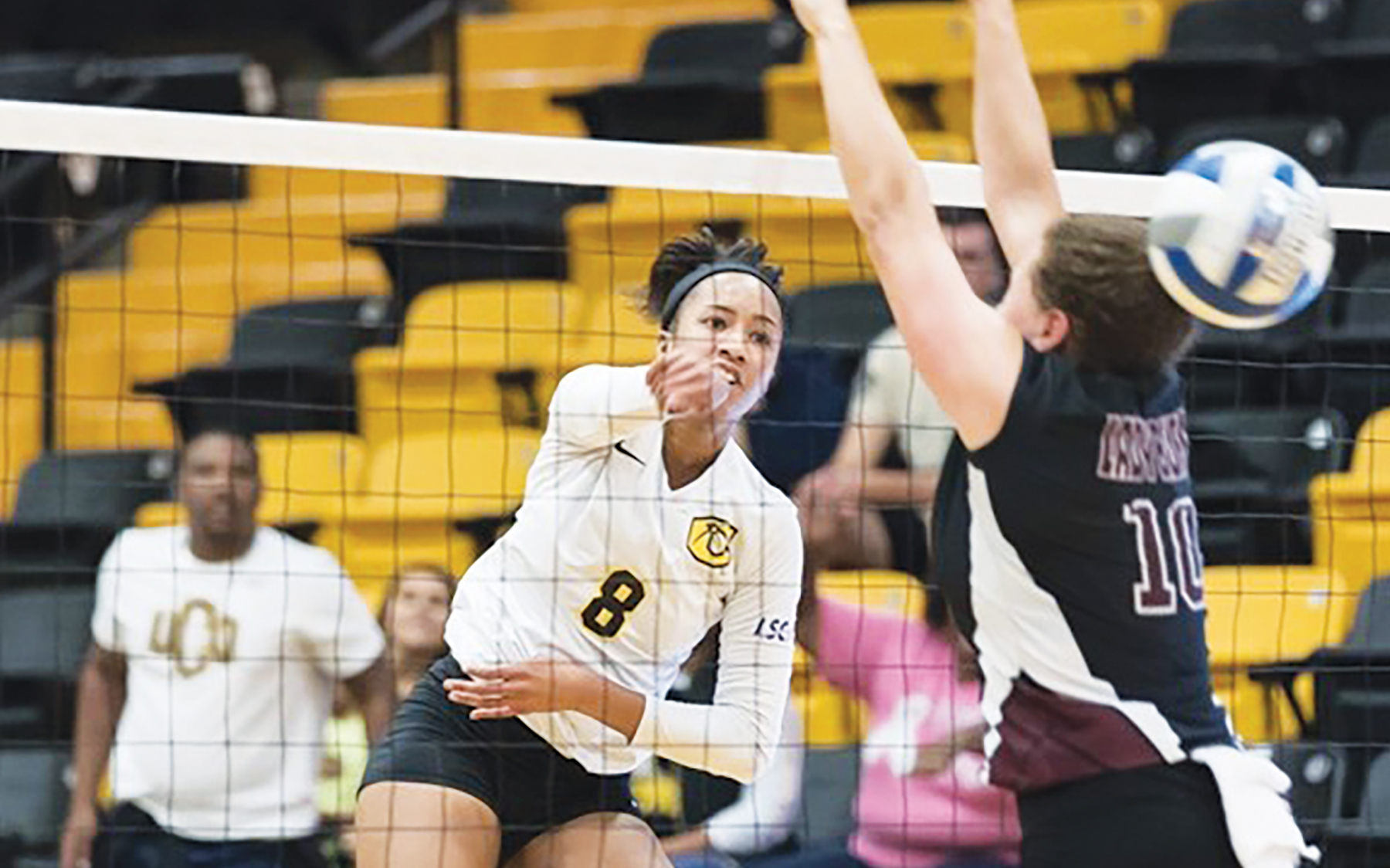 Leading the Way: Junior Paige Dixon attacks the ball against West Texas. Dixon leads CU with 3.07 kills per set.
Krista Pylant
Sports Editor
@KristaPylant8
With one regular season match to go, the Cameron volleyball team's season took a dip as the Aggies found themselves on a six-match skid at the tailend of the season.
The Aggies fell in straight sets in four of their last six contests and are second to last in Lone Star Conference standings with a 3-16 league mark and 7-21 overall record.
In their most recent matches, CU fell 1-3 to No. 23 Angelo State, 0-3 to No. 14 Tarleton State and 0-3 at Midwestern State.
Angelo State
On Nov. 11, despite taking the first set against the No. 23 team in the nation, the Aggies could not close the next three games to fall 1-3 (23-25, 25-17, 25-19, 2523) to Angelo State.
Cameron still tallied 19.5 total team blocks, just a half block shy of their team season high they set on Oct. 20 versus UT Permian Basin.
Brandy Carr led the charge with nine blocks and Ashleigh McFatridge eight blocks.
McFatridge added eight kills as well.
Paige Dixon led the Aggie offense with ten kills, while Carr, Brittany Lawson and Bristol Lewis added six each.
Brook Conley nabbed her 16th double-double of the year on 34 assists and 13 digs. CU's dig leader was Brittnee Altic with 27.
On the Rambelle's side, Brianna Sotello had her fourth match this season with over 20 kills as she put down 23 against CU, while also achieving her 13th double-double of the season with a team high 19 digs.
The Lone Star Conference's Preseason Setter of the Year, Meghan Parker, totaled 50 assists for the second time this year.
The first set saw back and forth action with the Aggies taking four three-point leads throughout the match.
Cameron reached their largest lead of four on set point 24-20 but the Rambelles gave a nail-biting performance knocking down two kills and a block to close the gap to one.
But CU stopped the chain as Conley put down a kill of her own for the 25-23 first set win after holding ASU to just .020 attacking percentage.
CU's offense faltered in the second set as they hit under .100 themselves.
The Rambelles jumped to a 6-0 advantage to start the set before CU got their first point.
The Ags closed the spread to two but steadily fell behind seeing ASU break for their largest lead of nine points 21-12 following a five point chain.
The Belles went on to take the set 25-17 behind a match high .321 hitting clip.
Set three had six early ties, but ASU went on a nine point run to nab a 16-8 lead from which the Aggies would not recover. ASU won set three 25-19.
Cameron fought to stay in the match during the fourth set behind their blocking game as they tallied nine.
The game tied 11 times and for the last time at 23-23 until the Rambelles hit backto-back kills for the 25-23 set and match victory.
Tarleton State
The following day, the Aggies fell in straight sets (1225, 20-25, 14-25) to No. 14 Tarleton State.
With Texas A&M Commerce falling to Western New Mexico the previous night, TSU's victory over Cameron delivered them the Lone Star Conference's regular season championship.
Dixon led CU once again with eight kills and Lawson with seven. Conley was one dig shy of a double-double with 18 assists. Brittnee Altic had 12 digs.
LSC Player of the Year Hailey Roberts led the TexAnns securing her 81st career double-double on 12 kills and 10 digs.
Jordyn Keamo assisted 35 of TSU's 25 kills.
The TexAnns came out of the gate strong, starting the match with a 12-1 run. On TSU set point, CU defended for three plays before the TexAnns won 25-12 by way of an Aggie service error.
CU hit in the negative attack percentage while TSU hit .324.
Set two saw the Aggies going toe-to-toe with the TexAnns as CU pulled several leads but none by more than two points.
The game tied nine times and for a final time at 14-14 as TSU took advantage of three straight setting errors by Conley to string together a six point run for an 18-14 lead. Cameron did not recover to fall 25-20.
TSU kept their momentum in set three, pounding six straight kills for a 6-1 edge. They maintained that lead through the entire set hitting .378 off 18 kills to win 25-14.
MSU
In their final road match of the year, CU was swept (1825, 18-25, 14-25) on the road by Midwestern State on Nov. 9 in Wichita Falls, Texas.
The Aggie offense struggled, hitting just .060, while the Mustangs hit at a .318 clip with 47 kills to CU's 23 kills. Dixon was CU's kill leader with six, and Brittany Lawson had five.
Carr led Cameron with five blocks, and Conley was one dig shy of a double-double with 15 assists.
MSU's Meghan Bettis pounded a match-high 15 kills for her squad, with teammate Aerielle Edwards also reaching double digit kills with 10 of her own.
Kristan Aduddell was responsible for 41 assists of MSU's 46 total.
CU's best hitting percentage occurred in the opening set as they hit .226 on 11 kills, but MSU triumphed with a .429 clip on 18 kills.
With a strong offensive push, MSU led 23-14, but Cameron strung together a four-point run with points from Bristol Lewis, Lawson and Carr. However, MSU put down back-to-back kills to take set one, 25-18.
In the second set, both sides were evenly matched, and the Mustangs had a onepoint 19-18 lead until MSU nabbed six straight points for the 25-18 win by the same score.
CU continued to struggle in set three and hit in the negative attack percentage. MSU scored 20 points before CU got in the double-digit score column and would win 25-14 for the match victory.
The Black and Gold has one regular season match remaining as they host Texas A&M-Kingsville on Nov. 11 in the Aggie Gym.
You may also like...