Volleyball Season Ends: Brook Conley Notches 17th Double-Double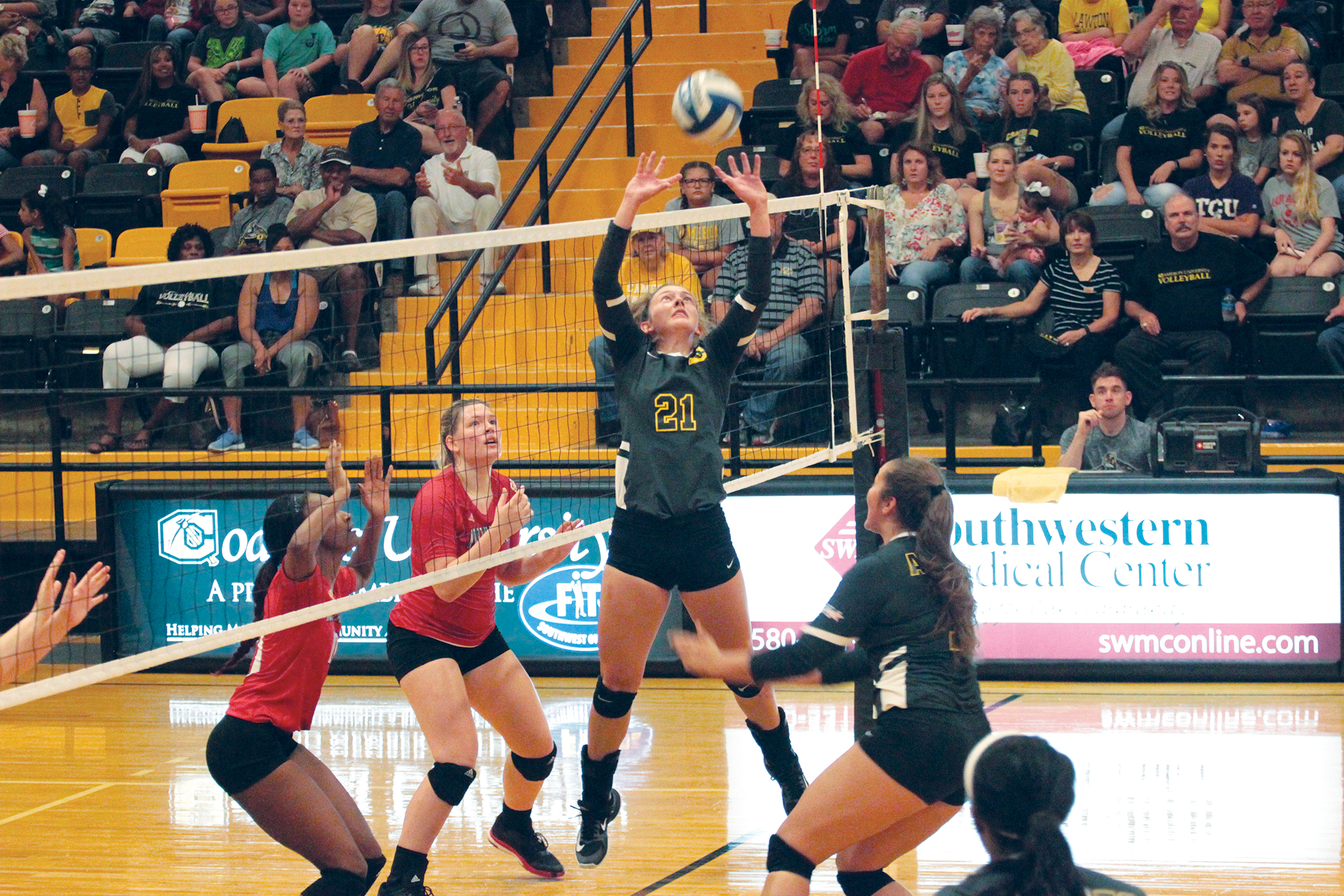 Setting up: Senior Brook Conley sets the ball for Ashleigh McFatridge in the Aggie Gym. Conley closed out her career with the Black and Gold on Nov. 11 achieving her 17th double-double on 24 assists and 10 digs against Texas A&M-Kingsville.
Krista Pylant
Sports Editor
@KristaPylant8
Senior Brook Conley achieved her 17th double-double of the year on 24 assists and 10 digs in the Aggies' 0-3 (20-25, 19-25, 25-27) loss to Texas A&M-Kingsville on Nov. 11 in the Aggie Gym.
Cameron recognized Conley and Lari Robertson for senior day in the Aggies' final home and regular season match.
Conley also added two kills, two blocks and a service ace to close out her career with the Black and Gold.
Other top performers against the Javelinas included Brandy Carr with nine kills and six blocks, Paige Dixon with eight kills and Brittnee Altic with 12 digs.
On the Javelinas' side, Madison Brabham led with 14 kills and Lexi Wick had 12. Casey Klobedans recorded 39 assists and Krystal Faison 23 digs.
To open the match, Kingsville kept a steady lead over the Aggies and took their largest advantage of six points, 22-16.
CU went on a 5-2 run to put the game at 23-20, but the Javelinas knocked down back to-back kills to take the set 25-20.
Cameron's offense struggled in set two, hitting below .100. After six early ties, the Javelinas chained four points for a 9-6 edge.
CU kept within reach until Kingsville went on a six point run, which included four kills, to further their lead to 22-14.
The Aggies went on another 5-2 run but halted on a service error on Javelina set point to fall 25-19.
Cameron found power in set three to push down a two point deficit with a seven point chain to lead 13-8, their largest advantage of the match.
Their chain included three blocks from Carr. The Javelinas would take it back though with an 8-1 run of their own to lead 16-14.
Momentum swung back in CU's favor on a 7-2 chain putting them ahead 21-18 forcing a Kingsville timeout.
From the break, Wick put down three kills and forced an Aggie error to put her side up 22-21.
The game tied four times and for a final time at 25-25 until a CU attack error and kill by Faison ended the match in favor of Kingsville, 27-25, despite the Javelinas hitting below .100 on 12 errors themselves.
The Aggies end the season with a 7-22 overall record and 3-17 league mark. The Javelinas move to 21-11 and 13-7 in the LSC and advances to the LSC tournament as the fourth seed.
During the post-season banquet, Lone Star Conference officials announced Volleyball All-Lone Star Conference team selections.
Conley won All-LSC Honorable Mention for her standout season during her senior campaign.
She started all 29 matches and recorded 863 total assists, giving her an 8.07 per set average.
Conley finished the season seventh in the LSC in assists while ranking in the top-15 in both service aces and digs. She also totaled 98 kills, 323 digs, 46 total blocks and 27 aces in her 107 sets played.
She recorded a season best 52 assists against Dallas Baptist and a season best 20 digs against East Central. CU's setter had 10 or more assists in all but one match this season.
Cameron had one named to the LSC AllAcademic team in Paige Dixon.
CU's junior outside hitter led the Aggies with 324 kills. Dixon also had 80 digs and 52 total blocks in her 29 starts for Cameron.
To be eligible for the LSC All-Academic team, a student athlete must have played in at least 50 percent of their team's contests, must have reached sophomore athletic and academic standing, completed at least one full academic year at the nominating institution and have a minimum 3.30 cumulative grade point average based on the 4.0 system.
In addition to the All-LSC teams, the conference also announced special awards as Tarleton State's Hailey Roberts came away with Player of the Year and Offensive Player of the Year honors.
Her teammate Jordan Keamo took Setter of the Year and their coach, Mary Schindler, won Coach of the Year.
Western New Mexico's Heather Verrill got Defensive Player of the Year, Eastern New Mexico's Andrea Aguilar won Libero of the Year, Texas A&M-Commerce's Shelley Chapron took Newcomer of the Year and West Texas' Erin Clark got Freshman of the Year.
You may also like...