Social Justice: Michele Norris and Civil Discourage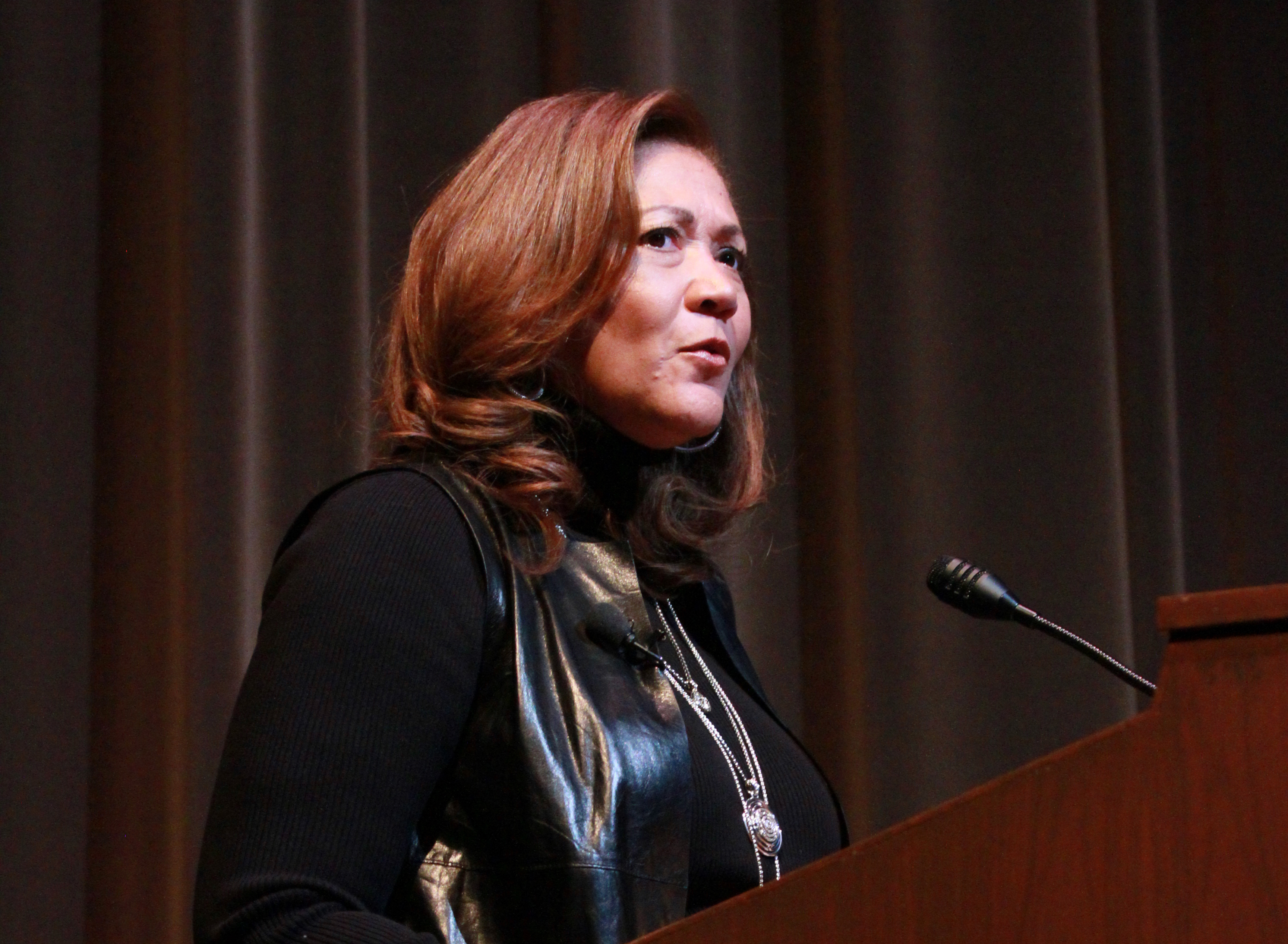 Cheyenne Cole
Managing Editor
@cheyenneccole
Academic Festival X, "American Identities in the 21st Century," continued on Nov. 9 with author and award-winning radio journalist Michele Norris.
Norris visited campus for a student session at 3:30 p.m. in Johnson Auditorium in Ross Hall and a lecture at 7:30 p.m. in the University Theatre.
The first African-American National Public Radio (NPR) host, Norris hosted the first news program on NPR, "All Things Considered," until 2011.
Additionally, Norris won an Emmy and a Peabody Award as an ABC News correspondent for her coverage of the Sept. 11, 2001 attacks.
The National Association of Black Journalists named her Journalist of the Year in 2009.
Norris' presentation focused on "Social Justice and the American Dream," a discussion consistent with her background – both personal and career.
In 2010, she founded "The Race Card Project," a Peabody Award-winning campaign that encourages people to submit six-word stories that encapsulate their experiences with or observations about race.
Norris said theracecardproject.com provides people with a platform to safely tell their story without judgement.
"I've created," she said, "through this crazy project, a trusted space, and they have entrusted me with this story often that they have not told anyone else. Sometimes that they haven't even shared with members of their family, so I have to honor that and figure out how to engage them and then share that."
According to Norris, this is especially important today because it can start a civil dialogue, whereas people often use social media to berate others for their opinions.
"Civil discourse requires a certain degree of civility," she said, "of understanding that you're respectful of someone else's feelings and at the same time understanding that you might not agree with them – that you might actually offend them."
Norris said she believes people feel comfortable sharing their stories on theracecardproject.com because she approached the project with an open heart.
"I said 'I want to capture America's conversation around race,'" she said. "I put a basket on the table, and I asked people to share their stories. I'm careful about what I do post. If it is offensive, I might post it because we're trying to capture the conversation on race as it's really happening."
Norris said journalism is under attack in the United States right now and that news outlets should admit it when they don't know the truth about a story, issue or topic to earn trust back.
"Any step you take in that direction to earn your viewers', your readers', your listeners' trust is really important in this moment," she said, "and you can inoculate yourself in some ways against the charges that news is fake."
Junior journalism and media production major AnneMarie Altman said she spoke personally with Norris about navigating journalism in its current state.
"It was really interesting to talk to a woman who works in journalism, she said. "I felt that she gave us some really good advice about how to keep our personal lives away from our professional lives to create the idea that news is trustworthy."
In terms of social justice, Norris said the biggest issue America is facing is securing the right to a quality education.
"Education is a civic right – is a basic right in America that we have taken for granted," she said, "and we ought not take for granted. We have so many young people in America who attend schools that are not well-resourced, do not have a tax-base to support them.
"They walk into buildings and the minute they walk in the building – the minute they approach that building – everything about the way that building is maintained says 'You're not important.'"
Academic Festival X's final guest speaker retired General Jack Keane presents "America's Place in the World: Power, Diplomacy and Commerce" at 7:30 p.m. on Feb. 27, 2018 in the University Theatre.
Students, faculty, staff and the community can reserve free tickets to the presentation approximately 30 days before the event at cameron.edu/festivalticketrequestform.
For more information about Academic Festival X, call the Office of Public Affairs at (580) 581-2211 or email publicaffairs@cameron.edu.
You may also like...