Johari Named to AECT Board of Directors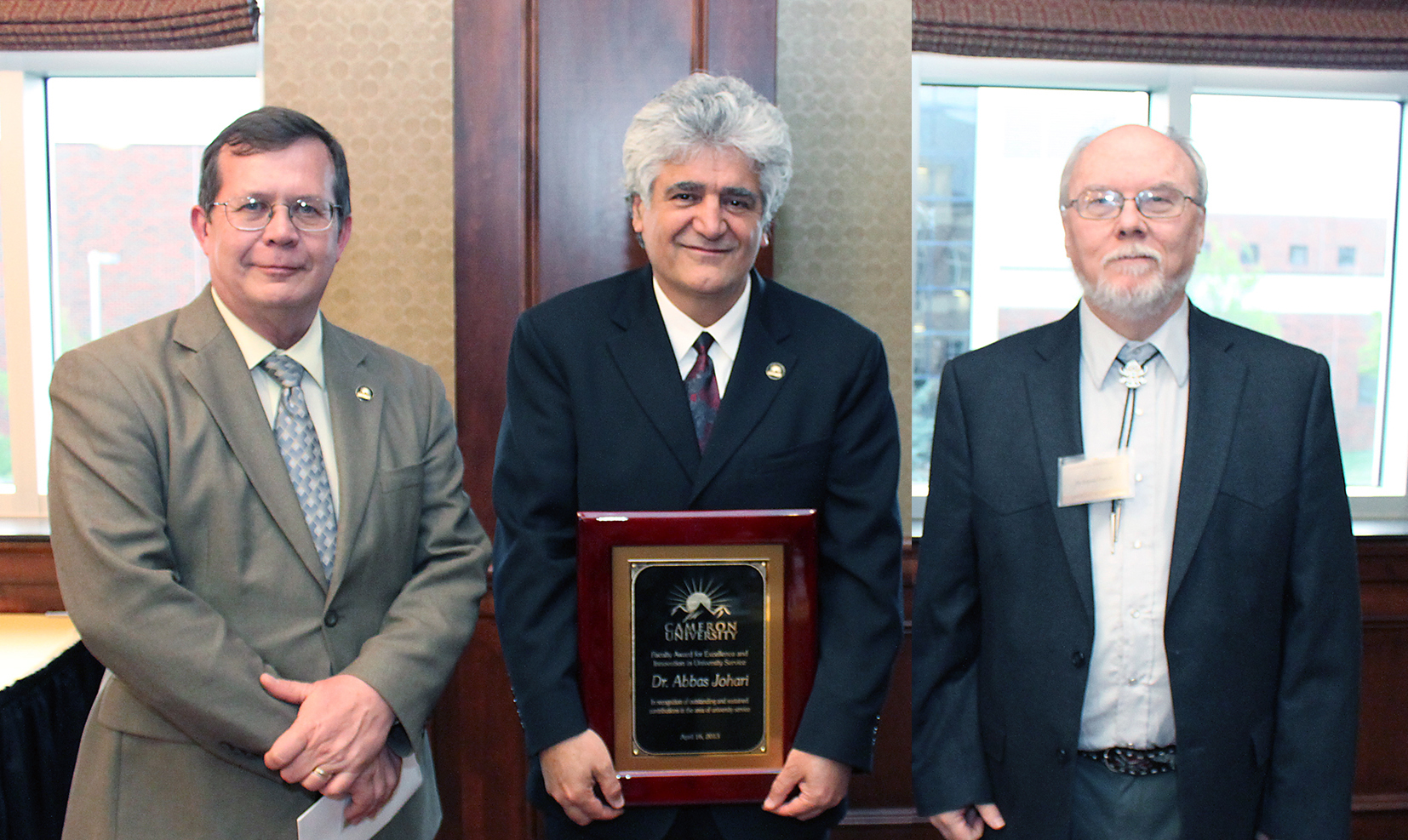 Contribution recognition: Dr. Abbas Johari receives Cameron University's Faculty Award for Excellence and Innovation in University Service in 2013. The Association of Education Communications and Technology (AECT) recently selected Johari to serve on the board of directors and to lead the Professional Ethics Committee.
Robert King
A&E Editor
@wckdrjtk
In September, Cameron University faculty member Dr. Abbas Johari joined the Board of Directors for the Association of Educational Communications and Technology (AECT).
Johari is a full-time professor of computing and technology at Cameron.
He teaches courses in web technology, interface design and professional ethics. He has been teaching at Cameron since 1991.
Johari has a Ph.D. in curriculum and instruction, along with a master's degree in technology from Arizona State University.
His elected term on the board will last for three years.
Johari said during that time, he will lead AECT's Professional Ethics Committee, which aids AECT members in maintaining high levels of professional conduct.
"My job is making sure that all members, including administration, are in line with the bylaws of the association," he said. "That they act and behave according to the bylaws."
In 1923, AECT became part of the National Education Association's Department of Visual Instruction.
Today, however, AECT is an international academic association consisting of thousands of educators and professionals who promote educational uses of technology.
Members of the association are found where educational changes are taking place. They provide leadership by promoting scholarships in instructional technology.
Johari said AECT has about four to five thousand members in it and publishes many journals including "Educational Technology Research and Development" (ETR&D).
Johari is a long-time member of AECT; he has been honored with the association's Presidential Award twice.
For ten years, Johari has served as the international review editor for AECT's Educational Technology Research and Development journal, which focuses on developments and research in educational technology.
As the editor of an academic journal, Johari said that he follows one simple rule.
"I don't reject any paper, and I don't accept papers," he said. "I don't disrespect anyone by rejecting his or her papers. I don't like the word reject.
"I ask for major revisions consisting of three or four pages. It is very constructive feedback."
According to Johari, allowing people to re-adjust and evolve their craft is a major component of the revision process.
Johari said those who submit papers enjoy receiving his revisions and feedback.
"They'll either do the job and get published," he said, "or they'll send their papers elsewhere."
In 2013, Johari received Cameron's Faculty Award for Excellence and Innovation in University Service.
That same year, he received the International Division Distinguished Service Award for his extraordinary service to the international division.
The Distinguished Service Award recognizes a member's dedication and service to a profession in the international arena as well as participation and contributions to AECT.
You may also like...