Cameron Percussion Performs Fall Concert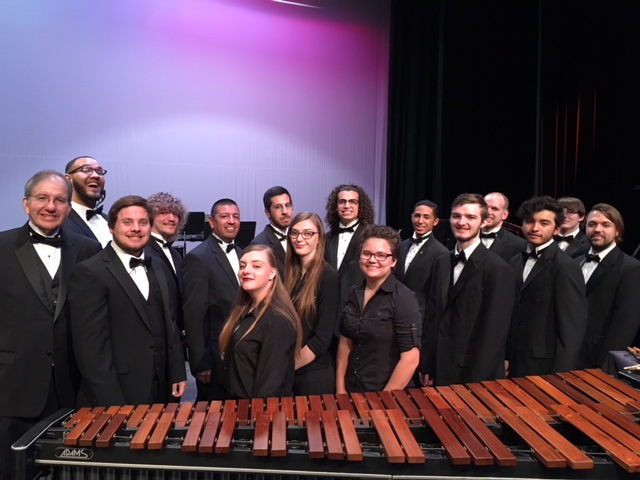 Robert King
A&E Editor
@wckdrjtk
The Cameron University Percussion Ensemble (CUPE) performed at 7:30 p.m. on Oct. 26 in the University Theatre.
The concert featured the CU Classic Percussion Ensemble, the CU Drumline and the Pan Express, which is the official steel drum ensemble of Cameron University.
All three of the performing groups have been conducted for 42 years (83 consecutive semesters) by the Director of Percussion Studies at Cameron, Dr. James Lambert.
Lambert has 35 percussion graduates teaching or performing throughout the United States.
Before the big evening concert, CUPE held a children's concert at 10 a.m. for local public schools.
Lambert said that it is important for music programs at Cameron to be involved with Lawton Public Schools.
"They're intrigued," he said, "and we sell out the theatre every semester. It enriches their education. We have the opportunity to share the music with them."
The children's concert features pop music and an abridged version of the evening concert.
The CU Drumline opened the evening concert with "Cameron Cadence Series" and "Summer Drummin," which were both led by Senior Percussion major Gus Echols.
The CU Classic Percussion Ensemble performed "Teamwork" and "Concerto for Solo Marimba & Percussion Ensemble." These two compositions showcased Echols playing the solo marimba.
Throughout the rest of the concert, the ensemble conducted other sets of tunes such as "Bolero" and the classic "Over the Rainbow" from "The Wizard of Oz," with Echols playing solo xylophone and marimba.
The concert ended with the Pan Express playing "And I love her" along with "Mo Java."
CUPE features six percussion majors and nine non-percussion majors.
Echols said that he got into percussion during the fifth grade, and he knew that it was what he wanted to do.
"I always wanted to be a rock drummer," he said, "and so in sixth grade I tried out to be a percussionist, made it, and ever since then I've been in percussion."
Senior Vocal Performance major Lorenzo Butler said that he joined the ensemble to practice rhythm and reading sheet music.
"I wasn't a very good sight reader," he said. "One of the things I knew I was lacking was a lot of stuff dealing with rhythm and trying to read music. So, I talked to Dr. Lambert about taking lessons or doing something to help me get a better feel for the rhythm and music."
The next concert for the percussion ensemble will be on March 27, featuring guest composer and percussion soloist, Dr. Joshua D. Smith.
You may also like...