Cameron Honors Veterans Nationwide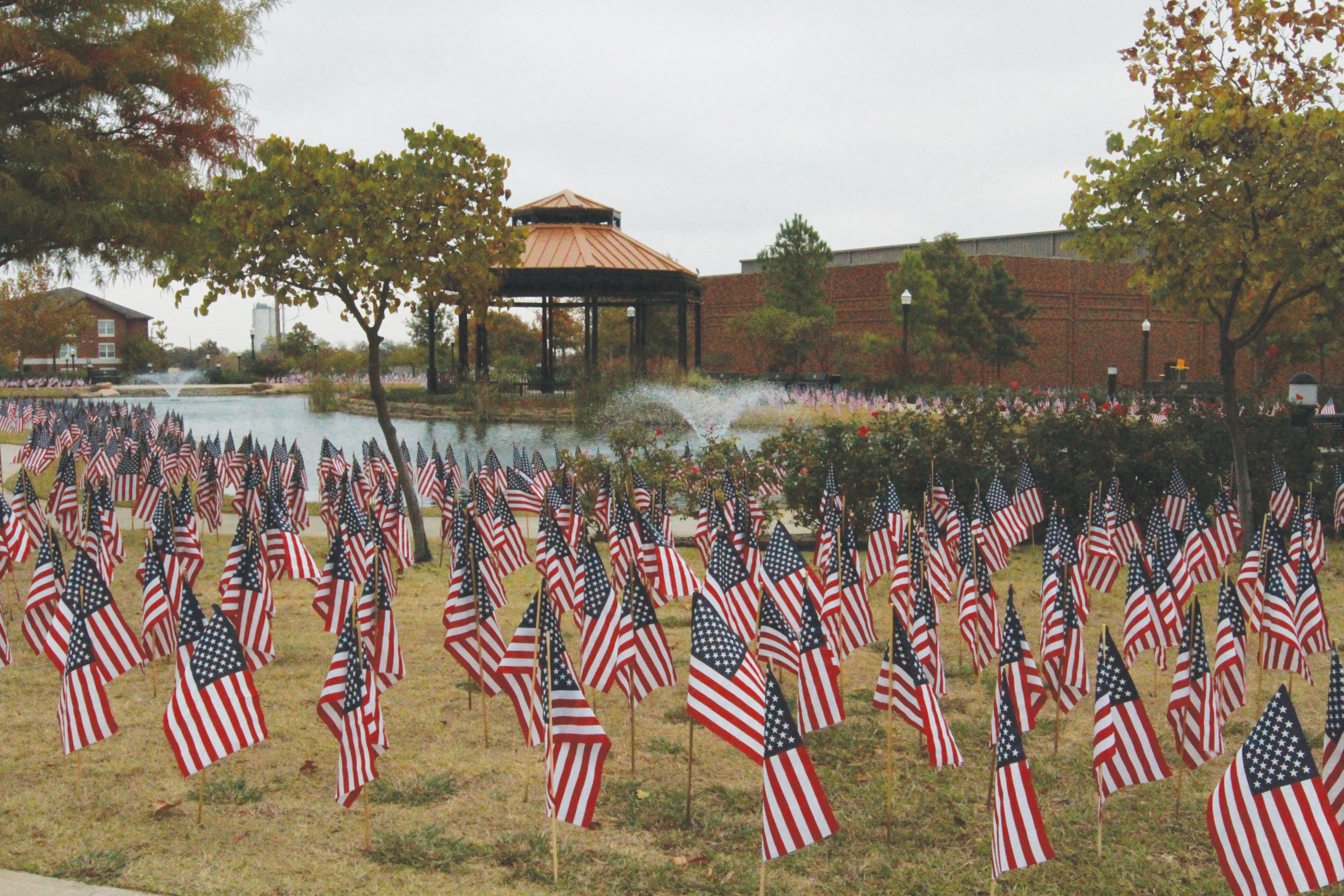 Stacie Larsen
Managing Editor
@SLarsenWriting
At 1 p.m. on Nov. 11, students and faculty from Cameron University gathered together with veterans and active duty personnel for the annual Veterans Day Observance Ceremony at Veterans Grove.
Prior to Veterans Day, Cameron University displayed 7,000 flags throughout campus, including Bently Gardens and Veterans Grove.
Dean of Students Zeak Naifeh said the purpose of the ceremony was to appreciate those who have served in the military and to show gratitude for those who have made the ultimate sacrifice.
"It's a great day to take pause and remember all the sacrifices that we may take for granted," he said.
Naifeh said the ceremony provided a way for students to connect with members of Fort Sill and the Lawton Community of veterans.
"It feels good to pull everyone together," he said.
The ceremony began with the posting of the colors by Cameron's ROTC cadets, followed by a performance of the National Anthem by the Centennial Singers.
An introduction by Vice-President Johnson preceded the National Remembrance roll call, which included the names of thirty-six fallen soldiers read by Associate Professor and Director of English Composition Dr. William Carney.
As an Air-force veteran, Carney has been announcing the roll call since 2013. He said he is pleased to do it.
"One hopes that not too many years from now," he said, "when we celebrate Veteran's Day here at Cameron, there will be no names, and I'll be out of work, and I'm fine with that."
Carney said the ceremony means a great deal to him because it helps reiterate what Veterans Day is all about.
"It's a holiday that celebrates an abstract view of veterans," he said. "There are veterans sales. There are discounted meals for U.S. veterans. There is advertising.
"I think having a ceremony like Cameron had sort of humanizes it.
"It kind of brings it home that these veterans [and] these troops that everyone says they support are actually human beings."
After the roll call, words by Vice-President Johnson included a moment of silence in honor of all those who have served in the military or who are currently serving.
The ceremony continued with remarks by President McArthur and Major General Wilson A. Shoffner of Fort Sill, Oklahoma.
Senior criminal justice major and ROTC cadet Christopher Lacock said he was particularly moved by what the Major said about the flags around campus and how they signify the lives lost since the Gulf War.
"It only seems like a piece of cloth on a wooden stick," Lacock said, "but each one of those flags that's around campus represents a human life. That was incredibly powerful."
Lacock said the experience was incredibly humbling and its impact is greater than any one person.
"It's about the big picture," he said, "about the army, the soldiers and all the military branches that have given that ultimate sacrifice."
Lacock said his involvement in the ROTC program has given him a sense of belonging on campus.
He also said that he decided to join the Army because he wanted to be part of something bigger than himself.
"From my personal experiences," he said, "you get that comradery amongst your fellow cadets.
"I know that once I do join the Army here in a few months that I'll have the same comradery knowing that I'm giving back to people that have given so much for my way of life.
You may also like...